Fix 'This Song is Not Synced Across Your Devices' iPhone 14
by Anna Sherry Updated on 2022-08-18 / Update for iPhone Tips
Have you just updated your iPhone to iOS 15 or got the new iPhone 14? It is excited to enjoy the new features, but some users said that there are some problems with Apple Music. One of the possible problems might be the Apple Music Library not syncing. So let's explain why this song is not synced across your devices and figure it out in the following content.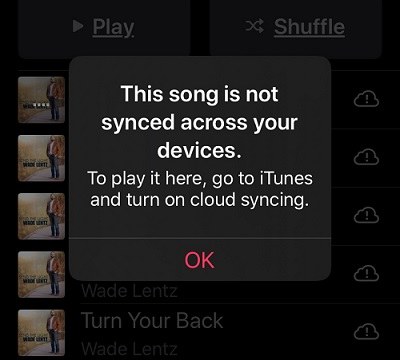 Part 1: Why This Song is Not Synced Across Your Devices Happens
Apple allows its users to sync their pictures, videos, data and music across all the devices where the same ID has been logged in and sync has been turned on. Occasionally, one can face problems in the syncing due to any reasons. It can be poor internet connectivity, a change in settings of syncing or upgrading your device. And more that we will discuss below.
Part 2: How to Fix Apple Music Library Not Syncing
Let's presume that you have an active Apple Music subscription. You should be able to have access to the music across all of your idevices. If there is an issue with syncing then here is a series of tasks you have to perform so that the issue of music not syncing to iPhone can be resolved.
1.Same Apple ID Account
First and foremost, you have to ensure that across all the devices you are trying to sync your music library, the same Apple ID account is logged in. It happens that people have logged in their iPhones with a different account while the iTunes on their Mac has a different Apple ID logged in.
In this situation, you can change to the same Apple ID account. Actually even with the same account, you can try to sign out of it and sign in again to see whether it can solve Apple Music not syncing.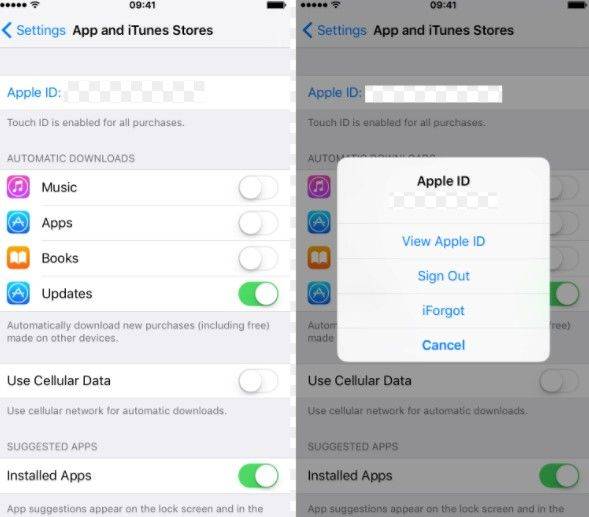 2.Check Internet Connection
There have also been instances when your iPhone is using mobile data but your another device has no connection to the internet. Or it is also possible that the network has some problems so that you cannot synced songs in Apple Music.
So first make sure the wifi or mobile data connection is turned on and works just fine. Second you can consider heading to Settings > General > Transfer or Reset iPhone > Reset, and reset network settings.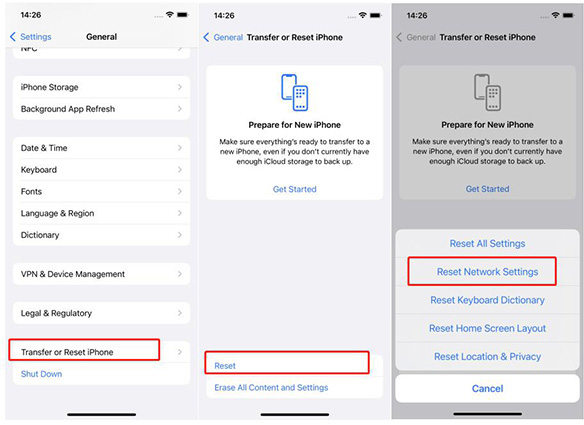 3.Turn on the Sync Library Option
Since you are a subscriber to the Apple Music, you have the option to turn on sync library. If you had turned it off due to whatever reason, you can turn it back on. On your iPad, iPhones or iPods, open settings, go to Music. Turn on sync library. In case of having a huge music library, syncing takes time.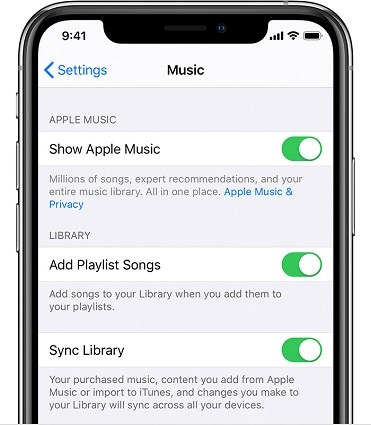 Note: If you use Apple music on your mac, you can also turn on Sync library. On your Mac, Open the Apple music app and locate at menu bar. Click on music > preferences > General. There you have an option to turn on Sync Library. Turn it on and click ok.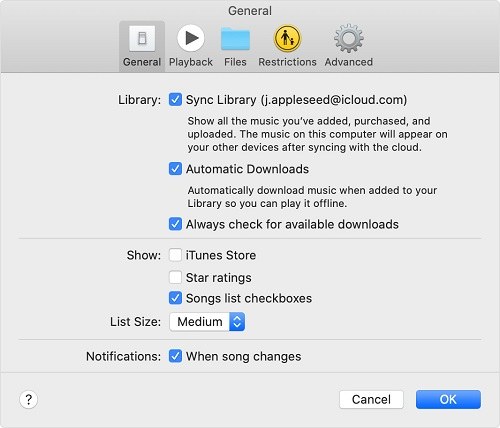 4.Update All Apps and Systems to Latest Version
This is one of the most important steps that resolves many issues that occur. First go to app store to see if Apple Music has a newer version. If yes, update it. Also check if your iPhone and iPads have the latest iOS and iPadOS. iOS has been released, it may help you solve this song is not synced across your devices.
5.Restarting your devices
If you are unable to solve Apple Music not syncing problems with using the above ways. You can also restart or force restart your iPhone to see if it can help you out.
Related Read: Apple Music Not Working
Part 3: What is The Alternative to Sync Music Between Devices
What are the alternatives for syncing music between devices? In case your problem is not solved by the above solutions, or its just that you don't have a subscription to Apple Music, Tenorshare's iCareFone is such an alternative software that lets you manage not only music but other stuff including, but not limited to photos and videos. The following points are going to cover how to use iCareFone for syncing or transferrring music data between iOS devices and your PC/Mac.
Download the software for your PC or Mac and install it. Run the program and connect your iPhone using USB cable.

Once the device is connected, go to the top menu and click on Manage.

It will scan and show all the data on the screen. On the left side, a vertical menu comes up and select music.

Click on export or import to transfer music between your iPhone/iPad and your PC or Mac with great ease.

What if you wish to transfer music between two iOS devices? After exporting music, disconnect this iOS device and connect another device. Follow the import steps and voila! The music across both your iOS devices has been synced.
iCareFone is a diverse software and can also be used to share music and other media between iTunes and your device.
Conclusion
You will encounter problems all your life when using technology, and that's why there are solutions to every problem. Whether Apple Music sync library is not working or this song is not synced across your devices, you can resolve these issues through standard ways as explained. And if these do not help you, you still have tons of alternative ways including third-party applications like iCareFone to sync music across your Apple devices.