10 Ways to Fix iOS 15 Apple Music Not Downloading Songs
by Jenefey Aaron Updated on 2021-09-27 / Update for iPhone Fix
Why is My Apple Music Not Downloading?
A new song from that artist you love has just come out and you try to download it onto your device. Annoyingly, you find that Apple Music is not downloading songs! What is keeping you from listening to music on the go? Various Apple users have complained about getting a message that reads "Unable to Download Songs". Others stare at their screen waiting in vain for the download to start after tapping the download button; some even report the button spins for days without anything happening!
How to Fix Apple Music Not Downloading
If you are suffering from the same issues, we've got you covered. We answered the question: "why is my Apple Music not downloading any songs?" Find here the 10 best ways to fix the problem easily.
Way 1: Check Your Network Connection
First thing you should do is to check if Wi-Fi or your Data is on. If you are using your mobile's data to download the songs, you must also allow Apple Music to use it. To do this you must:
Go into "Settings". Then tap on "Music".

Give permission to use "Cellular Data" by swiping it "On".
Way 2: Restart Apple Music App
Another option to fix the problem when Apple Music won't download music anymore is to restart the app. It's very easy, simply:
Double-click the Home Button.
Slide up the Apple Music App to close it.

Open Apple Music on the main page. You've just restarted the app.
Way 3: Turn off iCloud Music and Restart iPhone
Your device might have some background apps running which are preventing Apple Music from working normally. To solve this issue, we recommend you follow these steps:
Open the "Settings" app and go to "Music".
Swipe the iCloud Music Library switch off.
Turn off your device normally and switch it back on again.
Turn back on the option for iCloud Music Library and, when prompted, turn on "Enable".

Run the Music app.
Way 4: Sign Out Apple ID
Your Apple ID is your access key to Apple Music among other apps. You can try signing out and in again to see if it helps the Apple Music not downloading problem. To do this:
Tap on "Settings".
Tap where your name is written and choose "Sign Out".

Sign back in using the same steps and then run Apple Music and try to download a song.
Way 5: Turn off and on "Show Apple Music"
"Show Apple Music" is an option to actually see the app in the main page. When you turn off this option, Apple Music is hidden, and you can relaunch the app in this way when Apple Music songs won't download. Follow these steps:
Go to "Settings".
In "Music", slide off "Show Apple Music".

To restart it, slide it on again and run Apple Music.
Way 6: Update Apple Music App
Still not working? An updated version of the app can solve the problem of Apple Music won't download music to library or cloud. To update:
Open "App Store" and tap on "Updates".
If there is an "Update" next to the Apple Music logo, you can update it.

If not, sorry! You have the newest version, read our other suggestions for fixing your problem.
Way 7: Update iPhone Software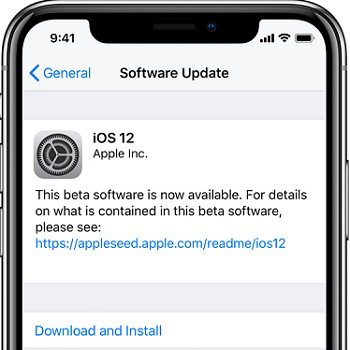 Way 8: Repair iPhone System to Fix Apple Music Not Working without Data Loss
If Apple Music is still not downloading any songs after trying the methods above, there might be a system glitch. To get rid of it, you should use iOS fix tool to recover iPhone system. ReiBoot is the top recommended iPhone system recovery software that enables you to fix Apple music not working/downloading problems completely without data loss. Download and install the program on your PC or Mac and then follow the steps below to start the troubleshooting process.
Plug in your device into the computer and launch the programme. Click "Repair Operating System". Then, click "Start Repair" to start.

You will enter a screen to download the latest software for your iPhone or iPad. Choose a save path and click "Download".

After the download has finished, click "Start Repair" and follow the instructions. Your device will reboot and will function normally.
For any other iPhone problems like stuck in recovery mode , stuck on Apple logo , iPhone endless reboot , iPhone black screen of death, or other problems, ReiBoot will help you to fix these problems by the steps above.
Way 9: Delete and Reinstall Apple Music
Another alternative to try to fix your problem is to delete and reinstall Apple Music. Thanks to iOS 15 you can now delete these built-in apps, simply follow these instructions:
Press and hold the app until it jiggles.
Tap on Apple Music, then tap delete.

Press the Home button to finish.
To reinstall the app, search Apple Music in the App Store and download as you would do with any other app.
Way 10: Contact Apple for Help
Sadly, if you are still having problems after trying all our suggestions above, there is nothing left to do but to contact Apple for Help. They might help you solve your problem or even replace your device if Apple Music continues to not download any songs.
Summary
Hope our tips helped you solve Apple Music not downloading songs completely and successfully! Remember to go through all the methods to see which one works best for you, from checking your network connection to using the aid of Tenorshare ReiBoot . If you still have any other further questions or want to suggest any other tips you know, please don't hesitate to contact us and leave a comment below.