Free Reiboot Alternative & ReiBoot Similar Software in 2021
by Anna Sherry Updated on 2021-08-30 / Update for iPhone Tips
Tenoshare Reiboot is utility software for the Apple ecosystem. iPhone users face many issues with their phones from time to time. This issue comprises firmware defects, recovery defects, or just other minor problems. Dealing with these issues can be a nuisance unless you take it to an authorized store. However, there is software on the market specifically tailored to address these defects.
Reiboot provides a recovery solution and fixes the most common issues in your iPad, iPhone, and other iOS devices. And if by some means you cannot get your hands on the Tenorshare Reiboot or you just don't like the software in general (which is rare), here are some Tenorshare Reiboot alternatives.
Part I. Which Is the Best Tenorshare ReiBoot Free Alternative
The best free ReiBoot alternative to solve all your iOS issues is iTunes. iTunes is a utility software, media player, and device management tool for all iOS devices. If your iPhone experiences any of the minor issues mentioned at the beginning of this article, then iTunes is your best Tenorshare ReiBoot alternative. Let's discuss how to restore iPhone with iTunes software and compare it with Reiboot.
How to Restore iPhone to Factory Settings with the Help of iTunes
To do this, you need to put iPhone in recovery mode manually. Here are the detailed steps:
Press and release the volume up and volume down buttons. After that, hold the side button for some time. You'll see the recovery mode screen. Release the side button.

Plug your iPhone into the PC via USB or lightning cable.
Open iTunes on your PC.

When iTunes detect your iPhone, a Windows box will pop up to say that there is a problem with the iPhone. Select "Restore" then your iPhone will be restored soon.
This way, you'll be able to factory reset your iOS device via iTunes. However, if the software is free, why not choose Tenorshare ReiBoot? It solves all your problems with a single click, such as one click to enter/exit recovery mode and this function is totally FREE!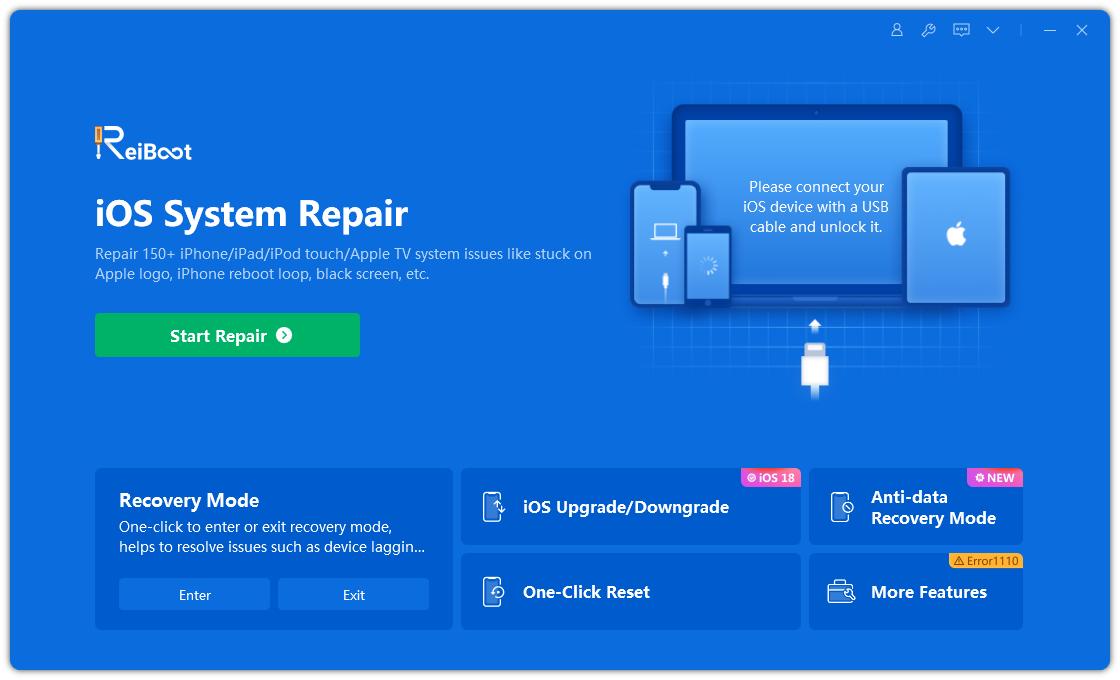 Reiboot also provides solutions to many other problems that are frequently encountered by iOS users. These include Black screen solving, apple logo stuck solving. And the best part is none of your user data is lost in the process. The user interface is very friendly, and the prices are tailored according to the varying needs of different users.
To learn more about Tenorshare ReiBoot, here is a video guide for your reference.
Part II. Are There Any ReiBoot Similar Software You Can Use
There are many Reiboot similar tools on the internet that get the job done. You can fix all your iOS problems with the list we have compiled below.
1. UltFone iOS System Repair
Currently, the UltFone iOS system Repair is the best Tenorshare Reiboot alternative in the market. It is a professionally designed and tested tool for system recoveries in your iOS devices. By using UltFone, you can put your iPhone into recovery mode with a single click. Furthermore, it also gets your iPhone out of recovery mode without system restoration if your device is stuck. Ultfone is the ultimate solution and alternative to Reiboot to fix iOS system issues without losing valuable user data.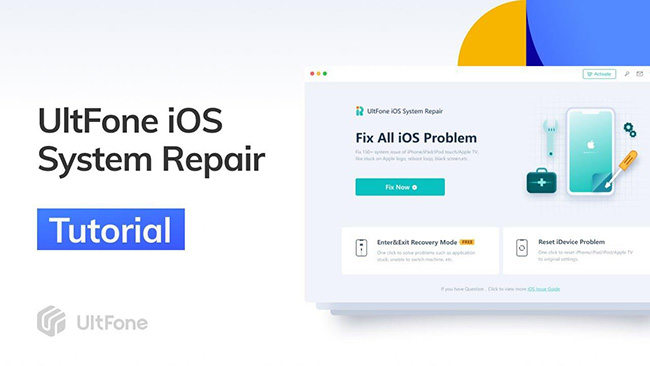 Pros:
Put the iPhone in recovery mode with a single click
Solves iPhone stuck in recovery mode issues
Simple and easy-to-use user interface.
Cons:
The trial version only fixes some of the errors mentioned above
The premium version requires users to pay about $30 per month. You can get higher discounts according to the package you purchase.
2. RecBoot
RecBoot is another Tenorshare Reiboot alternative. It assists you in putting your device in recovery mode and also gets you out of it. The tool is widely used in the Apple ecosystem to solve problems related to the recovery mode in iOS devices. However, that is the only use of the software. You cannot use Recboot for other common issues that arise in iOS devices. Let's have a look at the pros and cons of the device.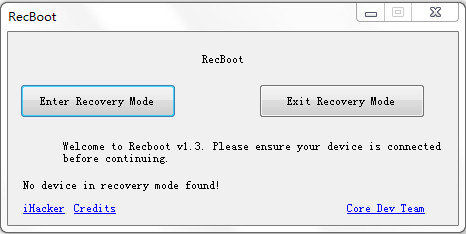 Pros:
One of the simplest software to enter and exit the recovery mode in iOS devices. It only takes a single click to perform the function.
It has an easy-to-use interface with straightforward buttons.
It works across a large number of iOS devices. Some versions are an exception which we will discuss in the cons section.
Enables the users to access the core of the Mac Operating System.
The functionality of Recboot is limited. Other than the recovery issues, it does not solve any other problems like the black screen, and device stuck on apple logo issues.
Cons:
Even though the user interface is simple, one must have some technical background to operate this software.
This software does not function on 64 Bit OS. Some examples are iPhone X, iPhone XR, iPhone XS, and iPhone 11.
3. TinyUmbrella
TinyUmbrella is another app on our list that functions as a Tenorshare Reiboot Alternative. What's interesting about this software is that it can solve many issues that arise in the jailbreak process of iOS devices. The tool also restores SHSH files that are previously backed up. Furthermore, if you need to downgrade the iOS version of your device, TinyUmbrella can be the best alternative to Reiboot. The tool is applicable to all jailbroken devices.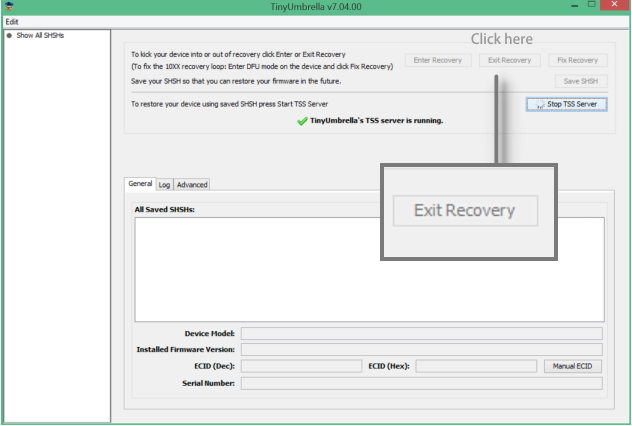 Pros:
TinyUmbrella can solve problems that arise in the jailbroken devices of Apple.
The software is easy to use with a simple user interface.
One does not need a technical background to operate and solve common issues with TinyUmbrella.
Cons:
There are many reports online regarding the reliability of the software. Some users have reported that the tool crashes while performing solutions.
It does not solve issues on 64 bit OS devices.
iOS version 13/12 is not supported by TinyUmbrella.
Get 20% Off Tenorshare ReiBoot Coupon Code to Save More
Hence, these are some of the best Tenorshare Reiboot free alternatives and paid ones. Even though some of these tools have their own usability, we still recommend Reiboot for all your iOS problems. With Tenorshare Reiboot, you can get the most trusted utility solution software that is also easy to use.
The pricing is tailored according to the preferences of different users. Furthermore, Reiboot provides many discount offers from time to time so that users can save some funds on their purchases. Every purchase in Tenorshare is auto-renewable but can be canceled anytime by the user.
Currently, you can get 20% off on the Tenorshare Reiboot software by using the coupon code: TS-REB-20OFF
Fix iPhone Stuck Issues without Data Loss