Tenorshare iPhone Data Recovery Crack? Not a Good Choice
by Jenefey Aaron Updated on 2021-06-24 / Update for iPhone Data
Finally get Tenorshare iPhone Data Recovery crack. The sad thing is that it downloads EXdownloader and a bunch of other stuff, not tenorshare...not sure what I'm doing wrong.
Tenorshare UltData(iPhone Data Recovery) is powerful on recovering lost files like text messages, photos, contacts and so on. Obtaining Tenorshare UltData crack version may well be costless and easy. However, you should be aware that it never ever getting to be safe with the UltData crack version or pirate copy. But have you ever thought about the reasons why you shouldn't use a pirate copy?
Risks of Using Tenorshare UltData Crack/Hack Version
One of my friends who have downloaded the Tenorshare iPhone data recovery cracked/crack version complains that the program crashes all the time. And there's nothing he can do about this. Even if he has uninstalled the crack, there's still plug-ins and disturbing ads popping up. Indeed, these are part of the side effects brought by crack software as hackers don't spend a long time cracking Tenorshare iPhone Data Recovery for nothing.
Here are some cracked registration cod that probably work for you, but if you found them not available, then you can consider to purchase in the annual sales promotion activity and you can use 5$ coupon code to get the license you want to buy.
Sales Promotion Coupon Code: TS5OFF (this coupon code will be updated non-schedualed)
A89BE7-1E8EGF-4890AFF-0C0E65-8AA41A14
20F3CG-979876-AB2A84-D1CB9E-FE96A58C
8E0234-FF0FD8-BE75FE-6BDNG8-24E9CA2K
FDE149-2346FC-2D2E02-E8C66B-EA1C24B2
CC2CEF-B2D5A4-5672C2-F0E0B5-F31DG4A9
35373B-086D87-529D3B-87654F-E7C2378A
6322D5-2F2A89-B69A74-C5B810-CCBA7093
989125-DDC640-FA8FA2-AFFC6D-B153E051
EE0B98-1094E1-7A9CCF-5B8A1D-1F9145DQ
Generally the risks of using Tenorshare UltData hack are:
1. Using crack or illegal software is offensive crime under copy right law.
2. Crack version might bring plug-ins and virus.
3. Pirate version tends to crash and it's a waste of your valuable time.
4. Crack version offers no free technical support. The full version always has immediate support.
5. No free update available. You need to search each time you want to get the latest version.
Hence it's highly recommended that you get the Tenorshare UltData full version instead of the cracked version. I'd rather spend a few bucks for the full version than be haunted by the nuisance of the crack.
How to Get/Download Tenorshare UltData Full Version
There are many places to download the full version of Tenorshare UltData. As far as I'm concerned, there are at least 3 places to get the full version. You can download from the following websites.
Tenorshare's official website (your first choice) Free dowload is available via the download buttons (for both Windows and Mac users) below. Make sure you choose the right version.
CNET (a well-known American Tech site)
Softonic (a software download portal)
Softpedia (a software download portal)
All these websites offer you a free and safe download. After the download you can have a free trial of iPhone Data Recovery which allows you to preview what you've lost but not give you the opportunity to recover them. After the free trial you can pay through the buying page and get emailed with Tenorshare iPhone Data Recovery Registration Code. With the registration code, you can register and update from the free trial version to full version.
For those who get Tenorshare iPhone Data Recovery full version from Tenorshare's official website, Tenorshare provides you a series of services including retriving Tenorshare UltData registration code/Tenorshare iPhone data recovery license key.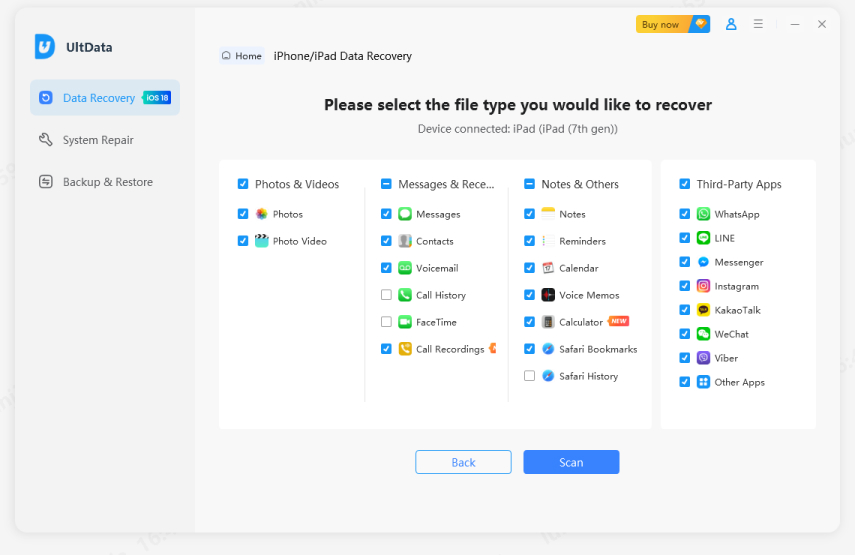 Tenorshare UltData Reviews
As Tenorshare UltData offers safe and quick ways to recover all sorts of files from iPhone, as well as free life-time upgrade to users, it has won trust and praises from customers. Each week it gets thousands of downloads from CNET download only and you will easily find reviews of Tenorshare iPhone Data Recovery.
Pros
It is really hard to find a tool specail for iPhone 5s. And I was so excited after this tool helped me restore my lost contacts, photos, notes etc. Even support my girl friend's iPhone 6! Professional, easy and quickly, that's all I want to speak about this tool.

Cons
Haven't found any yet.
So just save all that effort searching for cracked Tenorshare iPhone Data Recovery software that may not work correctly. Go get Tenorshare UltData full version download which saves you a lot of troubles and headaches.