How to Secure Notes on Your Mac
by Jenefey Aaron Updated on 2019-07-25 / Update for iPhone Data
"Could someone advise me how secure information is stored on notes across all my Mac is, are there any options I should action to ensure the security of my data." - David
Protecting private data from leaking is extremely crucial in the society of today. With iOS 9.3 and OS X 10.11.4, you can choose to lock any notes that you want using a password to keep private from anyone else that might use your device. Below I will show you how to secure notes on Mac with password-protection in details. To get started, make sure you upgrade your Mac to OS X 10.11.4 and your notes.
Easy Steps to Lock Notes on You Mac OSX
Open the Notes app. Click Create a Note and type the information you want to secure (skip this step if you want to protect an existing note).
Right-click on the note you want to lock from the menu and select Lock-This-Note.
Or you can go to the menu bar and click File and select Lock-This-Note after you select the note you want to protect.
In the first time you lock the note, you have to create a password to protect the notes. Type the password and a password hint in the popup.

Note: Remember the password firmly, and if you forgot your password, Apple can't help you regain access to your locked notes.

Once that's done, the note will be secured. To actually lock down a note, you'll need to click the Lock icon in the toolbar and select Close All Locked Notes.
How to Change/Reset/Turn Off Your Note Password on Mac?
At any time you can change or remove your note password by resetting the setting in your Notes App.
To change/ reset your lock password
Open Notes and in the menu bar, click Notes > Reset Password > OK.
Enter your Apple ID password and click Reset Password or change password. Enter your new password and password hint.

"Change Password" option lets you create a new password. This will be the new default password for all notes going forward.

"Reset Password" option doesn't delete or change the password of your notes that are already locked but you can update it to the new password by entering and removing the old password.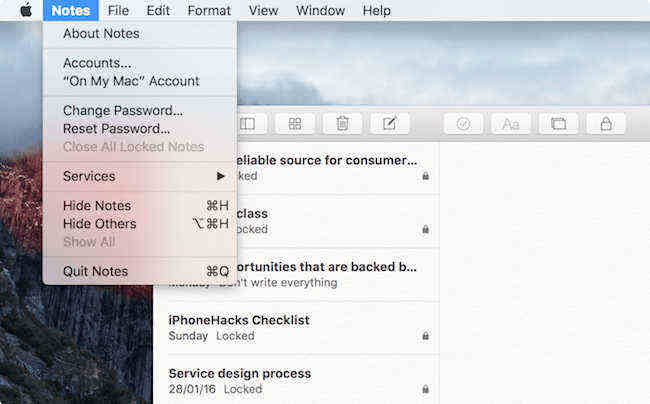 To turn off your lock password
You can easily remove your note password. Open your Notes app and select the locked note you no longer want to secure.
Right click the Lock icon and select Remove lock.

Now you get a clear idea about how to password protect your notes on Mac. If you have any other question like lost notes on iPhone, please leave your comment in the discuss place.