iPhone 15 Stuck on Set Up Screen? 6 Fixes Here
by Sophie Green Updated on 2023-09-13 / Update for iPhone 15
As our devices continue to evolve, so do the complexities of their operating systems and the issues that can arise. If you've encountered the 'iPhone 15 stuck on set up screen' error or find your 'iPhone 15 stuck on setting up Apple ID', you're not alone.
Fortunately, there are solutions to rescue you and in this blog, we have got 6 of them for you!
Part 1: Why Is My New iPhone 15 Stuck on Setting Up Your Apple ID?
There are a few common culprits when your iPhone 15 stuck on setting up Apple ID:
Setup Glitches: The setup process might contain minor glitches, which can prevent your iPhone from progressing.
Internet Connectivity: An uninterrupted internet connection is crucial. Issues might arise due to weak Wi-Fi signals or mobile data.
Apple ID Problems: At times, the issue might stem from your Apple ID itself, perhaps due to server-side problems or individual account glitches.
SIM Card Activation: Especially relevant for newer iPhone models with eSIMs, the phone might be waiting for a valid SIM activation to proceed.
By understanding these possible triggers, you can troubleshoot the iphone stuck on setup screen more effectively.
Part 2: How to Fix iPhone 15 Stuck on Set Up Screen?
Now that we know a little bit about the issue, it is time to solve it. Here we offer some invaluable suggestions to overcome this hiccup.
Way 1: Force Restart iPhone 15
When your iPhone 15 stuck on set up screen, a force restart might be the quickest remedy. This essentially resets the setup process. To force restart:
Press and release the Volume up key.
Press and release the Volume down key.

Hold the Side/Power button until the Apple logo appears.
Way 2: Remove and Reinsert SIM Card
Your iPhone's activation is closely tied to your SIM card. If there's an issue with the SIM, it could interrupt the setup process.
Ensuring that the SIM card you're using is active and can connect to mobile data is crucial. If you're using an eSIM, ensure it's activated before the Apple ID setup.
Way 3: Check Internet Connection
A steady internet connection is paramount during the iPhone setup. If you notice your iPhone 15 stuck on setting up Apple ID, ensure it's connected to a robust Wi-Fi network or mobile data.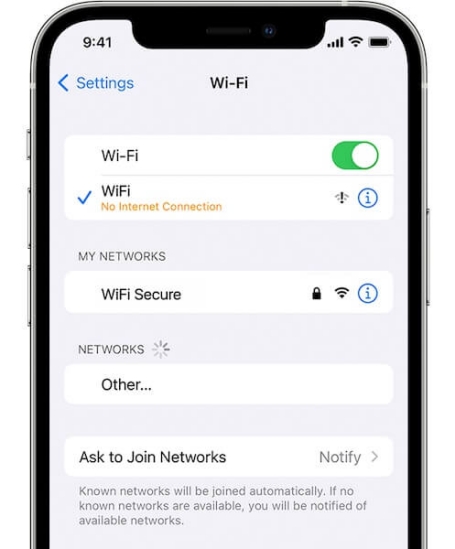 It's generally recommended to use Wi-Fi due to its stability compared to mobile data. If your Wi-Fi is unstable, try moving closer to the router or switching to mobile data temporarily.
Way 4: Skip the Problematic Step
If you've tried the above solutions and still face issues, it might be worth skipping the problematic step and returning to it later. For instance, if you're stuck while setting up your Apple ID, you can skip this step and add it later through the Settings app.
Way 5: iPhone 15 Stuck on Set Up Screen with ReiBoot iOS System Repair
For those not in the know, Tenorshare ReiBoot is a tool designed to tackle various iOS glitches, including the dreaded 'iphone stuck on setup screen' scenario.
With over 150 different issues it can address, ranging from devices stuck on the Apple logo, recovery mode loops, or problems with the latest iOS 17 beta, it's earned its reputation as an all-in-one system recovery tool. Not only is it incredibly effective, but it also prides itself on preserving your precious data during the repair process. Apple Insider and 9TO5Mac, among others, hail ReiBoot as the go-to solution for seamless iOS system recovery.
To use the ReiBoot tool for a stuck iPhone 15, follow these straightforward steps:
Begin by downloading the Tenorshare ReiBoot software on your PC or Mac. Once installed, connect your iPhone 15 to the computer. Ensure that you use the original Apple lightning USB cable for optimal connectivity.

Upon recognizing your device, the software will offer a 'Start' button to initiate the iOS System Recovery tool. Click on 'Standard Repair' to address common iOS issues without any data loss.

For the tool to repair your system, it requires the latest firmware package. Click 'Download' to start this process. Note: In case of download issues, you have the option to download via a browser or import a manually downloaded firmware.

With the firmware in place, click 'Start Standard Repair'. This process can take a few minutes, but patience is key. Once completed, your iPhone should automatically restart, retaining all your data.
For more complex issues, ReiBoot also offers a 'Deep Repair' mode. However, this mode might lead to data loss, so always ensure you have a backup before proceeding.
Way 6: Contact Apple Support
If all previously mentioned methods, such as ensuring an active internet connection, force restarting, or even updating iOS, fail to address the problem, then turning to Apple Support becomes imperative.
Apple's dedicated team is well-equipped to handle glitches like the iPhone 15 stuck on setting up Apple ID. They might have insights into potential server issues, widespread software glitches, or other concerns that aren't immediately visible to consumers.
Ensure that you give them a detailed description of your problem, including the steps you've already taken, to expedite the troubleshooting process.
Part 3: FAQs
1. How long should new iPhone 15 set up take?
Setting up a brand new iPhone 15 should generally be a smooth and swift process. Typically, once you've registered to a network and begun the setup, logging into your Apple ID and completing the initial procedures shouldn't take more than a few minutes.
If you find that your device is taking an unusually long time, especially beyond several minutes, it might indicate a glitch or issue preventing the next step. Always ensure you have a stable internet connection during this phase to avoid unnecessary delays.
2. How to set up my Apple ID for the first time?
Setting up an Apple ID for the first time on your iPhone is a fundamental step in personalizing and securing your device. During the initial setup of your iPhone, you'll be prompted to log into or create an Apple ID. If you're a newcomer to the Apple ecosystem, select the option to create a new Apple ID.
This will guide you through a series of steps, requiring personal details and verification methods to establish your unique Apple ID. Once created, this ID will serve as your gateway to Apple services like the App Store, iCloud, and more.
Conclusion
The iPhone 15, like its predecessors, has ushered in a wave of excitement for tech enthusiasts. However, encountering the 'iPhone 15 stuck on set up screen' error can be quite a damper.
With Tenorshare ReiBoot, you have a reliable and effective solution at your fingertips. Whether you're tackling the 'iPhone 15 stuck on setting up Apple ID' problem or other iOS glitches, ReiBoot has got your back.
Fix iPhone Stuck and Update Issues without Data Loss