1 Minute to Know The Complete iOS 14 New Feature
by Jenefey Aaron Updated on 2020-08-21 / Update for iOS 13
The latest WWDC on June 22, 2020 has been knocked off. Apple has something new for its users. Once a year, Apple launches its latest version with unique specifications and updates.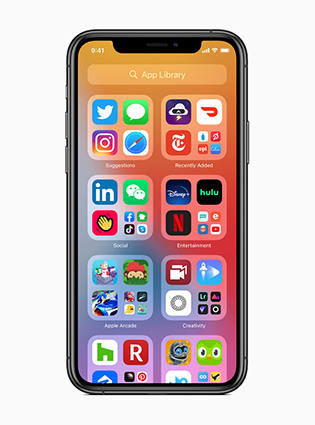 From new widgets on home screen to picture-in-picture video, to offline translation with Siri, this time, Apple has incredible things for its users. Still, this new version will be given the name iOS 14. It's expected that the new version will be free from bugs, and will have new polished features.
If you want to know more about iOS 14, then read this article carefully because we have something new for our users.
Part 1: iOS 14 New Features
Here are the details about the new features in iOS 14. Let's discuss these features one by one for better knowledge.
1. New Home Screen and Widgets Added
In the latest update, Apple allows widgets to be added to the home screen to be rendered with your application. To add them, there is a new "widget library" where users can easily add and customize widgets. There's also a new "Smart Overlay" widget that automatically displays relevant apps based on the time of day.
Another feature comes with all the applications alphabetically ordered, and all of them will be available in one place. In this way, the user can find the apps effortlessly.
Furthermore, the new feature will include a sorting process for better searching. For instance, your most-used apps will be filtered according to the sorting process, and you will see them at the top of the screen. This new feature will make it easier for the user to search for its most used application.
2. Video-in-Video Mode
Another new feature from Apple is the addition of a system-wide picture-in-picture video feature to the iOS videos. Just like on macOS, the video hovers over the app and can be resized and then folded to the side of the screen to continue playing in the background.
3. App Clips
Apple also introduced a new "App Clip" feature, a quick card-based App that lets you access a small part of an App when you need it, without having to install the full App. Examples given include accessing a parking application through an NFC tag or a coffee shop reward program.
Due to this new feature, people can easily check all the information about the product present in the Apple store. All the processes will be done with the help of QR codes.
4. New Features in Messages
Apple is also testing some incredible features for iMessage. The new feature that is going to be added will be the Slack-like mention system that will allow the user to respond a specific oneduring the chat.
In addition, Apple is also working on a feature where people can mute group conversations. The other element that Apple is going to provide a space at the top for you to pin contacts you talk to most frequently.
5. New Siri
Siri also has a new view: Instead of replacing the entire screen when the digital assistant is activated, Apple displays an animated Siri icon at the bottom, with only a small coverage area. Some other new features: Siri can now send not only command messages, but also audio messages.
6. Built-in Translation App
Apple also announced a new translation app built into iOS 14, like Google translation, will allow users to easily translate between languages. Users will be able to type text or indicate a message and translate it into 11 languages, which is applicable to English, Chinese, French, German, Spanish, Italian, Japanese, Korean, Arabic, Portuguese and Russian.
7. Maps
In iOS 14, you'll be able to get bike-specific routes to alert you to bike lanes and paths. Your route will tell you whether you are driving on a quiet or busy road, and you will also glimpse the altitude of your route to warn you of steep hills ahead.
If you have an electric car, Maps adds an EV routing feature that tracks the current power level of your vehicle. Your map will then show charging stations along the way, taking into account altitude and weather.
8. Carplay and Car Keys
Apple CarPlay is getting support for custom wallpapers and new categories of apps: parking apps, electric car chargers and takeout apps. Apple also added support for NFC car keys through iOS 14, and the 2021 BMW 5 series will be the first to support this feature. NFC passes are stored in Apple's Secure Enclave for security and can be Shared with other iOS users, giving them temporary access to your vehicle as well. The new car key feature will also be available in iOS 14.
9. HomeKit Feature Update
People are going to experience different HomeKit features such as Nightshift for light and facial recognition cameras. Moreover, there are many HomeKit features already available in iOS, but this time it will be something new as per the reports.
a) Night Shift for Lights
This feature will allow users to change the color of the HomeKit lights according to the requirements. Hence, if it's day time, then lights will be turned on according to the day, and the same will be the cause during night time. Lights will be changed according to the night, which is an incredible feature.
b) Facial Recognition for Cameras
This feature will be best for identifying people, which can be best for privacy. So, using this feature, HomeKit will make a list of family members and will match it with the already stored faces. In this way, the app will recognize the difference between strangers and family.
10. Health Track
Apple has enhanced its sleep tracking feature on iOS 14, encouraging users to set sleep goals, recommending sleep time, and allowing users to choose the ideal sleep mode for specific days of the week. iOS 14 will tell you how your volume may cause damage to your hearing over time.
The new checklist menu makes it easier to manage your data, while new mobile indicators, medical records, symptoms and electrocardiograms allow you to build a more complete understanding of your health.
11. Phone Calls Notification
Apple revealed today a minor update to iOS 14 and iPadOS 14: Incoming calls and FaceTime calls will no longer pop up on the whole entire screen, offering a less distracting experience.
12. Set a 3rd-party App As the Default Email or Browser App
According to Apple, it is planned in iOS 14 to allow users to set third-party applications as the default email or browser applications on the iPhone or iPad to replace the current default applications Safari and Mail made by Apple.
13. Add a New App Attest API to the DeviceCheck Feature
In order to ensure the security of the iOS application, Apple would like to send you a reminder of a new feature.
14. Privacy Feature
Apple's iOS 14 includes some privacy features designed to give you more transparency and control. For example, all applications require user permission before tracking. Apple also said that the product pages of the App Store will provide a summary of the self-reported privacy behaviour of developers in an easy-to-understand format.
In iOS 14, "Login and Apple" will also be upgraded. Users will be able to upgrade their existing accounts to log in to Apple to better protect their privacy. When asked to visit, you can also choose to share your approximate location instead of your precise location.
15. Make Apps More Secure
Recently, Apple confirmed a new iOS 14 move on security that will help make iPhone apps safer and less prone to fraud. According to Apple, "The App Attest service gives your app a way to assert its validity so that your server can more confidently provide access to sensitive resources."
Developers can use the new App Attest API to verify their app's integrity thus to protect against security threats to the apps on iOS 14 or later.
16. Hidden album in Photos App Can be Hidden Now
Previously, you can hide photos on iPhone but the Hidden album would list at the bottom of the albums tab, which is really easy to be discovered.
Thanks to iOS 14, now you can hide the hide the Hidden album as well. In Settings > Photos, you'll find a new option for Hidden Album. If you want hide or remove the Hidden Album from the Albums tab in the Photos app, simply disabled the Hidden Album option.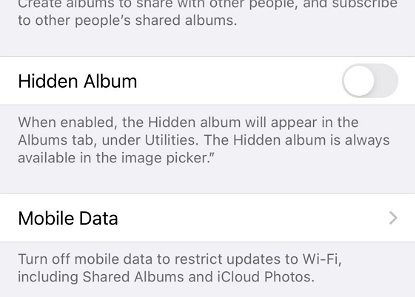 You can know more iOS 14 feature rumours from the video below:
Part 2: The Compatibility of iOS 14
The new update will be compatible with all the devices which were with iOS 13. Besides, Apple will drop support for iPhone SE, iPhone 6s, and 6S plus, iPod touch. Below is the name of the devices which will be compatible with iOS 14.
iPhone 11 Pro Max
iPhone 11 Pro
iPhone 11
iPhone XS
iPhone XS
iPhone XS Max
iPhone XR
iPhone X
iPhone 8
iPhone 8 Plus
iPhone 7
iPhone 7 Plus
iPhone 6s
iPhone 6s Plus
iPhone SE
iPod touch(7th generation)
iPhone SE (1st generation)
iPhone SE (2nd generation)
Part 3: Will iOS 14 Be Better Than Ever iOS System Before?
At the WWDC, Apple released iOS 14 of this year's "routine" and they often do not have too big difference. Apple still shows a large number of new features, such as the widget and a new way of answering the phone), with Apple's cloud service integration information (for example, the application of the new features), as well as some new features loved by geeks (such as digital car keys). In the pursuit of new features, we still hold full expectations for amazing things.
However, for many big fans of Apple, it will be much better than the last ones due to new incredible features. The iPhone owners are excited about the new updates as there will be many amazing things for the users.
It would be easier for users to access Apple's products.
The new update will bring change for people who have hearing issues.
You'll see Siri, Google Assistant, and Alexa improvements.
This time security will be improved.
Conclusion
iOS 14 will be going to amazed us; we'll be experiencing new features including the latest icons, home screen, better drag & drop options and much more. Other than that, you can select your own default apps and can set them according to your requirements. Let us in the comment section below how much you are excited about the new version?
Fix iPhone Stuck and Update Issues without Data Loss