Is It Possible to Delete Facebook But Keep Messager?
by Jenefey Aaron Updated on 2020-09-04 / Update for Facebook
Facebook has every facility one demands in social networking apps these days, but some people like to keep a low profile of them using Facebook Messenger facility while deactivating Facebook. Temporary deactivation of Facebook lets you sign in and get full access to account later, but permanent deletion will not. It will delete everything, including; timeline photos, status, profile information, friend list, and other activities. Using Facebook Messenger while deactivating Facebook temporarily is a profound way, but it has some limitations. You are now only allowed to get connected with people through chats.
Part 1. Can You Delete Facebook And Keep Messenger?
You can delete Facebook and keep using Facebook Messenger. When you install the Facebook application in your phone or browse through a computer, you have the facility to view Newsfeed, Stories, Profile information, Share contact information, and other social services. If you wish to delete Facebook temporarily while specifying the legit reason, you can use Facebook Messenger. An account set for permanent deletion will not have the option to use Messenger. You are asked to perform specific actions to be able to use Facebook Messenger while provisionally disband it. Follow these succeeding parts for detailed understanding.
1.1 How to Deactivate Facebook But Keep Messenger
Deleting Facebook will no longer give you access to view either the contents you have set on Facebook nor your friends. Deactivating Facebook holds all the activities and information and lets you log in to your account after some days pause. Disabling will allow entrance to Facebook Messenger while deleting will not. Follow the standards mentioned below to deactivate Facebook.
Primarily, log in to your Facebook account. In the drop-down menu provided in the right corner, click on it. The dropdown will show options as in the image below. Here we are interested in "Settings." Click on it for further queries.

pic: settings and manage account

In the "Manage Account" setting, you will witness Facebook documentation on account legacy contact, deactivation effects, and other information. On the bottom blue letters there lies, "Deactivate your account." Click on it and proceed.

pic: deactivate your account

A pop-up will be generated asking to re-enter a password for security purposes, Enter your account password in provided blank box and hit "Continue."

pic: enter password to confirm deactivation

Facebook will now ask for the probable reason for deactivating the account. Check if your intentions are available else, you can type in specifying further explanation of deactivation. Finally, hit "Deactivate" to continue.

Note: In case you are trying to deactivate from the Facebook mobile application, check "Keep using messenger."

pic: select reason and deactivate

Now you have successfully disabled your account. You are then redirected to the Facebook login page.

pic: deactivate successful and login page

Open Facebook Messenger in Android, Tablets, iPad, or iPhone. You are logged out of the previous session and are prompted to the login screen, enter a password that will open Messenger. Else you will see something like in the image below. Tap on "Continue" to start using Messenger without Facebook.

pic: keep using messenger
1.2 How to Permanently Delete Facebook in Case of Privacy Leak
Privacy, social scandals, misinformation, and hoax are significant factors people stop using social network sites. Since Facebook is the largest social site in this era, people often encounter privacy leakage. You may also get bored with the same interface and newsfeed, which shows false news rather than authentic, which may want you to leave from using Facebook forever. The following are the preceding steps that mitigate the confusion and show guidance on how to delete Facebook permanently.
Go to "Settings" from the drop-down icon.

Locate to the "Your Facebook Information" and click on it. In the central section, select "Deactivation and Deletion," as in the picture below.

pic: your facebook information and deletion

Check on the "Permanently Delete Account" box and hit "Continue to Account Deletion."

pic: permanently delete an account and continue

A remainder will generate some information to deactivate instead of deleting an account and download information. Click on "Delete Account" to proceed further.

pic: delete account

Enter a password in the given field and hit "Continue."

pic: password and continue
You have to wait 30 days for Facebook to delete your account completely. Besides this, you can log in anytime to reactivate and use it usually.
1.3 Sign up Messenger without the Facebook Account If You Delete Facebook
Facebook has a choice to log in to Facebook Messenger only instead of opening a wholesome Facebook account. Anyone interested in doing so can follow the steps given below.
Download and install Facebook Messenger from the respective store available in your device.
In the login window, click on the "Not in Facebook" option.
Now, enter your phone number to create a Messenger account.
You are now all set to add friends, chat with them, share photos, and videos.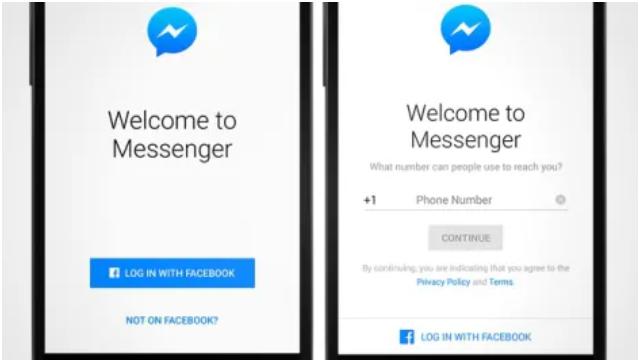 Part 2. A Bonus Tip to Fix Facebook Messager Crash Without Data Loss
Sometimes, the Facebook Messager app will crash and cannot run normally. In this case, you will require a functional software tool to help through the problem. We recommend you using Tenorshare ReiBoot, which is a powerful tool built to fix crashes in applications without losing data.
Video Guide on How to Use Reiboot:
Download and install Tenorshare Reiboot.

Connect your phone to the computer, and on the Reiboot interface, select "Repair Operating System".

pic: select repair operating system

Now click on "Fix Now," as shown in the image below.

pic: fix now

ReiBoot will automatically detect and download the required firmware else you can manually import them too.

pic: download firmware

After the firmware package has been successfully imported, click on "Repair now." The process will begin and show the completed message after repairing is done.

pic: repair successfully
Conclusion
Getting social through the internet bounds people together even we are far from community reach. These days negativity in social media has created some sort of hoax in the environment, which leads people to get rid of them. Deactivating accounts and taking a break for a while can make a significant mindset development to beings. In the case of Facebook, you can only use chat service while deactivating the Facebook account. Deleting accounts entirely can be another option to get rid of the substandard platform. In case you encounter any crashes on Facebook, consider using Tenorshare ReiBoot, which is an excellent third-party tool.
Fix iPhone Stuck and Update Issues without Data Loss