2023's Best Ad Blocker for Chrome
by Anna Sherry Updated on 2020-01-13 / Update for Block
While browsing the Chrome, you might have encountered the annoying adverts popping on the screen. You have to keep wasting time closing all the adverts throughout your browsing session. So, it is obvious that you would want to get rid of them for making your surfing experience a good one. You can easily avoid these adverts by selecting an app or an extension to block the advert. It is very essential to have these ad blockers as these adverts can slow down your system and will also make the web page download very slow. It is very frustrating and irritating when you find yourself stuck with an advert loading and your work getting hampered. So, here are some of the best ad blocker for Chrome in PC, Android, and iOS.
Part 1: Chrome Ad Blocker for PC/Mac
There are many upcoming Adblock Chrome for blocking ads in Chrome. It can get really confusing as to which one to install and which one to not. Here are some of the best Chrome ad blockers of 2018 for Windows/Mac through which you can easily get to know how to block ads on Chrome.
AdBlock is one of the most widely used and most popular ad pop blocker Chrome with more than 200 million downloads since the time it has been introduced.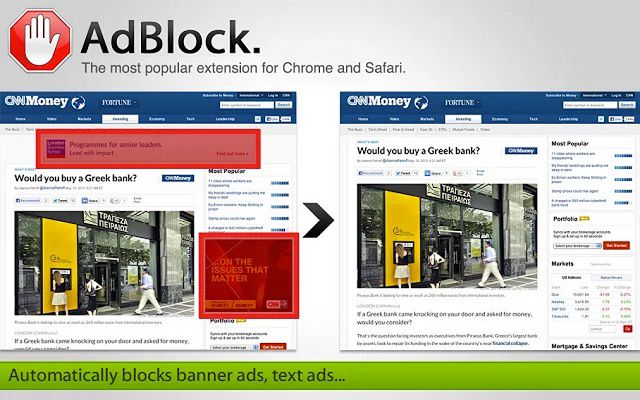 Features:
Easy to install
Easy to use
Works automatically
No fancy configuration
No confusion in advanced options
Works on:
Windows
Mac
iPhone
Safari
Opera
AdBlock Plus
AdBlock Plus is an application which is supported by a wide variety of browsers and has more than a million users worldwide who use it to block invasive adverts from taking over your screen.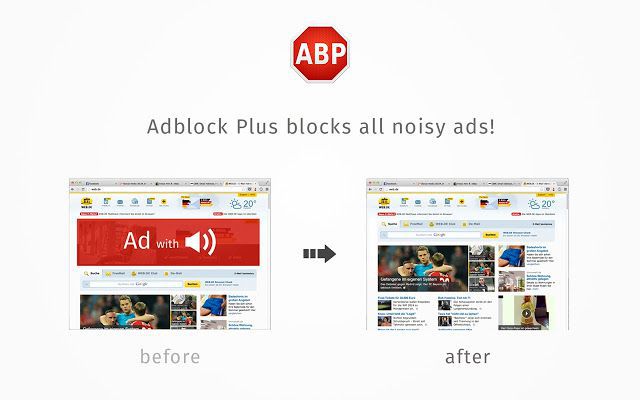 Features:
It allows acceptable ads, i.e. the ads through which many trusted web companies generate their revenue.
Blocks tracking cookies
Blocks dangerous malware websites
Blocks banners
Blocks pop-ups
Works on:
Firefox
Chrome
Opera
Safari
The user base of this adblock Chrome free is not as much as the previously mentioned applications but it does perform its job very well and can be used as other add-ons as well.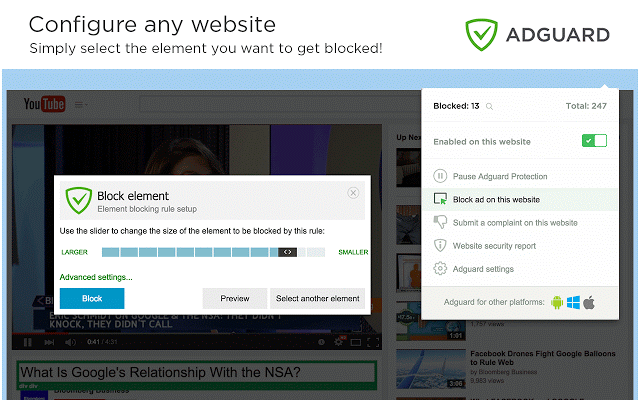 Features:
Most extensive support for all web browsers when compared to other add-ons.
Blocks interstitial ads as well like the ones seen on a big companies website like Forbes.
Works on:
Chrome
Firefox
Safari
Opera
Yandex
Palemon
Ghostery is a very different ad block for Chrome which also tells its users how the website is making money by using an inbuilt feature in it.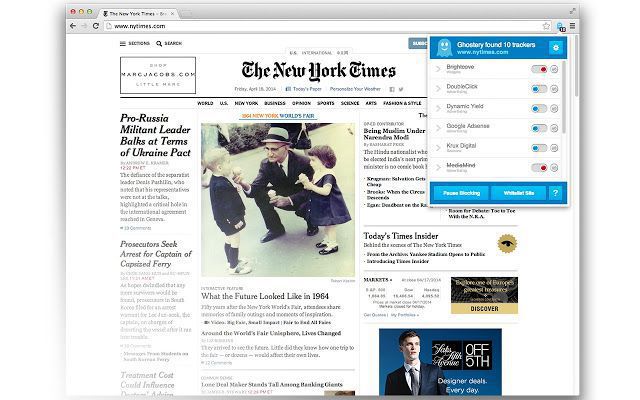 Features:
Uses a feature called Ghostrank, and once you opt to use this, an anonymous message is sent to them about data collection technology which they can see and sell off.
Very risky being so forthright with their monetization.
Very transparent
Works on:
Chrome
Firefox
Opera
Safari
Internet Explorer
Android
iPhone
uMatrix
uMatrix is an amazing Chrome adblocker for advanced power users and has many attractive features inbuilt in it which makes it stand out among its competitors.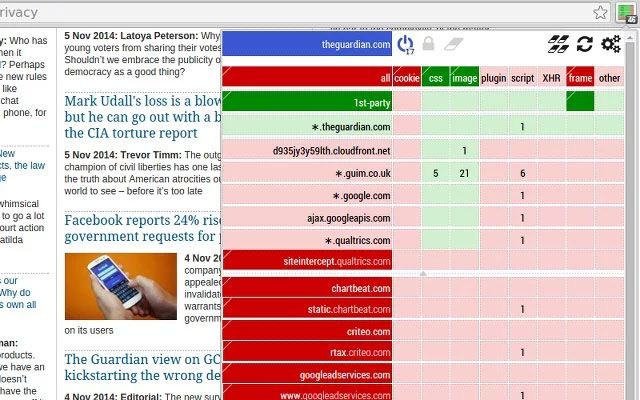 Features:
Great for advanced power users
Utilizes relaxed block-all/allow-exceptionally mode
Breaks site appearances and site layouts
User has the luxury to fiddle around with the features of the application
Allow-all/block-exceptionally can also be used for a less restrictive mode
Works on:
Firefox
Chrome
Opera
Safari
Part 2: Adblock Chrome for Android/iOS
These days we are using mobile phones more extensively than our laptops. All the recently launched mobile phones come inbuilt with almost every feature which the laptops have. Some of the ad blockers for mobile phones, both Adblock Chrome Android and iOS are given below.
Adblock Plus
If you like the Adblock Plus add-on in your desktop, then you would love this version which is available for Android as well as iOS phones. Adblock Plus works effectively to block the pop-up ads which annoyingly appear on the screen while browsing. It can be set up easily to start filtering the ads from the device on which it is used.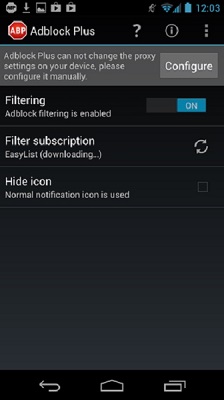 Features:
Blocks FaceBook ads, video ads, pop-ups and banners on the app
Has the feature of allowing certain ads from whitelisted websites
Disables the third party applications which track your information
Lowers the possibility of your device getting attacked by malware.
Social media sharing buttons can be disabled
Works on:
Price: Free
iCareFone App
iCareFone App is a highly recommended ad blocker and can be used in iOS as well as Android devices. More than 25 types of ads can be easily blocked by this app these include pop-up ads, floating ads, layer ads, flash ads, blinkin banner ads, full-screen ads and much more. More than 10,000 applications in your phone can become ads-free by using this ad blocker including social media applications, video applications, game applications, music applications, browser applications, and many other popular applications. You can easily customize the application rules for blocking pictures, promotional ads, third-party cookies, special fonts, bad websites, insecure widget etc. It works very well irrespective of whether the device is jailbroken or not.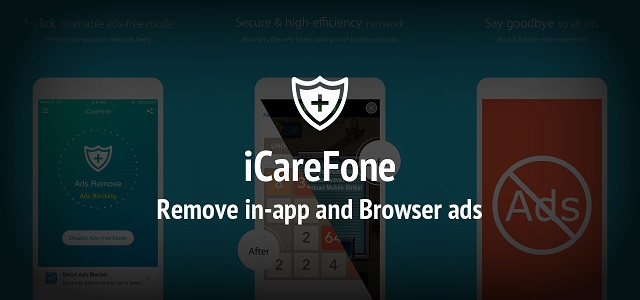 Features:
Blocks more than 25 types of ads
More than 10,000 can be ads-free with its use
More than 50 ad shielding rules
More than 1 lakh users privacy is protected
Works on:
Where to download: From App Store for iOS.
Price: Free
TrustGo Ad Detector
TrustGo Ad Detector is an application which scans the device and shields it from ads which collect data from the device. It effectively prevents the users from clicking on links or ads which are aimed at assessing your personal information.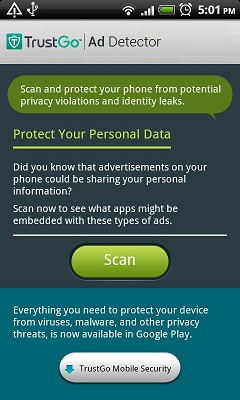 Features:
Scans and effectively detects applications in which push notifications ads are displayed
Prevents an ad from modifying browser homepage
Prevents an ad from leaking phone numbers
Deletes harmful applications after confirming with you
Very easy to install and use
Works on: Android
Price: Free
Adblock Browser for Android
Adblock Browser for Android can be used to block the ads on any Android device. It allows you to conveniently list the domains which you wish to block and prevents them from appearing on your device's screen. This is done by the VPN On Demand feature which comes inbuilt with this application.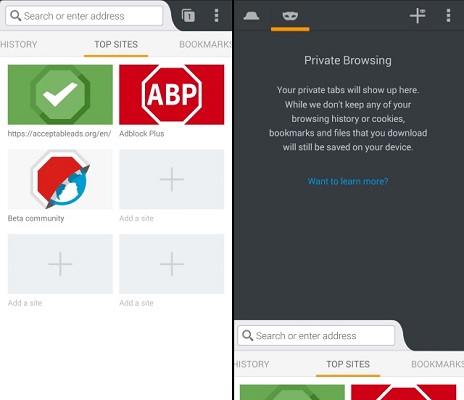 Features:
Works on all Android devices
Supports every app on your Android device
99% efficiency in blocking unwanted pop-up ads
Offers privacy protection
You can limit the bandwidth of usage as well
Through this app, your device's speed can be optimized
Works on: Only Android
Price: Free
Weblock
Weblock allows dynamic customizing capabilities by allowing you to put certain websites in white and black list. It provides superior customization properties to protect your device from unwanted and harmful adverts. Only drawback is that it slows down the Internet speed.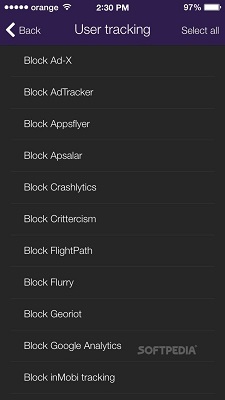 Features:
Comes with a set of predefined rules for web blocking
Is highly customizable
Compatible with all iOS devices
Can work on multiple devices
Works on:
Price: Free
Conclusion
You can use any of the above mentioned ad blockers for effectively blocking annoying ads popping on the screen and also protects your device from a lot many things. Out of all I will recommend you to try the iCareFone app. Moreover, if you want to better manager your Apple devices (iPhone/iPad/iPod), you can give iCareFone a trial. It's the best iOS manager tool so far to transfer/backup/restore your files and repair system problems.
The World's Best iOS 17 File Manager
Free backup everything you need on iPhone/iPad/iPod
Transfer music, photos, videos, contacts, SMS without limitation
Selectively restore files without erasing current data