6 Best Free Ad Blockers for Safari 13
by Jenefey Aaron Updated on 2020-03-16 / Update for iOS App
Recently, some users reported that upgrading to the new Safari 13.0.1 browser rendered their former ad blocker (Ublock Origin) worthless. Moreover, the Safari in-built block settings are ineffective and nothing works to stop the maddening pop-ups. So, if you're one of the users going through the same problem, then we've good news for you. There are free adblockers for Safari 13 that are available out there. To help you make the right choice, check out the below list of 6 best Safari content blocker tools you can use of 2019.
Fortunately, you can easily find Mac-friendly adblockers on the internet. But, picking the right one is a quite challenging task, without a doubt. That's why we come up with the list of the best 6 Safari adblockers you can use to enjoy the ad-free environment while using the browser.
1. Adblock Plus
Adblock Plus is quite a popular adblock for Safari 12 that you can use for free. The best thing about it is that it works across various browsers. Above all, it does a great task of blocking ads, pop-ups, and banners from videos and websites. It can even help you to prevent monitoring by advertisers and offers a certain level of virus protection.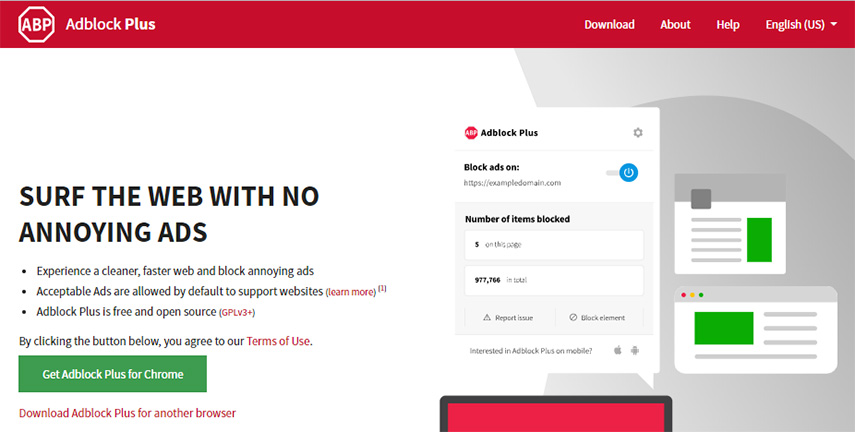 Key Features:
Able to block ads, pop-ups, malware, banners, and cookies.
Let you whitelist sites you trust.
It can allow or disallow acceptable ads.
Pros:
Completely free to use.
Reliably and securely blocks YouTube ads.
Supports a wide range of browsers.
Works on an iOS device for Safari.
Cons:
Can't block all Twitter ads.
The interface is confusing.
Pricing Plans:
Adblock Plus is free to use.
2. uBlock Origin Safari
Another multi-cross platform adblocker out there is uBlock Origin Safari. It is known as the most powerful and fastest ad blocker that can help you block ads, pop-ups, and trackers. Ultimately, you accomplish faster-browsing speed.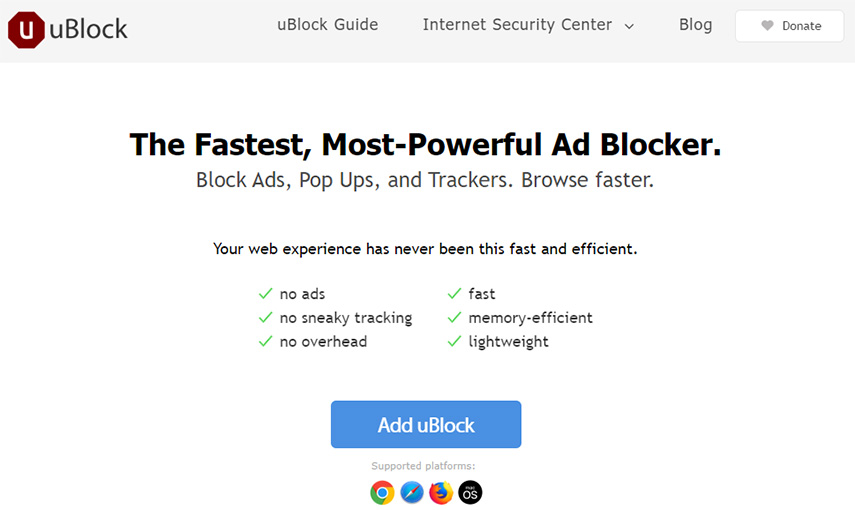 Key Features:
Block all ads, pop-ups, and trackers.
Makes the website to load information faster.
Let you get rid of strange videos and disturbing monitoring is done on your computer if any.
Pros:
Supports various browsers - Safari, Chrome, Firefox, etc.
It can deal with large ads with ease.
No buffering or loading issue.
Cons:
It's quite difficult to install.
Pricing Plans:
uBlock Origin is free to use.
Important Note: The saddening news is that Safari 13 just killed the most powerful adblocker - uBlock Origin. In other words, it will not possible to use uBlock Origin with the new Safari 13 or macOS Catalina release. Any user with uBlock Origin currently installed, it won't be removed until updating to Safari 13. If you're not a user of uBlock Origin and want to install on a pre-Catalina version of Safari, it is still possible to install, but it's a quite complicated process. However, uBlock Origin will stop working with Mac OS Catalina (this fall). So, it's better to consider other Safari adblocker (discussed here).
3. Unicorn Blocker
Unicorn Blocker is an adblock Safari extension that delivers 3X the blocking speed than its counterparts. It does so by using the Apple-supported content blocker API that blocks the ads before downloading to a webpage. With the help of it, you can block video ads, pop-ups, auto-direct ads, 18+ ads, and scrolling ads. If you love to use Apple products, then look no further from Unicorn Blocker.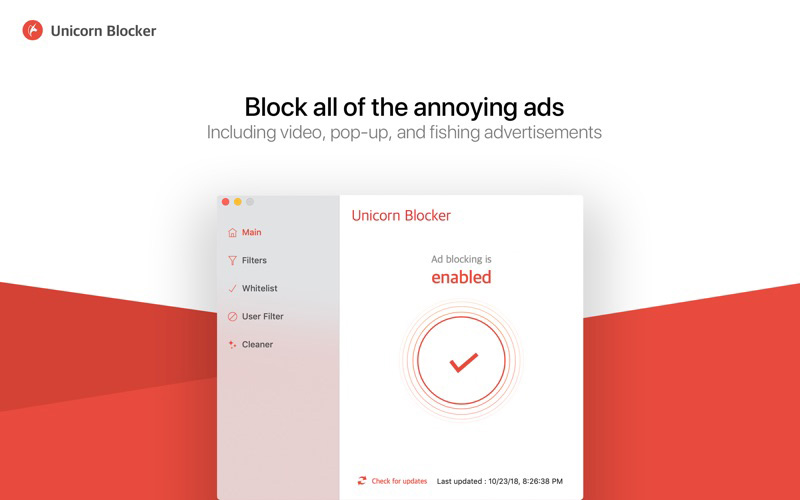 Key Features:
Supports to block a wide range of ads, which include pop-ups, 18+ ads, etc.
Features three times faster-browsing speed.
Ad blocking coverage includes top 1000 desktop/mobile sites, video sites, portals, blogs, news sites, and a lot more.
Pros:
Optimized for Safari users and Mac devices.
It can boost battery life.
Block monitoring and malware.
Cons:
It is not free to use.
Can't block YouTube ads.
Pricing Plans:
Unicorn Blocker costs $3.99.
4. Ghostery
Ghostery is another best adblock for Safari 12/13. By default, it can help you to get rid of intrusive ads & clutter from the websites you want to. As a result, it ensures faster-browsing speed while you're using Safari. Thanks to its AI-powered technology and advanced anti-tracking, it helps to protect your data from 3rd-parties.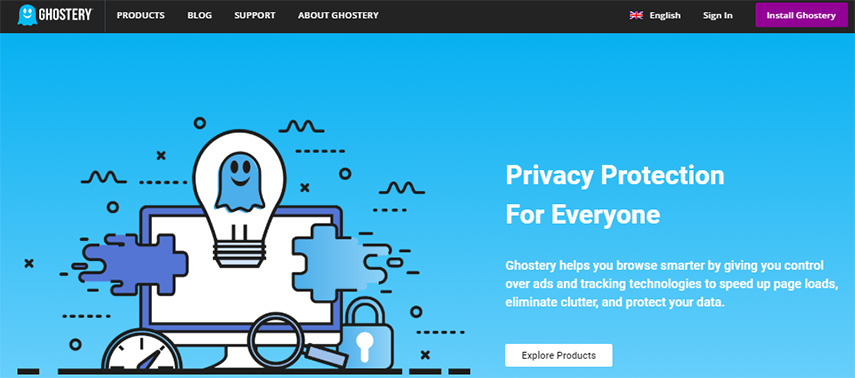 Key Features:
Smart blocking that block webpage monitors automatically.
It features anti-tracking that makes your data anonymous.
Individual and bulk blocking & unblocking of monitors/ trackers.
Pros:
It is free and easy to use.
Supports various browsers.
Let you control which trackers and ads to block.
Works on an iOS device for Safari.
Cons:
Can't block trackers automatically.
Pricing Plans:
Ghostery is free to use.
5. AdGuard
Well, AdGuard for Safari is a free, but sophisticated ad blocker that provides advanced customization options. Apart from ad blocking, it enables you to delete social elements from web pages, for instance, Share or Like buttons, erase annoyances such as cookie notices, etc. Above all, it has a wide range of filter options.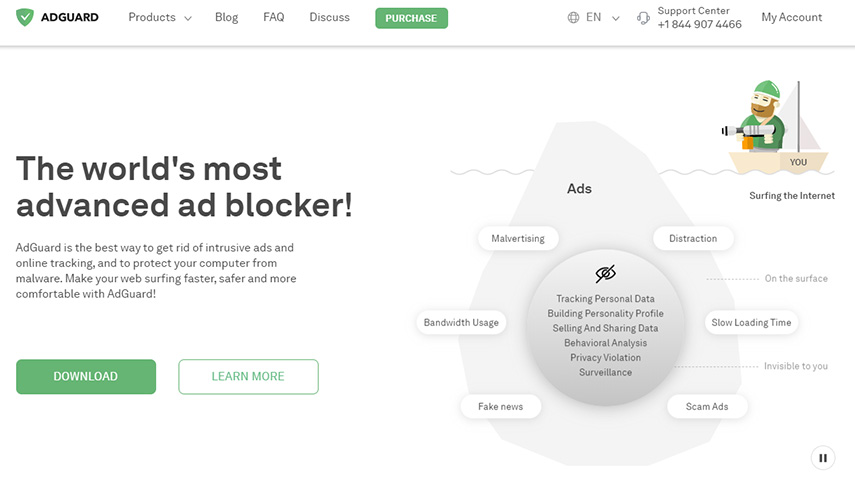 Key Features:
All types of default blocking, which include pop-ups and banners supported.
Block common 3rd-party monitors stealing personal user information.
You can whitelist websites in just one-click.
Pros:
It has a wide range of features for free.
Free and open-source adblocker.
Boost browsing speed.
Works on iPhone.
Cons:
You need more technical knowledge for customization.
Pricing Plans:
Fortunately, AdGuard Safari is free to use.
6. AdBlocker Ultimate
AdBlocker Ultimate is introduced to help users to get rid of all ads while using browser and focus the attention on the information or content you would like to watch. Besides blocking ads, it can block malicious domains that spread the virus and disables monitoring. Moreover, it includes a few extensive filters offering good protection against flashy & annoying ads, YouTube commercials, etc.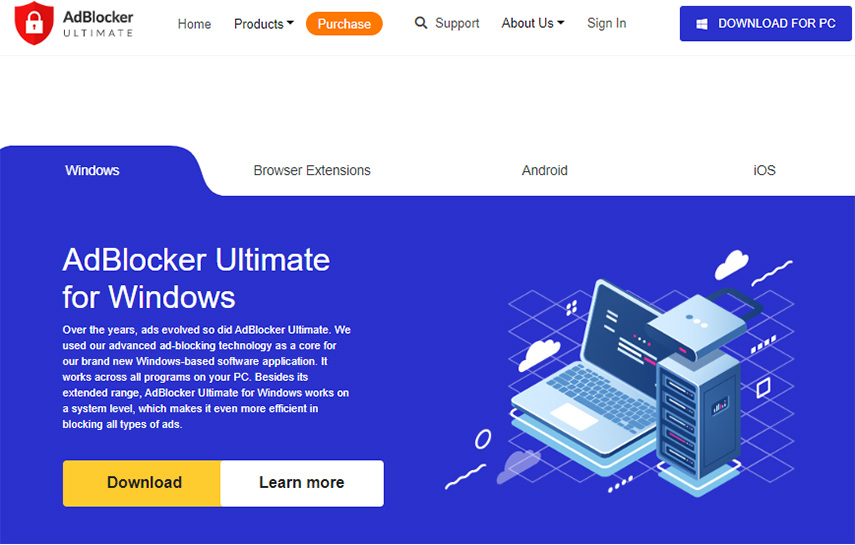 Key Features:
Able to remove various types of ads - text ads, banner ads, overlay ads, pop-under ads, webmail ads, etc.
Supports blocking tracking and malware.
Let you turn on ads for your favorite sites.
Pros:
Free to use.
Boost browser performance.
Reduces memory usage of web pages you visit.
Works on iPhone.
Cons:
Can't whitelist websites.
Pricing Plans:
AdBlocker Ultimate is a free and open-source extension.
Conlusion
That's all on the best adblock for Safari. We hope that our guide has helped you explore the best adblocker available out there for Safari 13. Did you ever look for a good adblocker app for iPhone/iPad but don't have any idea? You can search for iCareFone app on the App Store to meet what you need. It is an extremely easy-to-use iOS app to block ads when you enjoy videos, games, music, etc. You can enjoy internet surfing without ad disturbing with Tenorshare iCareFone App.
This app also have a desktop software Tenorshare iCareFone that you can install onto your Windows or Mac computer. It is an all-inclusive iOS data manager software that is featured with iOS data transfer, iOS data free backup as well as iOS system repair.
Focus on iOS Devices Solution
Free backup everything you need on iPhone/iPad/iPod
Transfer music, photos, videos, contacts, SMS without limitation
Selectively restore files without erasing current data
Transfer WhatsApp from iPhone to Android/Android
One click to backup and restore WhatsApp from iPhone