Top Tips for Taking Underwater Photos with iPhone 7 and iPhone 7 Plus
by Jenefey Aaron Updated on 2019-08-16 / Update for iPhone7 Tips
Apple has finally released its first water-resistant iPhone, that is, the newest iPhone 7 and iPhone 7 Plus (including red iPhone 7/7 Plus). If you own an iPhone 7, you won't have to worry someone spills water on it at the dinner table. What is mentioning is that iPhone 7/7 Plus water-resistance is different with waterproof equipment.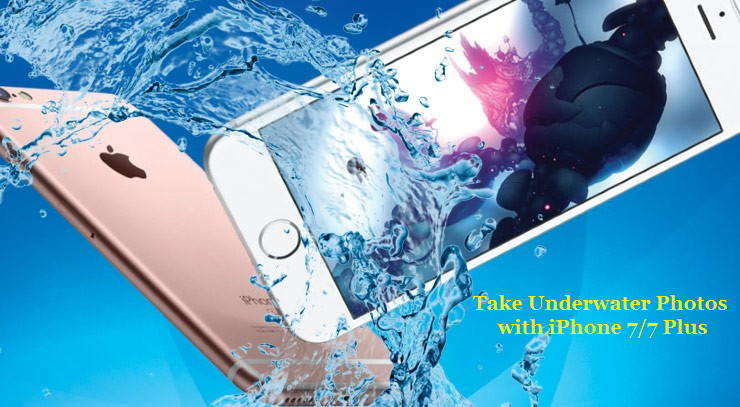 The new iPhone has an IP67 rating, which means the phone can be submerged in up to 1 meter of water for a maximum of 30 minutes. Hence, if you'd like to take your iPhone for a swim, or take pictures underwater with iPhone 7, you'll need a waterproof case for your device.
How to Take Underwater Photos with iPhone 7 and iPhone 7 Plus
Here we summarize the top 5 useful tips if you are going to take underwater pictures with iPhone 7.
Tip 1. Fully charge your iPhone
It is never suggested to charge an iPhone when it is wet. So you'd better fully charge the battery before using it for underwater photography. Also, we recommend you to let the phone dry for several hours before you charge it again or extract photos from your iPhone to computer.
Tip 2. iPhone setup
When you are underwater, it will be hard to use the touch screen of your phone, so make sure you've set up your iPhone properly before going underwater. Instead of tapping the touch screen for taking photos, you can use the volume keys (on the left side of iPhone 7) to take photos. Press either of the volume keys and a photo will be captured. Try this out above the water to get used to using the volume keys.
Tip 3. Take multiple shots
If you are shooting a subject that is fast moving, then use the Burst mode. This will capture multiple pictures in a very shot frame of time. Thanks to the burst mode, you can capture the stunning underwater photos.
Tip 4. Lighting
It is more challenging to take photos underwater as water refracts light in different ways. Diving enthusiasts suggest taking photos in water between 10am and 2pm, when the sun is at its highest point in the sky and provides the best visibility underwater. The flash is not recommended as it can disturb the focus and colors of your shots.
Tip 5. Stability
Stability is very important, especially when you use your iPhone 7 to shot a fast moving subject or take underwater videos. You may consider locking your arms or buy a selfie stick to help you have a steady handy and capture beautiful pictures.
These are the tips we think you should consider when taking underwater photos with an iPhone. Though iPhone 7/7 Plus water-resistance is a big leap by Apple, you should remember that liquid damage is still not included in the one-year limited warranty. If your iPhone unfortunately got damaged in water, check what to do with a water-damaged iPhone here.
To rescue and recover data from an iPhone that won't turn on, I recommend you Tenorshare iPhone Data Recovery, a professional iOS data recovery tool featuring 3 recovery methods. It can recover photos, messages, contacts, notes, and other 20 types of data either by scanning your iPhone directly, or help extract data from iTunes/iCloud backup files.
Related Read: The Best 3 Solutions to Recover Lost Data from iPhone 7/7 Plus