How to Unlock an iPhone 7/7Plus from AT&T
by Jenefey Aaron Updated on 2019-07-25 / Update for iPhone7 Tips
Apple's latest iPhones namely iPhone 7 and iPhone 7 Plus are available on some of the popular carriers in the United States. This means that you can save some bucks if you go for a carrier you already use as they will give you a discount when you buy a new iPhone from them.
When you buy a red iPhone 7 from a carrier in the States, your iPhone comes locked. What that means is that it can only work with the carrier you have purchased it from. For example, if you have purchased your iPhone 7 from AT&T, then the phone will only accept SIM cards of this carrier and it will not work with any other carriers.
Of course, there's definitely going to be some restrictions when you buy a phone on a discounted rate. Carriers do that so that you don't leave them and you stick to them.
However, there are now ways to unlock your iPhone from a carrier lock and be able to use the phone on any other carrier. That way, when you unlock your iPhone, you are able to use your phone on any other network you like, T-Mobile, for example.
In the following guide, we are going to show you how you can unlock an iPhone 7/7Plus from AT&T. Once you are unlocked, you will be able to use your phone on other carriers as well and not just AT&T.
Steps to Unlock iPhone 7 and iPhone 7 Plus from AT&T
You must make sure that your phone is actually locked to AT&T. Also, make sure your phone is clean and it has not been reported as lost or stolen.
1.Open a browser on your computer and head over to the Device Unlock page on the AT&T website.

2. Click on Unlock your device on the website to begin the unlocking process.
3. On the following screen, you will be asked to enter your AT&T account details. Fill-in your details along with captcha and then click on Next to move forward.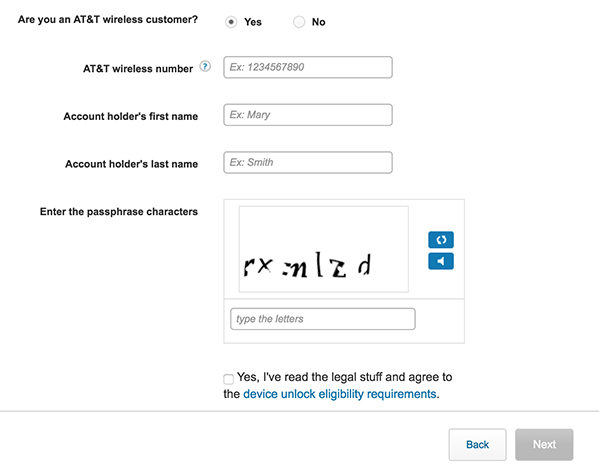 4. Follow the on-screen instructions for unlocking your AT&T iPhone 7.
5. The carrier will send you an email with a link to confirm unlocking your device. Click on that link in your email.
6. When your unlock request is confirmed by AT&T, they will send you an email with instructions on how you can actually unlock your device. It shouldn't be any hard, though.
After you have followed AT&T's instructions for unlocking the device, you can then put in any SIM card into your phone and it will work just fine. It will not prompt you that your device is locked and that you can't use this carrier with your phone. It will just work as fine as it did when you were using it with AT&T.
When you unlock your iPhone 7 and you reboot it and it gets stuck at the loading screen, you might panic. While this does not happen too often, it really scares us when it does and we start thinking we have just messed up.
If that has happened to you, you can follow the following instructions to get it working again.
Your iPhone 7 from AT&T should now be unlocked and working fine. Let us know how this went for you! Gets some Tips to Take Care of Your New iPhone 7 /7 Plus and Keep It in Good Condition.