What We Need to Know About LINE App Hidden Chats?
by Jenefey Aaron Updated on 2022-05-18 / Update for iPhone Tips
Information security becomes crucial with the popular use of phones and chat apps. In order to protect your sensitive data and privacy, LINE provides hidden chat service. We will guide you to learn what is LINE app hidden chat, how to hidden chat in line, how to disable or remove hidden chat, and in what condition hidden chat can work. Moreover, we will show you how to use iCarefone to backup and restore your important LINE chat.
Part 1: What Are LINE App Hidden Chats?
LINE app hidden chats are texts and images sent with a secure setting. The sender sets and sends hidden chats to one receiver, the receiver can only see "hidden messages" once received. Only after tapping on it, it will show content. LINE hidden chat function allows you to set a fixed time for receiver to view or read sensitive information. That is an excellent way to protect your information from leaking and hacked.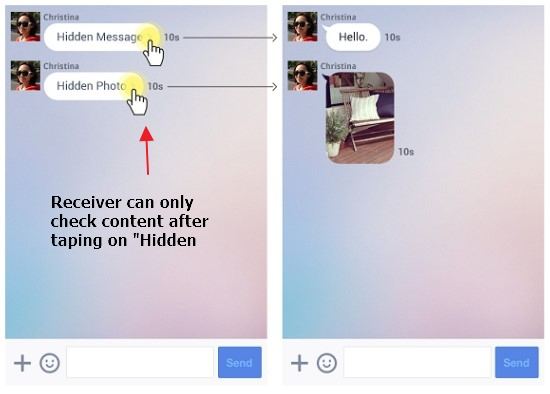 Part 2: How to Send/Receive Hidden Chat on LINE App?
"How to hidden chat in LINE" is asked a lot after LINE provides hidden chat for Android and iPhone users. It is not difficult to use this function. Just follow below steps to know how it works.
Open LINE app, go to find the person you want to chat, open chat interface as usually do, tap on "Hidden Chat" at the right top corner.

You can send messages or images as usual, it will be automatically be hidden chats. 1 min is set for receiver to check the message by default. And you can click "Timer" to update the time you want to change.

Messages are sent out. The receiver will receive one notification to read messages. When the receiver opens this chat windows, only "Hidden Message" or "Hidden Photos" can be seen. Tapping on it to read details information.

After the timer is exceeded, all LINE hidden chats will be removed automatically. If the hidden messages are not open, the server will delete them automatically after a short time and these LINE hidden chats are disabled.
Part 3: In What Conditions Hidden Chats Can Work.
Some users cannot find Hidden chats in their LINE app. It may be very confused when others around you are talking and using it. Is there any issue with your LINE app? Not exactly. Hidden chats function can only be used when you meet all below requirements:
Condition one: Only used in one to one chat. It does not allow to use in group chat.
Condition two: Hidden chat Line can work on android 2.3 and later, iOS 5.0 and later. But it does not support for Chinese and Japanese accounts and cannot work on BlackBerry, Firefox, Nokia, Windows Phone, and PC versions of LINE. So make sure your account and phone are available for Hidden Chats.
Condition three: Only support for text, images, stickers, location and contact information, cannot be used for multimedia and notes.
With hidden chats, you do not need to worry about your privacy, when you chat with others. In community, Besides, we found that a large number of users are looking for an ideal way to backup and restore LINE chats. Testing a mass of ways, iCarefone is the best solution. We will present how to use this tool step by step.
Bonus Tips: How to Backup Your Important LINE Chats?
iCarefone for LINE is created by Tenorshare. It's an amazing LINE data transfer/backup/restore app that can help you transfer LINE chats between Android and iPhone, back up LINE chats to PC and restore LINE backup to PC/device. Try it by following the steps below:
Download and install iCareFone for LINE on your computer. Launch it and choose Backup from the left list. Then connect your device to the computer and click on "Back Up Now".

Wait for the backup process to complete.

When the process is completed. You can view your backup and restore the data to your device.
Final Thoughts:
You can better use LINE app hidden chat after learning it in detail. With this impressive function, there is no worry anymore to send important or sensitive information in LINE. In order to prevent data from being lost or deleted unintentionally, Tenorshare iCarefone for LINE can figure this out and back up your LINE data to computer.
FAQS About Line App Hidden Chat.
Q1. What is hidden chat on line app?
Hidden chat on LINE app is a feature which authorize you to hidden the chats you send to receiver and set a limited view time for the chat. The receiver can only see contents after tapping it. And once these hidden messages exceed the fixed time set, it will be deleted from LINE server.
Q2. How do you see hidden chats on LINE?
Once you receive a hidden chats on LINE, you can tap on "Hidden Messages" or "Hidden Photos" to make it reachable.
Q3. Can you open hidden chat on app LINE?
If you are the receiver for the Hidden chats, yes. You can open hidden chats in LINE app. Just tap on the messages to see it.