Best 7 Free iPhone IMEI Checker Online
by Anna Sherry Updated on 2020-08-31 / Update for iPhone Tips
What actually IMEI is? There are many users who do not know what IMEI is. Essentially, IMEI stands for International Mobile Equipment Identity that is unique in nature. Every smartphone has unique IMEI number that is given during the manufacturing so that every phone has its own identity and its information.
If user want to get the full information about device, they need to check the IMEI number. Also, there are many second-hand iPhone buyer confirm the device it is not locked or blacklisted by checing the IMEI number. In this article, we will see best 7 free iPhone IMEI checker online.
Top 7 iPhone IMEI Check Tools You Should Never Miss
Here, we gonna introduce to you best imei checker, which include iPhone imei check free online.
1. IMEI24.com
IMEI24.com is an online IMEI number checker. You just need to provide 15 digits number that you will get after dialing *#06# on your phone dialer. This websites provides many information related to the iPhone as well as network. Once you enter the IMEI number in the search bar, you can easily see system version of your iPhone, warranty information, purchase date of that iPhone as well as network and country from where your iPhone has come. You can even see the warranty status in the information provided to you.

2. iphoneox.com
iphoneox.com is another iPhone IMEI check free online website that helps you to see the information about your phone when you provide the IMEI number. In this website you will see a big search bar where it says "Enter IMEI here…", there you need to enter the IMEI number of your iPhone and then it will display you product description, warranty and activation info, whether the phone is locked to the carrier or not. You can even check the activation lock status.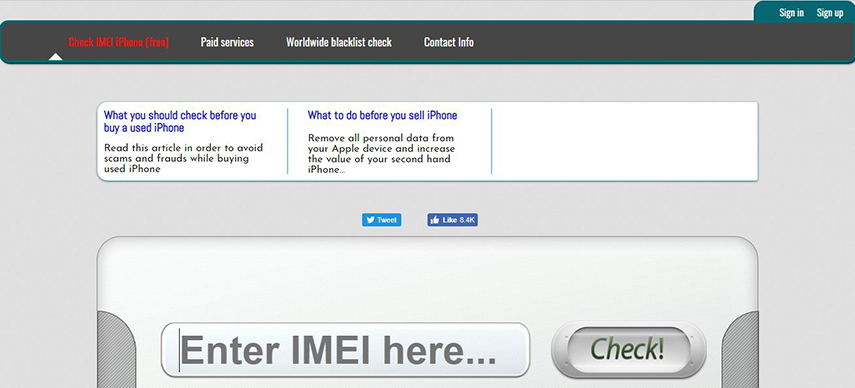 3. IMEI.info
IMEI.info is IMEI check free online website that can give you the information about your phone as well as other information related to it. This website has pretty eye catching interface with good colour combination. All you need to do is enter the IMEI number in the search bar and click on check button then you will get all the information instantly. This website check phone blacklist, warranty information, date of purchase, device specification, checks sim lock as well as carrier information. You can even unlock your iPhone using this website.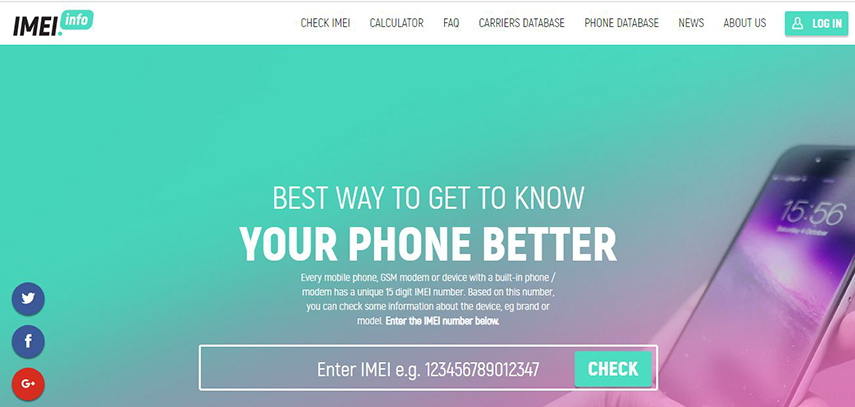 4. iPhoneIMEI.net
iPhoneIMEI.net is fast and reliable Apple IMEI checker. This website gives you two services whether you want to check iPhone IMEI or unlock iPhone. You can see the IMEI search bar on the main interface of website. Just enter the IMEI number and it will automatically take you to next page where you can see all the information like model number, purchase date, support coverage, technical support, manufacture date and iPhone age but you need to go for premium if you want to check Activation lock status.

5. OfficialiPhoneUnlock.co.uk
OfficialiPhoneUnlock.co.uk is a search engine for the iPhone IMEI. The website offers many other features in addition to the IMEI number, such as unlock iCloud, network check etc. You just need to enter your IMEI number in the search box and you will get all the information about the phone and it's status. After entering the IMEI number, you need to enter the email address to receove the notification when the unlock is completed.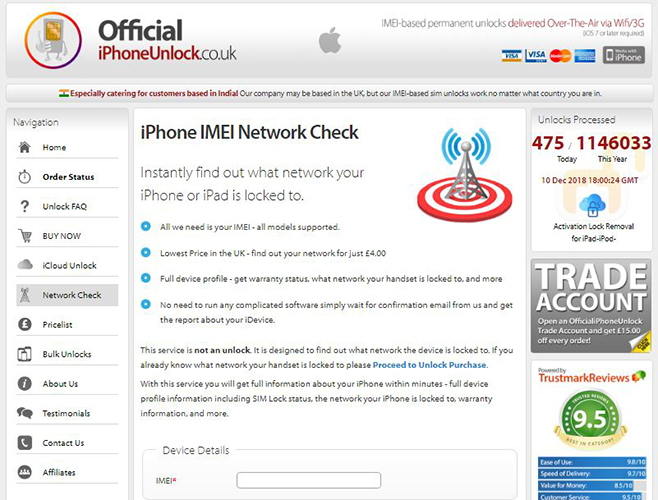 6. iOS Basics
iOS Basics is a free website that helps to check IMEI iPhone just in few clicks. You need to provide your IMEI number in the search bar and then click on "CHECK IMEI" option. Within few seconds you will get the information about your phone and it status but if you want to check the carrier information, you need to pay some amount. It also provides sim lock status once you pay the amount and you will get the information within 1-48 hours.

7. iUnlocker
iUnlocker is an online iPhone IMEI or serial number checker. This website provides wide range of information to its users. Enter the IMEI number inside the search box and click on Check button. You will see the information like technical support, blacklist status, repairs and service coverage but if you want to see the Carrier/SIM lock or the information about the seller then you need to pay certain amount. You can even request for the device unlock using this website.

Bonus Tips: How to Unlock your iPhone/iPad without Passcodes
Most of the users are locked out of their iPhone/iPad at some point of their life. There are plenty of reason due to which one gets locked out of his/her phone. Some of the reason are: difficult passcode, wrong password entered many time and so on. The reason may be whatever but the solution is only one which is Tenorshare 4uKey. This tool can easily remove 4-digit/6-digit passcode, Touch ID & Face ID from iPhone/iPad and even bypass the iPhone Screen passcode in no time. 4uKey is also compatible with iOS 14 and latest iPhone 11 Pro.
Process on how to unlock your iPhone/iPad without Passcodes
First download, install and then launch 4uKey on your computer.

Next connect your iPhone to the computer via USB cord. Instantly 4uKey will detect your iPhone then click on Start button to proceed further.

You need to download the latest firmware package, before that choose save path and then only click on "Download" button.

As soon as the downloading of the firmware is completed, click on "Start Unlock" option to begin the process of removing your iPhone passcode. It will take sometimes to complete the process.

Finally you have unlocked your iPhone/iPad without passcode. You can restore your iPhone/iPad, if you have backed up the data on iTunes or iCloud.
Conclusion
In this article you have learned how to check iPhone IMEI online using the above 7 best websites. All the websites does pretty good job for checking IMEI number and providing the related information to user. You can use anyone of them as your wish. Let us know if you have any favorite IMEI checker online in comment section below.
People Also Asked about iPhone IMEI Check
Q1: Can I check if my phone is unlocked with IMEI?
You can absolutely check your IMEI number even your phone locked. You can check your phone box. When you buy the device, the box for your device with the IMEI number. If you still have this box, view the bottom of the box.
Q2: Is it safe to give out IMEI number?
It's not sfte to give out IMEI number, this number will lock your SIM card and your information may be compromised. So, do not give out your IMEI number.
Best Tool to Turn OFF Find My iPhone/iPad/iPod touch without Password
Disable Find My iPhone/iPad/iPod touch without password;
100% working to sign out of iCloud without password quickly.;
Most efficiently remove Apple ID from iPhone/iPad/iPod touch without knowing the previous owner;
Support iOS devices from iPhone 6S to iPhone X (iOS 12.0-iOS 14.4)