How to Turn Off Japanese iPhone Shutter Sound Easily
by Anna Sherry Updated on 2022-01-24 / Update for iPhone Tips
If you own the Japanese variant of the iPhone, one of the most distinctive things about the device is that you will not be able to turn off the shutter sound. As a result of this, your Japanese iPhone will always make some sound whenever you want to capture a picture. Of course, this shutter sound can make it discomforting for you to take a picture in some places and circumstances.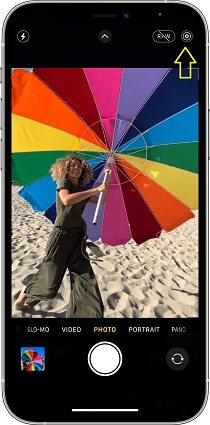 While there is no default way to turn off the shutter sound, we will explain a tested and trusted method for turning off Japanese iPhone shutter sound easily.
Why Can't Japanese iPhone Shutter Sound be Turned Off
Well, this is because there is a law in Japan that prohibits iPhones from turning off the camera sound. In fact, this doesn't only apply to iPhone as Android devices and other smartphones in Japan also have hard-coded camera sounds that no one can turn off by default.
But why is this so? This is because the Japanese authority wants to prevent anyone from capturing the photos of other individuals without their permission. So, if you are trying to photograph someone in Japan, shutter sound will let the person know about it. To implement this, all smartphones in Japan must have camera sound.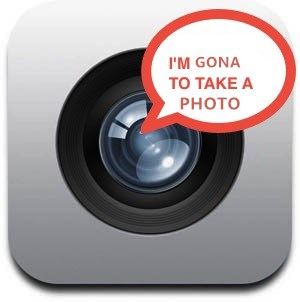 How to Get Rid of Shutter Sound on Japanese iPhone with A Tool
Although you cannot turn off the shutter sound on a Japanese iPhone by default, we have a tool that can help you to do so. This tool is called Tenorshare 4MeKey. The program is easy to use and works with most versions of iPhones including the Korean variant of iPhones.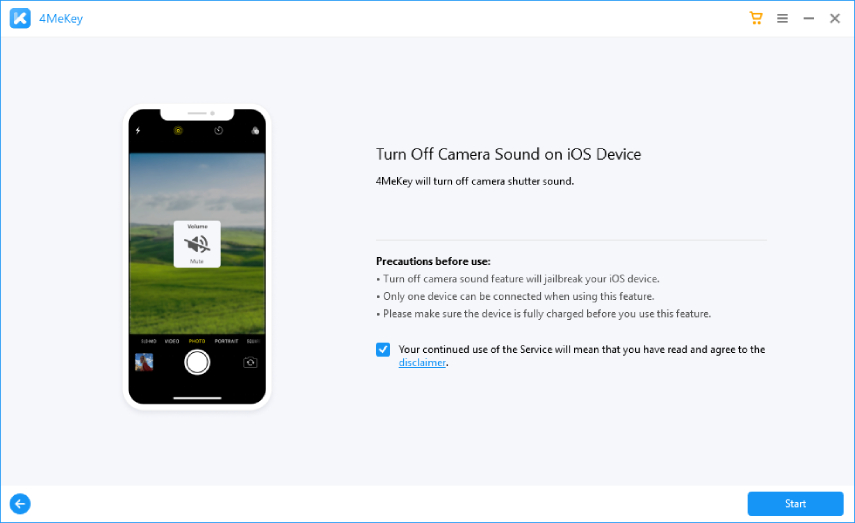 If you are ready to get rid of shutter sound on the Japanese iPhone with Tenorshare 4MeKey, here are the things you should do:
On the main interface, there are 3 main options. Look at the right-hand corner of the bottom of your screen and select "Turn Off Camera Sound".

With a USB cable, connect your iPhone to the computer with 4MeKey. Afterward, click "Trust" to enable the system to get access to your iPhone. Be patient as the program recognizes your device.

Once the two devices are connected, Tenorshare 4MeKey will start downloading the jailbreak tool on the computer.

With a USB flash drive, you have to burn the jailbreak environment. You need this to jailbreak your iPhone.

When you have burned the jailbreak environment on a flash drive, follow the onscreen information to complete the process. Also, you may want to scan the on-screen QR code to get more information on jailbreaking your iPhone.

Just confirm the information and tap "Start to Turn Off" to continue.

The process to turn off the camera sound on your iPhone will start immediately.

Now, you have successfully used Tenorshare 4MeKey to turn off the shutter sound on your Japanese iPhone. So, you can take photos without any sound.
Is It True That iOS 15 Can Mute Japanese iPhone Shutter Sound
No, it is not possible for iOS 15 to mute the Japanese iPhone shutter sound. Basically, iOS 15 is just a new variant of the operating system and cannot alter the laws that govern the use of smartphones in Japan. Therefore, if you are hoping that iOS 15 will help you to mute the Japanese iPhone shutter sound, you will be disappointed.
However, according to some users, if you are using a foreign SIM card in your Japanese iPhone, you may be able to mute the shutter sound of your Japanese iPhone. Of course, there are a few things you need to do for this to be possible.
Conclusion
Again, by default, you cannot turn off the camera sound of the Japanese variant of an iPhone. This is because of the law that prevents people from taking other people's photos without getting their permission. Nonetheless, you don't have to be stuck with camera sound whenever you are capturing photos. All you have to do is to download and install Tenorshare 4MeKey. Then, you need our detailed tutorial above to use this dependable program to turn off the camera sound on the Japanese iPhone.