How Many Backups Does iCloud Keep? Click to Find Answer!
by Jenefey Aaron Updated on 2021-02-02 / Update for iPhone Tips
Are you worried about your data and important documents when you reset your iPhone, iPad, or Mac? Then your problem can be resolved by using an iCloud backup. However, what if you want to back up your data next time again.
I am sure there are many question marks in front of you. As how many backups do iCloud keep or does it delete old ones to save new backups and much more. Continue reading the article to look for your queries and find answers to your questions.
Part 1: How Many Backups Does iCloud Keep
How many backups does iCloud save? Usually, an Apple iCloud saves only the recent backup. Which means it can keep only one backup at the time. However, each time you perform a backup, your device/ iOS merges the older backup with the new one. In this way, it saves all the data. However, some users have reported having three iCloud back-ups at their accounts.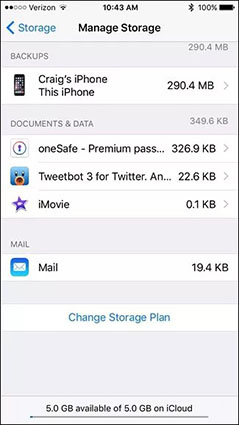 How to View and Delete iCloud Backups
When someone mentions that they want to delete their old backup, the very first thought came in peoples mind is, is he ok. But relax they might have backed up their device at their Mac or PC. You can easily view and delete any data you want from your iCloud backup.
Thus, the steps to view and delete iCloud backups are:
Go into Settings on your iPhone or iPad and click on your Apple ID.

Now go to iCloud and click on the Manage Storage under iCloud. All of your iCloud backup data will be shown on your screen.

Click Manage Storage to delete iCloud backup

If you wish to delete the backup. Then, select the Backup and chose the Backup Device which you want to delete.
Finally, press the Delete button and then for confirmation, click on the Turnoff & Delete option.
Repeat the same method if you want to delete the backup of another device.
Related Read: How long does it take to restore from iCloud backup
Part 2: How Much Time Will iCloud Need to Back up a Device
There are not any exact numbers or time to state which an iCloud need for backing up a device. Because these times vary for different users. Moreover, different users have mentioned different times taken by the iCloud to back up a device.  
But the question here is why this time varies. Its answer is very simple and straightforward; there are several situations on which the backup time of iCloud depends. These includes:
Size of the backup
Speed of the internet
Reliability of Wi-Fi connection
Condition of your iPhone
However, according to a round figure, it may take from 30 minutes to 2 hours.
Part 3: What're the Cons of iCloud Backup
iCloud unquestionably saves a lot of you from the problem of keeping your precious data. To many people, it's like their life savior as it stores not only their important documents but also precious memories as well.
However, apart from its amazing benefits, there are specific cons of using the iCloud backup. These includes:
The most significant drawbacks of using iCloud are it works only when you have Wi-Fi access. You need to have a Wi-Fi if you want to back up your data on iCloud.
Generally, iCloud comes with only 5GB of free storage. Although there are devices that have more than 5GB of free storage, that is not the case for all devices. As a result of which, if you have a larger size of the backup, you need to buy more free space.
The biggest concern of iCloud users is security because a third person who is not authorized can have access to your data.
Although it stores most of your data, still media files that you have not bought from iTunes cannot be backed up at iCloud.
There are a lot of syncing problems if you go for a larger iCloud drive.
Part 4: How to Backup iPhone Without iTunes or iCloud Free Using Tenorshare iCareFone
Sometimes due to specific issues, users of iOS are not able to restore their data using an iCloud or iTunes. If you are also facing this problem, then don't worry. Because of your rescue, there is Tenorshare iCareFone software. It can help you to back up your iPhone without iCloud or iTunes.  
The features of iCareFone are:
It provides free backup to your data and also can restore to certain devices.
Besides, it can help to make the transfer of data easy, fast, and reliable.
It helps to restore WhatsApp data on your iPhone and iPad.
Follow these steps to back up an iPhone without iCloud or iTunes:
You need to download Tenorshare iCareFone software on your PC or Mac. After this, connect your device with the computer.

Once your device is successfully connected, click on the "Backup and Restore" tab from the menu.

Step 1: Backup iPhone without iTunes or iCloud free - iCareFone

Now, a screen will appear which has selected all the files by default. Therefore, choose those files only you need to backup.

Step 2: Select files to backup iPhone without iCloud or iTunes - iCareFone

It will take a few seconds or minutes to back up all the files. Once it is completed, you can view backup files.
Part 5: What're the Pros of iCareFone Compares to iCloud
Both iCareFone and iCloud are used to transfer data and keep a backup of data. Both have their benefits and advantages to use and almost have similar features. However, certain features give iCareFone some brownie points.  
The pros of iCareFone in comparison to iCloud are:
The backup storage capacity of iCareFone is depend on your computer, which means there is no limit with the software. As a result of which it is a more attractive option for many iOS users to keep their backup.
Another benefit of using iCareFone is its security and reliability. You don't have to worry about the security of your data. It provides much better security than iCloud, which means that it gives you relief from your biggest concern. Thus, no third person can have access to your backup data.
Usually, iCloud cannot update to the latest version automatically, and there are many syncing issues after the upgrade. However, iCareFone doesn't show these issues and can automatically update to the latest iOS version so that you can enjoy all its features.
Conclusion
Now you know the answer of how many backups does iCloud store. iPhone or iPad users can save and backup their data in iCloud. Usually, it keeps only recently back up data. There is no limit as to how much time it takes for a backup of a device as it depends on situations like Wi-Fi connection, backup size, etc. Moreover, you can use Tenorshare iCareFone for a back as well instead of iCloud and iTunes. You can also explore how to reduce iCloud backup size easily.