Snapchat Down or Not Working? 9 Common Snapchat Problems & Fixes
by Jenefey Aaron Updated on 2020-04-13 / Update for iPhone Tips
"Is Snapchat down?" "Snapchat memories not working?" Snapchat says "Could not refresh messages. Please try again later." ? Snapchat the one of the hottest photo-sharing application now. However, many Snapchat users complained that they always have problems with Snapchat. In this article, we will show 9 common Snapchat problems on iPhone/Android and how to fix them by yourself.
Tips:Snapchat takes large amount of space on your device? Read on How to Permanently Clear Snapchat Storage Space on iPhone
Is Snapchat Down?
If you have problems with Snapchat, the first thing is checking if Snapcht is down. There are two places to check to see if Snapchat is down.
Check Down Detector to see if Snapchat is down for other people as well. You can also check the Snapchat Support account on Twitter for information on Snapchat server problems.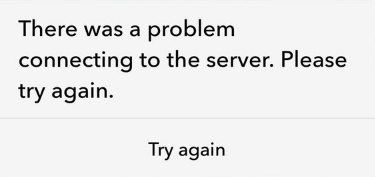 Can't login to Snapchat?
Get the message "Oh no! your login temporarily failed, so please try again later." This problem often faced by users of Android than the iPhone , the main problem which causes you can not log in temporarily on Snapchat is because you probably running on rooted device.
If you can't login to Snapchat on Android, make sure that you are not using a rooted device and you have a valid Google Account that sync to your Android phone.
On your mobile device, open Settings -> Accounts -> Google.
Touch the account whose data you want to sync.
In the top-right corner, touch menu -> Sync now.
If you can't login to Snapchat on iPhone, see if Snapchat is down for other people as well. Many common Snapchat problems related to login are due to Snapchat server.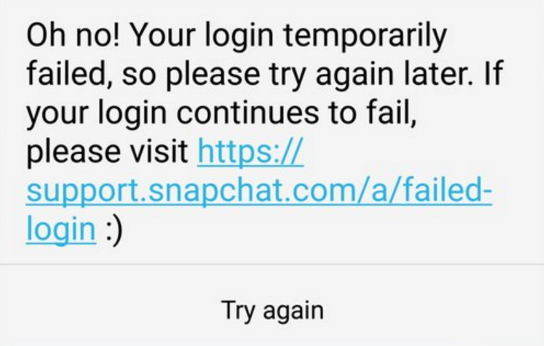 Snapchat says "Could not refresh messages. Please try again later."
This error is displayed when the Snapchat application is having difficulty connecting to our servers. This may be caused by a network issue, such as poor data reception or wifi access or by temporary server outage.
Snapchat memories not working/loading
Snapchat Memories is a personalized album of your favorite Snaps and Stories that you access by swiping up on the camera home screen.
However, many users complained that their Snapchat memories disappeared or not loading photos. Recently, there isn't any official solution to solve this problem but wait for Snapchat's update.
Snapchat won't send messages
Many users are pointing out things like "Snapchat won't let me send message", or in some cases, "Snapchat won't let me text, but will let me send Snaps".
If you have the same problem, try to restart your phone and clear cashes on your device with an cleaner tool like Tenorshare iCareFone, or reinstall Snapchat to see if it is working.
Snapchat keeps on crashing
Users has made mass reports to Snapchat's support Twitter account that Snapchat app keep crashing when start up/login it/ take a picture. If you unfortunately get the same issue problem.
Check that your iPhone or Android device is updated with the latest software available. On iPhone this is iOS 9.3.5. You can check for the update in your Settings app > General > Software Update
Check that you have the latest version of Snapchat installed.
Completely close the Snapchat app and reopen it
Delete the app and reinstall it.
Make sure you don't have any third-party Snapchat apps installed.
Snapchat expected 200 status, got 403/ Snapchat error 403
Receiving a "403 Error" when trying to use Snapchat, or when trying to log in? A 403 Forbidden error message could be seen on your device as "Snapchat expected 200 status, got 403", "Snapchat Error 403", "Other Snapchat Error Messages". The most efficient way to fix Snapchat 403 forbidden error is deleting the app and reinstall it again.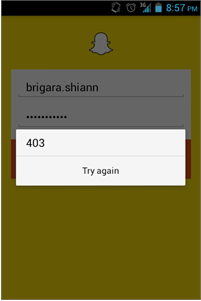 Cannot Change Snapchat Username
Many users are confused that why they cannot change Snapchat username. However, currently the username on an existing Snapchat account cannot be changed.
The official support document from Snapchat states:
"For security reasons, it is currently not possible to change the username for an existing account. If you wish, you may delete your account and create a new one."
Snapchat Network is Blocked Message
Get the error message saying "The network you are connected to has been temporarily blocked because of suspicious activity?" The following error message can be caused by spam or other prohibited uses of Snapchat suspected of originating from the IP address you are using.
If you use a VPN, turn it off and see if you can connect. If you don't use a VPN switch from WiFi to cellular or from cellular to WiFi and see if you can use Snapchat again.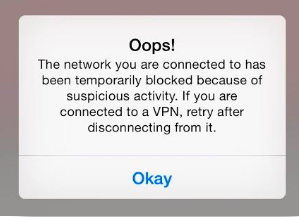 So, we have listed 9 common snapchat problems on iPhone and possible fixes to them. If you have any better solutions or have other problems with Snapchat, please leave a message at the comment place.