Download Facebook Messenger for iPhone and iPad
by Jenefey Aaron Updated on 2020-08-28 / Update for iPhone Tips
The social media giant, Facebook, has more than 2 billion users all over the world. And, Facebook Messenger has a lion's share in grabbing such a huge piece of pie. But, what is Facebook Messenger? Basically, the Messenger was rolled out way back in 2008 with "Facebook Chat" as its name. But moving forward, the firm launched separate apps for Android and iOS in 2011 under the name "Messenger."
Over the years, the Messengers received a range of features. Fulfilling its basic purpose of chatting, the Messenger also got the feature of video calling, which was accepted by users all over the world. In addition to this, users can also perform free VoIP calls.
Download Facebook Messenger on iPhone
You all are aware that there is separate Messenger app for iOS and Android. And for all the Messengers aficionados out there who are searching steps for Facebook Messenger download, here are the steps for you.
Step 1: Head to the App Store. When you enter the App Store, there will be various options in line at the bottom. Click on the "Search" icon.
Step 2: Now search for Facebook Messenger app by typing in the app name in the search bar.
Step 3: Click on the "Get" option alongside the name of the app. The App Store will ask for your permission to confirm the process of downloading. As soon as you grant the permission, the Messenger for Facebook app download will begin.
How to Launch Messenger App
Once you have downloaded the app, launching is very simple. All you need to do is click on the app icon that is present on Home screen. As soon as you click on the app, it will ask you for a bunch of permission. This will include permissions such as access to location, access to photos, permission to use mobile data, permission to show notifications, permission to access the app via Siri, and much more. You can always control these permissions in the Settings.
Sign in Messenger
Logging in Messenger is very easy and the simplest task ever. In order to use the Messenger app, you must have a Facebook account (which is obvious) or a phone number.
Step 1: When you tap on the app on the Home screen, the main interface of the app will ask you to either sign in using your Facebook account or using your phone number.
Step 2: If you choose to sign in with Facebook account, you will need to enter your Facebook credentials to proceed and you will be logged in.
Step 3: If you choose to sign in using your phone number, you will need to enter your phone number. Logging-in using both the ways grants you the same functionality.
Sign out Messenger
Well, technically speaking, you cannot sign out of Messenger. But the firm has provided some options that can act in a similar way. For instance, the company has provided options such as turn off notifications, block people from messaging you, appear as inactive, and switch account.
Using these options will help users to feel the absence of the app, as per Facebook. But still, if you do not want the app, simply delete it. All you have to do is long press the Messenger icon on the Home screen till it starts shaking. Next, click on the cross that appears on the icon. This will delete the app.
How to Fix Messenger App Not Working
Even though Messenger is a great app, there are number of issues that can take place while operating the app in iPhone. For instance, you might face issues such as Facebook Messenger not downloading on iPhone, or you might not be able to sign in into the Facebook Messenger app, or anything as such. Users also complain about Facebook Messenger not opening on iPhone.
In case if your Messenger app is not working on iPhone, you can always use Tenorshare ReiBoot. This software offers one click solution to all the issues that occur on iPhone and iPad. The tool guarantees to fix the problem without any confusion and easy steps. Hence, the efficiency of the tool is extremely high when it comes to solving iPhone issues.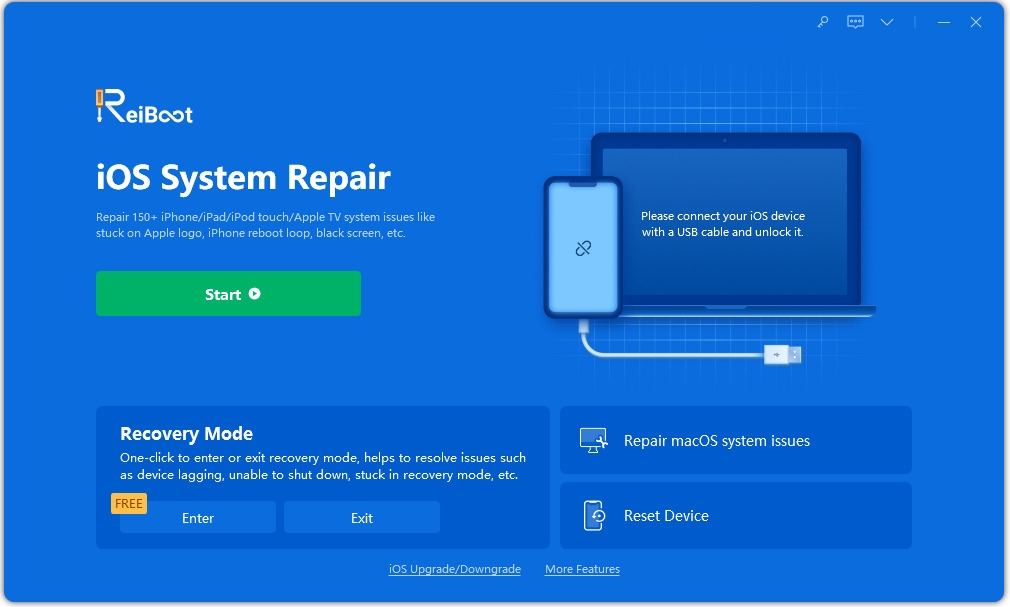 Summary
Summarizing the article shortly, we just had a look on how to install Facebook Messenger and does Facebook Messenger work. You also had a look on how to install, download, launch, and sign in into the Facebook Messenger app. In case if you have any query regarding the Messenger app, you can always right down to us and we will be happy to help you. Also let us know your feedback on this article. You can do this by commenting below.