[FAQ] Does Find My iPhone Work When iPhone is Off
by Anna Sherry Updated on 2019-11-25 / Update for iPhone Tips
One of the frequently asked questions by iPhone users is that - does Find My iPhone work when phone is off? The question has been asked by numerous users and it is an important one. It is the feature that lets you locate your device when you have lost it. Losing a precious device like an iPhone can mean a big deal and therefore knowing if the feature that helps find it works when the phone is off is extremely important.
In the following guide, you will get the answer to your question so you know whether the feature works to locate your device when your device is fully powered off. You will also learn how you can enable the feature and what you can do if Find My Device does not work.
Part 1. Does Find My iPhone Work When iPhone is Off?
This section should answer your "does Find My iPhone work when the phone is off?" question.
If your iPhone is off and you wish to locate it using Find My iPhone, we regret to inform you that it cannot be done. Live tracking does not work when your phone is powered off as your device simply cannot submit any location data to Apple servers.
However, there is something that it does before shutting down which could help you find your device when it goes missing.
Part 2. How Does Find My iPhone Work When Phone Is Off?
One of the good things about the Find My iPhone feature is that it logs the last location of your device if the option was enabled. That means, you can still retrieve the last location where your iPhone was before it got shut down or got disconnected from the Internet.
You can then use that last location as a clue to find the whereabouts of your iPhone. That answers your "how does Find My iPhone work when phone is off?" question. Below are the detailed steps to use Find My iPhone (named Find My in iOS 13 and later).
1. How to Enable Find My iPhone
Turning on the Find My iPhone feature on an iPhone is a fairly easy deal and the following is how you do it.
Step 1. Launch the Settings app from the springboard on your iPhone. When the app opens, tap on your name at the top and it will open your device settings.
Step 2. Select Find My iPhone on the screen that follows and then turn on the option that says Find My iPhone. It will enable the feature on your iPhone. Turn on the Send Last Location option as well.
Your iPhone can now be tracked from your other devices when it is away
2. How to Use Find My iPhone to Find a Lost iPhone
If you want to trace a lost iPhone using Find My iPhone, it is pretty easy to do it and the following steps show how to do it.
Step 1. Open a browser on your computer and head over to the iCloudwebsite.
Step 2. Log-in to your account and click on the Find iPhone option.
Step 3. Click on the All Devices option at the top and select your iPhone from the list.
Step 4. You will be able to view the location of your iPhone.
Find My iPhone lets you perform a few actions on your iPhone remotely. It makes it easier for you to locate your device.
Play Sound - this lets you play a sound on your iPhone.
Lost Mode - it helps you remotely track your device.
Erase iPhone - this should erase all the data on your iPhone.
You can click on any of these options to perform tasks.
Part 3. Other Ways to Find a Lost iPhone that is Turned Off?
If you did not have Find My iPhone enabled and your iPhone got lost, you might want to find alternate methods to locate your device.
Here are some of the non-Find My iPhone methods to find your iPhone.
1. Find a Lost iPhone That is Turned Off via Google Timeline
Most iPhone users have the Google apps installed on their device and you can then actually use one of Google's features to locate your device.
Google Timeline is a list of all the places you have been to with your device and you can use it to find your device.
Open a browser on your computer and head over to the Google Timeline site.
Click on Today at the top if you lost your phone today and it will show you locations your phone has been to today.
You can use this location data to find where your iPhone is.
2. Call your device
Another way to find your iPhone is to call your iPhone. Use another phone of yours and dial the number of your iPhone. If your device is nearby, it should ring and you will be able to find it.
3. Contact your carrier
Your carrier should also have the location information of your device and they can help you locate the device. Get in touch with them.
Extra Tip: How to Recover Data from Lost/Stolen iPhone?
When your iPhone get lost the first thing to do is getting lost iPhone data. If you have previously back up you iPhone to iTunes or iCloud, then UltData - iPhone Data Recovery can easily help you recover lost data from iTunes/iCloud backup. Below we take recover data from iTunes backup for example.
Step 1 Run UltData and select "Recover from iTunes Backup File" and all backup you once done are exhibited now.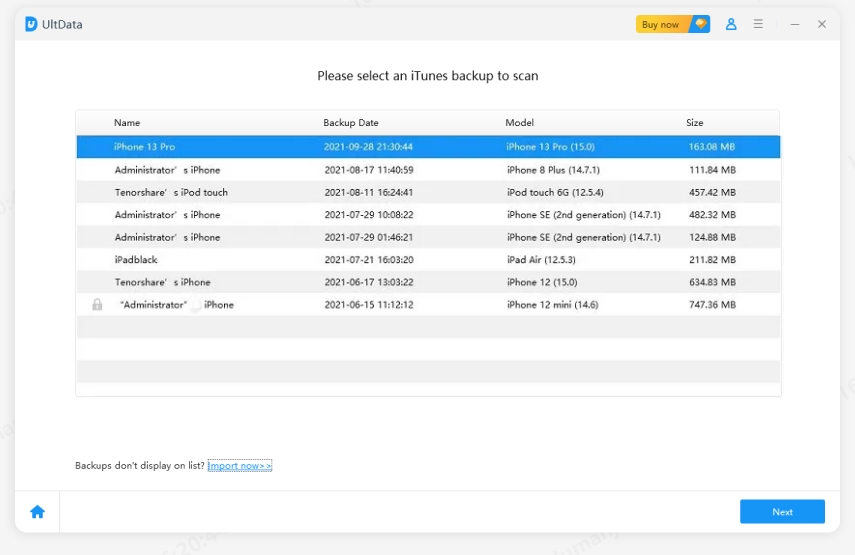 Step 2 Preview detected files and choose the one you exactly want to recover.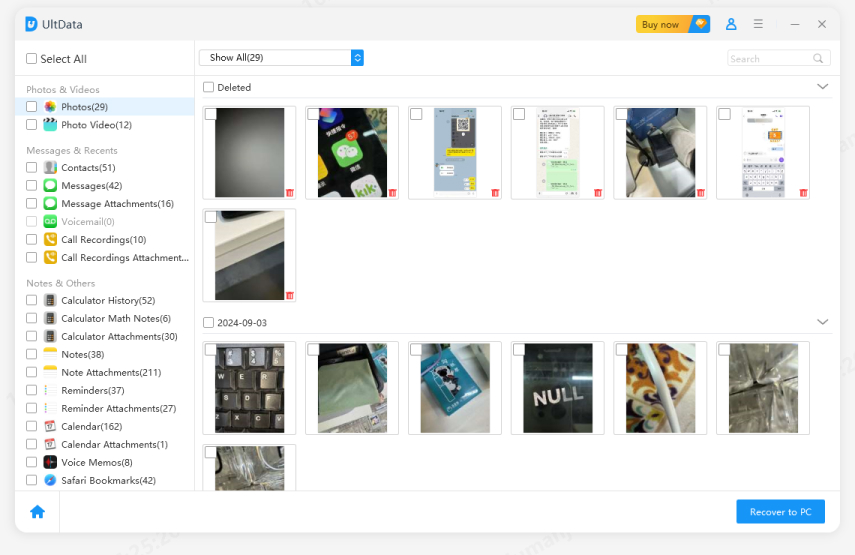 Conclusion
If you are an iPhone user, you have likely wondered "does Find My iPhone work when your phone is off?". The above guide aims to answer your question so you can find out if the feature does work when your device is not on. UltData - iPhone Data Recovery is highly recommend if you need to recover data from lost/stolen iPhone.