5 Best free iPhone Camera Apps 2023
by Jenefey Aaron Updated on 2021-12-30 / Update for iPhone Tips
Photography is an art of capturing moments around you. But right tool selection makes that moment more realistic even after decades. Now a day, there are different mobile companies that offer high resolution cameras. iPhone is one product that has more powerful camera. But everyone has its own definition of perfect photo. So as Android user's use different camera applications, iPhone is also facilitating its users by providing best photo app for iPhone. After capturing photo from these third-party apps, you don't need to Photoshop your photos as they include built-in photo editing features. We have developed A list of best camera app for iPhone 2018. you can choose one of them to cease your moment.
Top 1. VSCO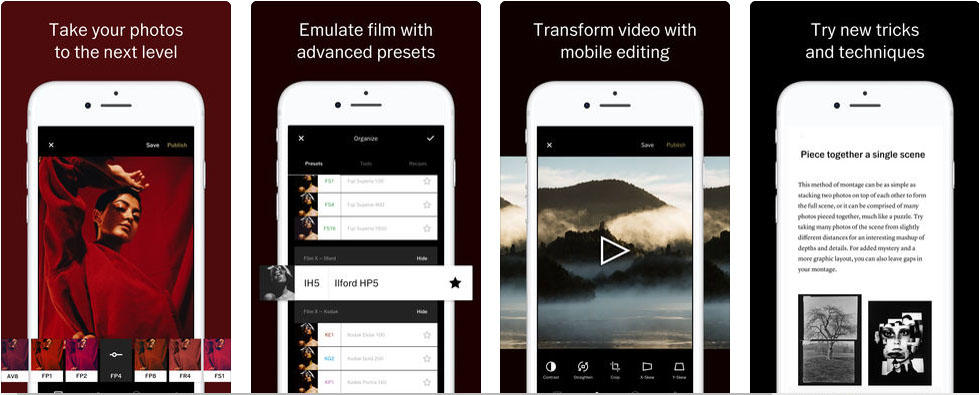 VSCO (pronounced as VISCO) doesn't need any introduction as it is one of the popular photo capturing and photo editing app. VSCO is a manual app that offer its user's manual controls for focusing, shutter Speed, white balance and exposure compensation. It's not just about toggles and sliders - from the precision adjustment controls to the "big-button mode" that lets you tap anywhere on the screen to snap a pic. One of the most beneficial feature is the grid, that offers assistance for image composition. After capturing the image, VSCO provides you the facility of editing photo with various pre-defined filters. These pre-defined editing features are updated with the update of app, so that you could enjoy broaden scope of editing features. If you are starting to use third-party app VSCO is one of the best all-in-one solutions for shooting, editing, and sharing photos.
Top 2. TADAA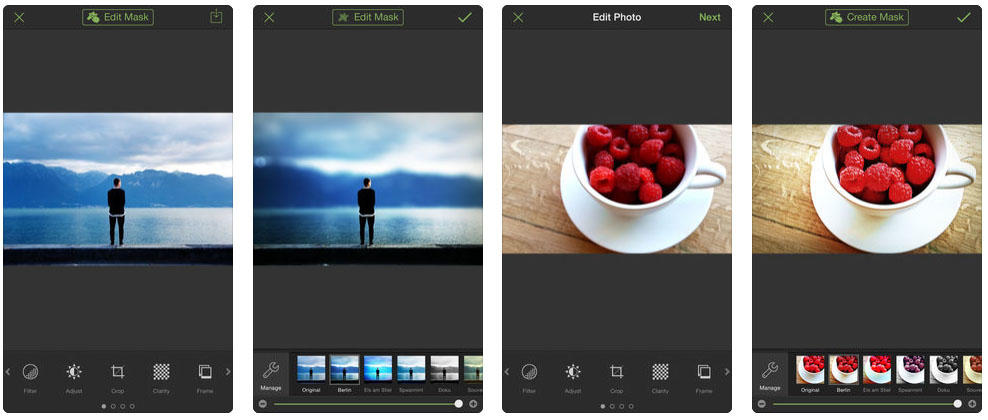 One of the main feature of TADAA, a part from photo capturing and photo editing is that it is available in twenty different languages. TADAA also gives you access to both front and back camera. An excellent interface helps you quickly swipe to apply 100 different live filters to your view. After you capture your moment, TADAA not only let you artificially tweak the depth of field but also let you change focus point of photo. And yes, this feature is available after capturing the image. Another unique feature of this app is of adding and tweaking bokeh. As a photographer you know how hard Bokeh is but with pairs of sliders in TADAA you can dial-in excellent simulation of bokeh. Overall TADAA is a solid camera app that has all the necessary features that are essential for great photography.
Top 3. Rookie Cam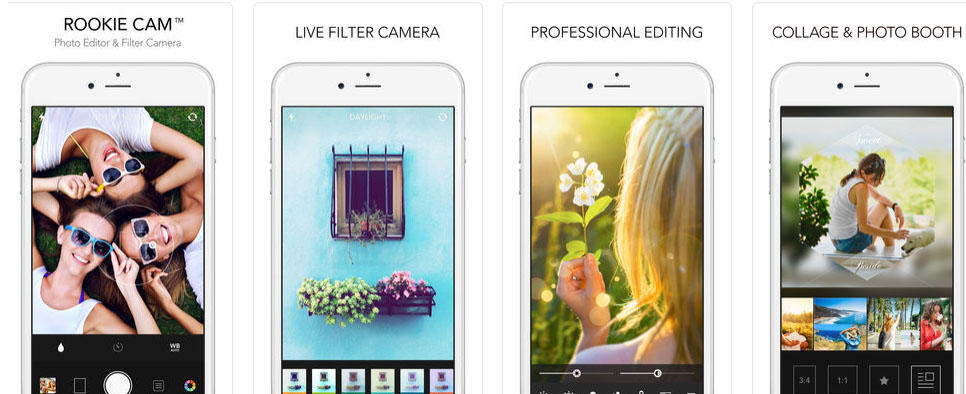 Snapping photos is only a small part of Rookie Cam. It can snap photo with 116 different real time handpicked quality filters. It also makes your subject standout with real time Blur effect. The Anti-Shake feature won't let you shoot until everything is still, assuring a sharp picture. You can click new photo or you can choose it from your album for editing. Another feature of Rookie is that it automatically adjusts important parameters that help you take your best shot. Editing mode with sliders, buttons and real time preview has made it easy to use. The camera's Gear icon reveals additional critical components like composing grid, square photo, timer, geotag control, and front reverse. A history button at the top left and an original button at the top right give immediate information about the edit. You can also collage your photos like a magazine, poster or a themed album. It saves both original and edited image.
Top 4. Obscura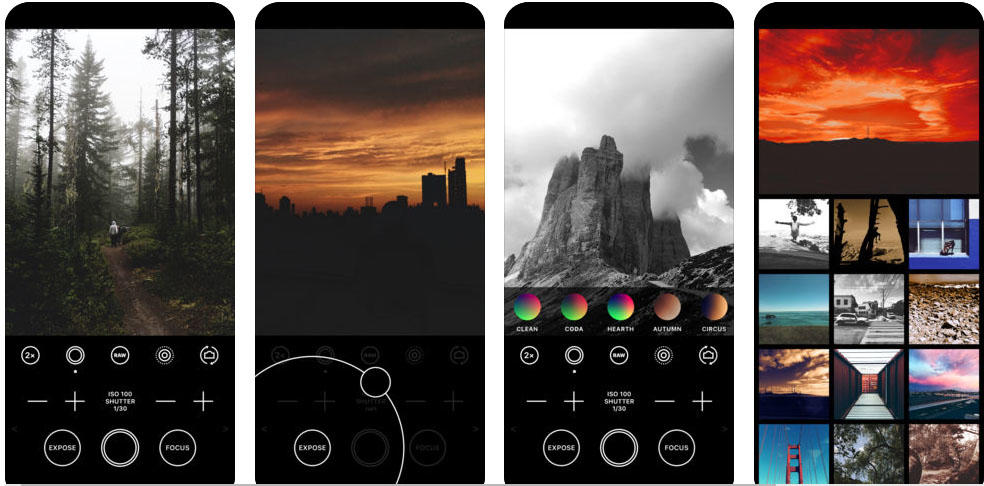 If you can do without the additional editing options and just want a dedicated Camera app replacement, consider using Obscura Camera. Obscura is straightforward and simple to use app. Obscura brings the kind of controls you'd expect from professional DSLRs to your iPhone. Obscura has a wide range of incredible photographic filters, you can select them for live preview so you know exactly the image you are going to get. Obscura gives you manual access to shutter speed and ISO adjustment. With quick focus and exposure lock, it makes it easy to capture a perfect photo. Obscura has facilitated its users with 3 Grid overlays (Rule of Thirds, Square and Circle). For professional Obscura also provides the facility to manipulate RAW files without losing quality, bringing out details in highlights and shadows. One thumb reachable interface makes Obscura user friendly app.
Top 5. CamMe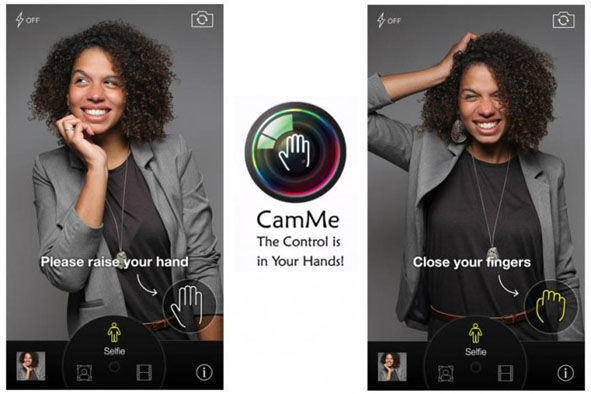 CamMe fills the missing features of iPhone's default camera. It allows you to capture photos with hand gestures, which minimizes motion blur caused by tapping button. You can select multiple gestures for capturing photo. It can recognize you gesture from 2 to 10 feet away. CamMe also facilitates its user by the feature of applying scene cutouts and three-shot burst mode but capturing image without touching your phone makes it unique. CamMe is actually a selfie app that helps you to capture your moment with large group of friends. Now no one has to be out of photo. And yes, it also works in landscape mode. It also works for any standard selfie, group selfies as well as pet selfies.
Extra Tip: How to Transfer Photos from iPhone to Computer
If you have saved the photos from the above apps and need to share them from iPhone to computer, then Tenorshare iCareFone is the best option so far. What's more, you could even transfer photos from Windows/Mac to your iPhone. You can't miss it.