People to Text on Kik - All You Need to Know about Kik
by Jenefey Aaron Updated on 2022-11-23 / Update for iPhone Data
Kik relies on social networking between individuals and interesting groups. It is easy to search people to text on Kik, sharing videos or photos with families or friends around the world. Kik is among one of the world's most popular free and handy message sending applications.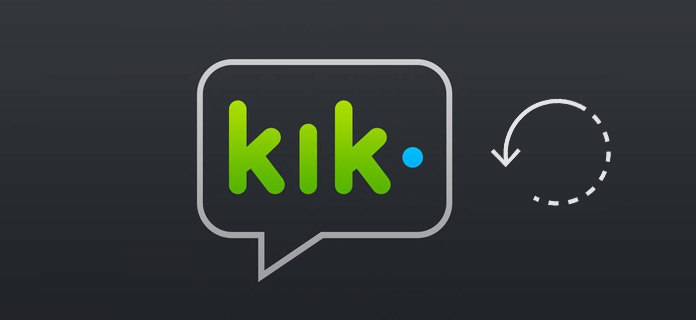 In 2016, Kik has reached more than 2.7 billion global users, and over 70% of them are between 13 to 24 years old. Around one-third of American teenagers use Kik to send messages to their fellows. Today we will explore more about Kik's features and its essential operations.
Part 1: Why Should We Use Kik?
Kik is a great alternative to traditional message sending applications for users to get rid of expensive rates. Just connect to Wi-Fi to enjoy many features including:
Real-time Texting: You can see real-time input messages from people you chat with, or customize your message notification ringtone.
Built-in Browser: You can visit any websites like Facebook or Twitter without quitting Kik.

Inviting Friends: Kik can send new friend invitations in the form of emails or messages to all the persons you know on social media platforms and on your mobile contact list. Therefore, it is convenient to find people to text on Kik.

Kik Code: Every Kik user has a unique Kik code. All you need to do is scanning others' Kik codes.
Video Chatting: Kik allows users to have a group video chat with up to six friends. Video chat switching allows you to join or leave group chat at will. To join a public group, you only need to search for a tag related to your interest.

Privacy: You can block users on Kik from contacting you. You don't have to register your phone number with Kik since it just needs your name and email.
Part 2: How to Find People to Text on Kik?
All people in your phone's contact list with their names and email addresses will be automatically used by Kik for finding new friends. If you want to add someone manually, just do the following:
Touch the Speech icon in the top right corner.
Input your friend's Kik username in the search field.
(Optional) Tap the "Start a Group" icon to start a new group
Part 3: How to Start a Chat on Kik?
After you have find some new friends, you can go to the "Quick Chat" option for a quick conversation, or try the "Interest Match" to search for people to text on Kik. Next time you can share and add Kik usernames to continue the conversation. Here are the steps:
Go to your Kik chat list.
Tap the Meet New People at the bottom of the interface.
Tap Join to begin chatting.
Tap Start Chat to be randomly matched with others.
Tap Filter by Interests > Start Chat to meet people who similar interests to you.
Now you know the basic operations of Kik! You can also try the following features for more surprises.
Part 4: Chatting and Sharing with Kik
If you loving sharing more content with your friends, just see the steps below:
Touch your friend's name on the Speech bubble screen to start a chat.
Tap Type a message > Send to send your texts. You can also tap the Speech bubble to do so.
(Optional) Tap the Smiley Face button to select your favorite emoticons, then touch one of them to send.
(Optional) To add a photo, first go to the small + icon next to the "Type a message" box. Next tap the Speech bubble to send it. Note that you should permit Kik to access your photos.
Kik is cool with lots of features as discussed above. However, due to its frequent unstable updates, the application may be crashed on your phone. Therefore, you may hard to find people to text on Kik. If it is the case, uninstall, re-download and install it again, but it is not an omnipotent solution and it will delete all of your messages on Kik.
So what you need is a safe tool with both backup and recovery functions like Tenorshare iCareFone for iOS. Next we will show you the steps.
Part 5: How to Backup and Restore Kik with iCareFone Transfer
If you don't know where to back up and restore your Kik files and data, you can try the tool Tenorshare iCareFone Transfer.
Back Up Kik Messages on Windows or Mac
Download and install the tool on your PC.
Connect your iPhone to the software.

Select Kik, and then click on the Back Up Now button. The backup process will automatically start and complete.

Next we will see how to restore your Kik details on your PC:

Restore Kik Messages on Windows or Mac

Connect your phone to the software.
Go to View & Restore section> To view or restore previous backup files

Select one of your backups and click on Restore to iOS for the restoration.

(Optional) Click on View to export Kik data to PC or Mac.

Final Thoughts

In today's guide we have mainly shown you key features of Kik, essential Kik operations like how to find people to text on Kik, and how to back up and restore your Kik files easily and safely with tools like Tenorshare iCareFone Transfer. Kik brings great convenience to its users, especially teenagers, but keeping yourself safe is also quite important. Just leave any comments in the below discussion forum if you have more Kik tips or suggestions!

FAQs on People to Text on Kik

Is it possible for me to know if a person Kik is chatting with someone else?

Currently, Kik doesn't have such a feature. A better way to do so is to ask them directly. However, you can check whether the person you are chatting with is in typing status or not.

Can you spy users on Kik?

For safety reasons Kik doesn't support such operations. Otherwise, you will be involved in serious legal issues. Kik is a popular app so the team really doesn't want to get in trouble.

Does Kik trace my phone?

No, the application doesn't trace any contents including messages or mobile numbers from its users. What's more, if you register with Kik, you will only show a general Kik ID for your personal account.