iPod Touch Wont Charge? Fix iPod Touch 6/5/4 in Detail
by Sophie Green Updated on 2020-08-19 / Update for iPod Tips
A main problem encountered by several iPod users is "Why won't my iPod touch charge?" There can be countless reasons that may cause such a problem. From a dusty charging port to an incomplete power outage, the possibilities are endless. However, for this article, I've compiled a few of the most likely causes that can lead to such an outcome. Stay on this page to get aware of these causes as well as some of the most effective ways to fix this problem.
Why Wont My iPod Touch Charge?
As pointed out in the introduction earlier, there can be various possibilities causing your iPod to not charge. So before heading straight into the solutions, let's understand the most likely causes of these issues. These three main causes have been reported by various iPod users that were successful in fixing this issue.
The operating system is bugged
Has your iPod touch been working just fine for the past couple of weeks? Perhaps it turned off all of a sudden and ever since, the iPod touch won't charge? If this is the case with you, then the most justified explanation would be that your Operating System is bugged.
Battery is dead
This can be a major possibility if you haven't used your iPod for a long time. You can expect the power pack to be at 0% causing your iPod to neither charge nor turn on.
Hardware is damaged
Lastly, if your iPod is new and you're certain of no OS bugs, then you could expect potential hardware issues. Perhaps you're using an old worn out cable or adaptor that is incapable of charging. A faulty motherboard or a bad battery can very well keep your iPod from not charging.
5 Correct Steps to Charge Before iPod Touch Won't Charge
Considering you've made it this far through the article, I'll assume you're aware of the cause of your problem. Now that you know why your iPod touch won't charge or turn on, the next step is to understand how to fix this issue to avoid further inconvenience. Without further ado, let's dive into the 5 easiest and safest steps that can help you fix this issue.
Step 1: Check Charging Cable & USB Adapter
An old, worn out cable or USB adapter can answer your question – Why won't my iPod touch charge? Firstly, you need to ensure that the charging tools used are new and intact. Make sure the cable or adapter isn't burnt or broken in any way possible. The best method to check for any damage on charging cable or USB adapter is by trying it out on any other iOS device. This can make you sure of the main cause of the issue. If the tools are successful in charging the other iOS device, feel free to move ahead to the next step. Otherwise, drive to the nearest Apple store and get yourself a new set of charging cable and USB adapter.
Step 2: Clean the Charging Port
Charging ports are simply dust magnets. You never know the huge amount of dust, sand, or other debris jammed up in those ports. This dust can be really annoying at times and can be a prominent reason why your iPod Touch 6th generation won't turn on or charge. Here is how you can easily get rid of all this unwanted dust from your ports:
Get a small tool that can easily fit into the small iPod charging port. Tools like a toothpick, paperclip, or pushpin may work best for this.
After you've finalized the tool, insert it into the port and dig around the port carefully. Try not to damage the inside of the port with extensive force.
Slowly stick the pin all the way to the bottom of the port and go around the oval shape a couple of times.
Pull the pin out and the dust will be removed along with it.
Step 3: Use a Wall Power Outlet
Thirdly, try using a direct wall power outlet instead of an extension. Sometimes the problem is with the power outlet instead of the device itself. Wall outlets are much more efficient and safer than other power outlets. So there is a high chance that this might fix your problem of iPod Touch won't charge.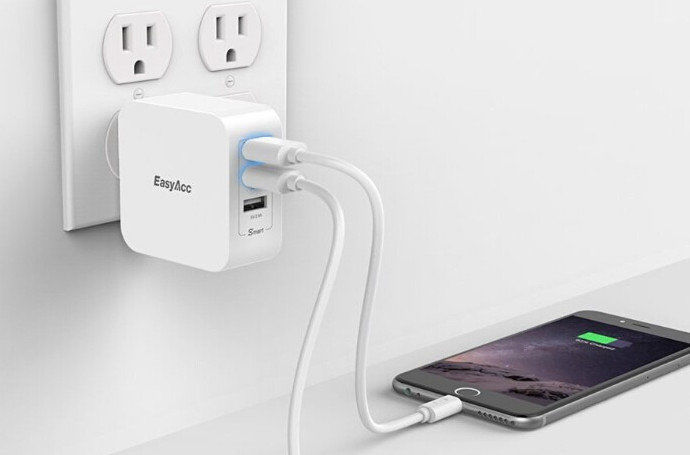 Step 4: Charge for a Half Hour
Then after step 3,try plugging it in and leaving it there for a while. Perhaps your iPod just needs a kick start to boot up. Give it just that! Half an hour is ideal time for an iPod to turn on with ease. Don't press the power button continuously during this time. Leave it there for the time being and you may just recover your iPod with no extra effort.
Step 5: Force Restart Your iPod Touch
This may very well be the last DIY trick to recover your iPod. A forced restart is one of the first things that you should try if your iPod Touch 6 won't turn on or charge. A force restart allows you to power up your device without straining the battery too much as a normal start up would do. A forced restart can fix all light system glitches. If there's enough battery life remaining, then you're iPod would have no difficulty in powering on during a forces start. Follow these steps to force restart your iPod.
Press and hold the power button and home button on your iPod.
Hold for 15 seconds after which, you'll see the Apple logo on your screen.
If the Apple logo doesn't appear within 15 seconds, try holding them of as long as one minute.

After this, just wait for the iPod to turn on.
Still iPod Touch Won't Charge? Try iOS System Repair Software
Still unable to charge your iPod? Don't lose all hope yet! There is still one last trick that is sure to recover your iPod. Perhaps the issue is caused by the system and you can't fix it directly. In that case you'll have to find a way to do with the help of a third party app like Tenorshare ReiBoot – the best iOS system repair software. ReiBoot is an easy to use software that can possibly fix all system issues for all iOS devices including iPod Touch. Follow these steps in order to successfully get your iPod Touch up and running in no time!
Download ReiBoot onto your computer. Connect your iPod Touch with the computer through a USB cable. Open ReiBoot and let it recognize your device. Afterwards, select "Repair Operating System" to fix any and all system issues.

Click on "Fix Now" to proceed with the repair.

You'll be taken to the Firmware download screen. Select the path for the firmware on your computer and then press "Download".

After completion of the download, select "Repair Now" to initiate system restore.

This whole process takes up to a few minutes. Do not disconnect the iPod Touch from your computer during this time. After the repair has successfully finished, your iPod Touch will restart.
Conclusion
It's actually pretty simple to fix iPod touch won't charge. With little effort, you can make your iPod Touch charge once again. Tenorshare ReiBoot is the safest and simplest way to restore your iOS from any bugs or glitches. If your charging issue is caused by a defect in the system, ReiBoot is sure to fix it.
FAQ about iPod Touch Charge
Still got questions? This last section is dedicated towards the most frequently asked questions of iPod users. If you have a question or query that you can't find down here, then leave us a message and we'll get back to you in no time!
Q1: How can I charge my iPod without a charger?
If you're looking for ways to charge your iPod without the use of an actual charger, try utilizing a power bank to do this job.
Q2: How long does it take for an iPod Touch to charge from dead?
Typically, an iPod may take between 3 to 4 hours to completely charge from dead. However, if your battery life is too low, the iPod will be charged in a much less time due to the insufficient capacity of the battery.