Video Guide: How to Unlock iPod Touch Without Computer When Disabled
by Anna Sherry Updated on 2021-05-28 / Update for iPod Tips
If your iPod Touch has ever been disabled, you would agree that the situation can be frustrating. Although this issue can be caused by various reasons, there are tons of solutions you can consider to unlock your disabled iPod Touch and start maximizing its use once again.
Part 1. What Kind of Situation Will Cause iPod Touch Disabled?
1. Wrong passcode results in iPod disable and says"try again in 2437982 minutes"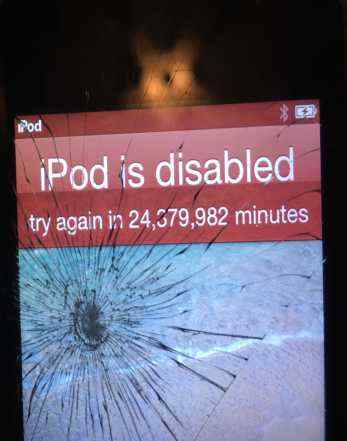 This situation is usually a result of several incorrect attempts to unlock an iPod Touch. This is why it is usually advisable for you to avoid attempting to unlock an iPod Touch if you don't know or remember the passcode. Other possible reasons include failed attempts to jailbreak an iPod.
2. iPod is disabled connect to iTunes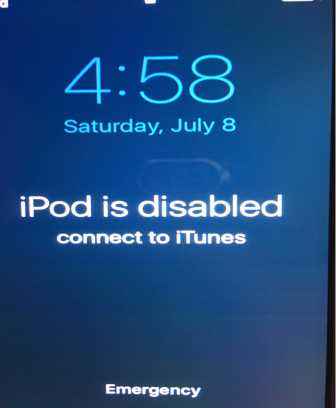 Whenever you find yourself in this situation, your iPod is fully locked down. Hence, you cannot use it for anything. This often happens after 6 or more incorrect attempts to unlock an iPod.
Part 2. How Do You Unlock A Disabled iPod without A Computer?
It is worthwhile to note that there is a pre-condition for using this particular method. Generally, you must have previously turned on the "FindMyiPod" feature on the device. This can be done by going to "Setting" and then "iCloud".
If you have done this already on the iPod before being disabled and ready to learn how to bypass iPod passcode without a computer, do the following:
Get started by going to www.icloud.com/#find on any iPhone or any other iDevice of your choice. You can also do this on a PC or Mac.
You need to log in with your Apple ID that is associated with the iPod you want to unlock. Tap "FindMyiPhone".

Go to "All Devices" and look for the particular iPod touch you want to unlock. Choose the device from the list.

Now, you are almost done. Choose "Erase iPod". You'll be prompted to confirm your choice. Click "Confirm" and the process will start immediately. This will erase the passcode as well as all data on the device.
Before using this method, you should consider its disadvantages. Foremost, you must have enabled the "Find My iPod" feature on the iPod before the start of the problem. Also, it is vital to know the iCloud login detail and password. Furthermore, your iPod must be connected to the internet.
Part 3. How Do You Unlock An iPod Touch That is Disabled in Other Ways?
As explained above, there are loads of downsides associated with using FindMyiPod to unlock your disabled iPod touch. So, what are the other ways you should consider to unlock your iPod? Check out the following methods:
3.1. How to Unlock A iPod 5 without Password or Unable to Connect to iTunes
If you don't have or remember that password of your iPod 5 or unable to connect to iTunes, Tenorshare 4uKey is the #1 tool that can solve the problem. This tool has been specifically designed to deal with this problem; therefore, you can rely on it without any fear.
This tool works perfectly for removing 4-digit or 6-digit passcode that you may have on an iPod. Unlike other methods, 4uKey can help you unlock the device without iCloud or iTunes. In addition, this powerful tool performs its function within a few minutes. (Note: The latest iOS 14.1 is supported)
To use this tool, do the following:
The first step is to download Tenorshare 4uKey on your computer. Then, run it and click "Start" to choose the "Unlock iOS Screen" option.

The next thing you should do is to connect your iPod to your PC or Mac using a USB cable. Notably, your iPod touch should be detected automatically by the software. In the main interface, tap "Start" to continue the process.

You will be prompted to download the latest file of the firmware. Select the path you want to save the file and tap "Download" to continue.

After downloading the firmware, tap "Start to Remove" to start the passcode removal process.
3.2. How to Unlock A Disabled iPod Touch with iTunes?
If you prefer to unlock your disabled iPod touch with iTunes, here are the steps you should follow:
Start this process by pressing and holding the Power button of your device. At the same time, turn off your iPod by swiping the Power slider.
Using a USB cord, connect your iPod touch to your computer. This allows you to be able to use iTunes.
Launch the iTunes on your computer by clicking "Open".
After launching iTunes on the computer, press and hold the Home and Power buttons at the same time. Continue pressing and holding the buttons until the Apple logo appears on the screen of your iPod. Still press and hold until when iTunes logo appears on the screen of your iPod.
A window will show up in iTunes, tap "Restore" and the unlocking process will start.
When the process is over, you should set up your iPod touch like a new device. You can also load your existing backup.
Conclusion
The methods described above have adequately addressed how to unlock your iPod touch when it stays disabled without using a computer. However, you should bear it in mind that you will likely lose your data after completing the process. So, try to back up your data before you start.
Questions & Answers
Q1. What does it mean when an iPod is disabled?
When an iPod is disabled, such a device is locked down. Therefore, you will not be able to do anything on it.
Q2. How do you reset a disabled iPod?
Hold the "Power" button and wait until the "Power Off" slider appears
Swipe the slider to the left and the iPod will turn off
Press and hold the Home and Power buttons. When the Apple logo shows up, your iPod Touch will reset automatically.
Remove Any Password in Minutes
Remove Apple ID or iCloud account on iPhone/iPad without password
Remove screen time passcode in 3 simple steps
Fix disabled iPhone/iPad without iTunes or iCloud
Find and view stored passwords on iPhone and iPad