[Solved] Where Do My Airdrop Photos Go on iPhone and Mac?
by Sophie Green Updated on 2020-09-18 / Update for iPhone Tips
Apple has introduced the Airdrop feature for all the devices that are running in iOS 7 and Mac OS X Lion. It has been proved as the system's useful feature as it uses the Bluetooth or wireless connection to transfer all the files and photos.
This article focuses on the most common question "where do my airdrop photos go on iPhone and Mac" among the iOS users. You can learn how to transfer files using this feature on both Mac and iPhone in this article and enjoy the hassle-free experience.
Part 1: Where Do Airdrop Photos Go on iPhone/iPad
All the iPhone and iPad users have a doubt about where the Airdrop photos Go on iPhone/iPad, here is simple solution for the above question. Once you get to know the location of Airdrop photos on your iPhone, it is very easy to transfer them to Mac.
Mac:
Photos shared by Airdrop are stored in the Downloads folder. To navigate to this folder you can navigate to "Go" > "Downloads" or use the dock option on the Mac OS. So you can find the photos by clicking on the "downloads" folder in your Mac.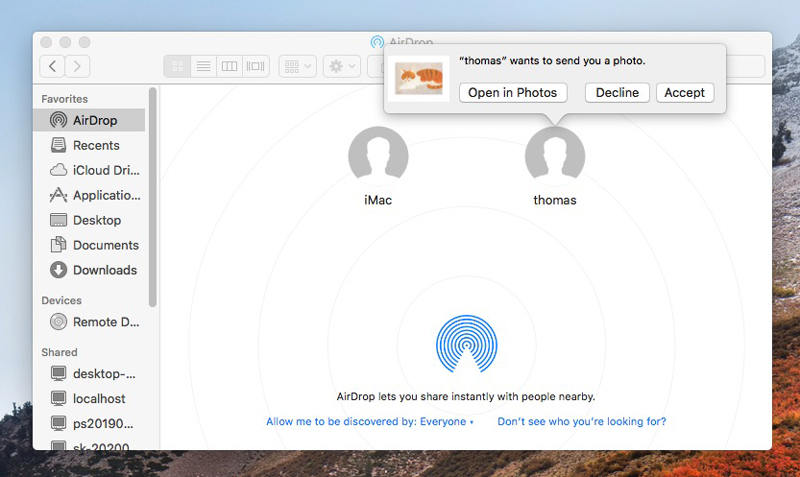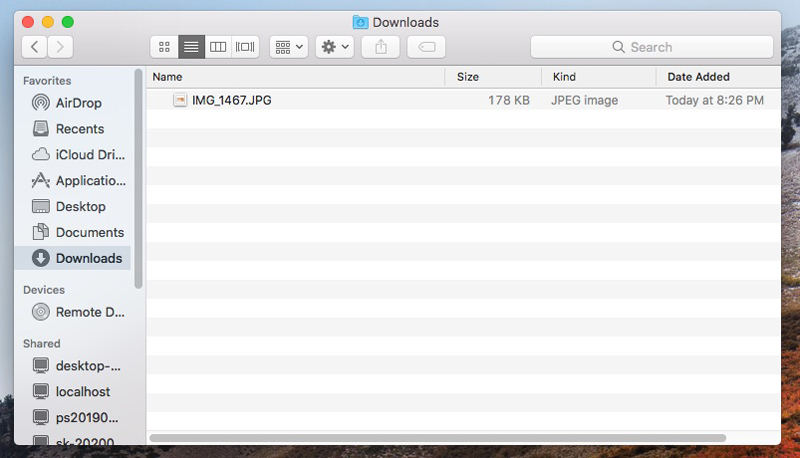 iPhone:
In iPhone, photos transferred via Airdrop are automatically stored in the photos folder available in iPhone. Once the transfer is complete, you can easily find your photos by tapping on the photos icon on your iPhone screen.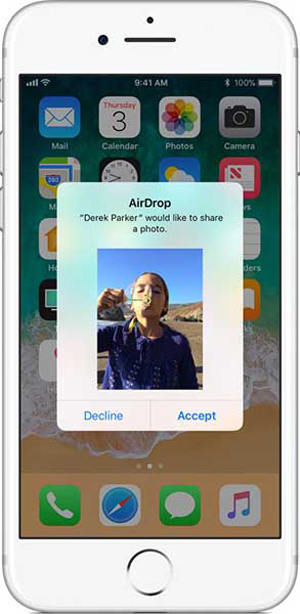 Part 2: Where Do Airdrop Files Go on iPhone and Mac
Using Airdrop, you can also transfer other files like contacts, ebooks, documents and other files. It is very important for all Mac and iPhone users to know where the Airdrop files are stored on their devices.
Mac:
On Mac, it is same as that of the photos, so all the files that are sent via airdrop can be found in the "Downloads" folder.
iPhone:
For iPhone airdrop files are stored automatically in the app from which the files were sent from. If the app is not installed on your iPhone, you will be redirected app store to download the respective app. Once the app is installed, the airdrop file will be opened in that app.
Extra Tips: The Best Alternative Tool for Airdrop Transfer
Airdrop is an efficient feature available for iPhone/Mac users which can be used to transfer files, but there are some limitations with this feature which include only transfer of one file at a time and sometimes it may take more time in case of large files. In order to overcome these you can use Tenorshare iCareFone. It is the best alternative tool that can be used for Airdrop Transfer between your iPhone and Mac. The features are:
iCareFone has become an efficient tool for Airdrop transfer because of the following features:
Easy 1 –click transfer of files to PC or MAC
You can transfer individual or batch of files like contacts, books and bookmarks easily.
You can safely and securely restore your backup files
It is user-friendly and easy to use when compared to iTunes or iCloud to transfer files.
If your iPhone has been overloaded with lots and lots of photos and files, you need to transfer them all to Mac and ensure that the space on your iPhone is freed up to improve its performance. Below are the steps to transfer photos and files from iPhone to Mac.
Step 1: Download and install the Tenorshare iCareFone on your PC or Mac. Click on the iCareFone icon to open the tool.
Step 2: Once the tool is launched, connect your device with Mac, tap on "Trust this computer" and enter the passcode to ensure that your device is connected successfully and securely. In the interface, click on "One-click to Export Photos to PC" to start the export process.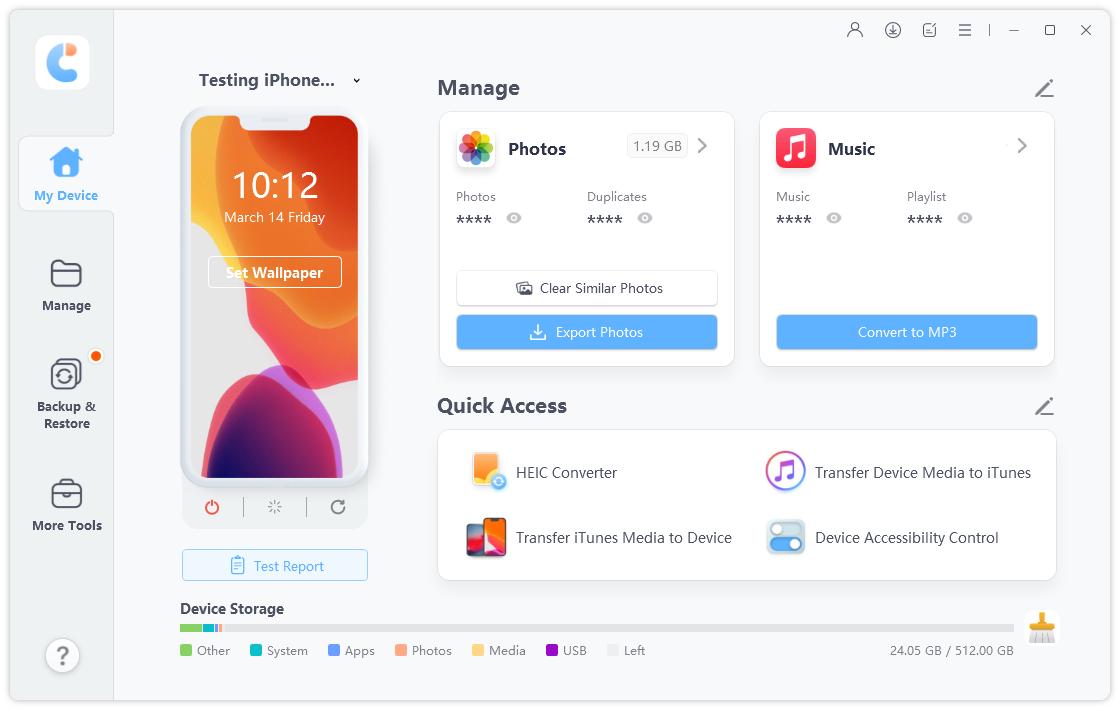 Step 3: Now, all the photos and files will begin transferring from iPhone to Mac irrespective of the size of the files.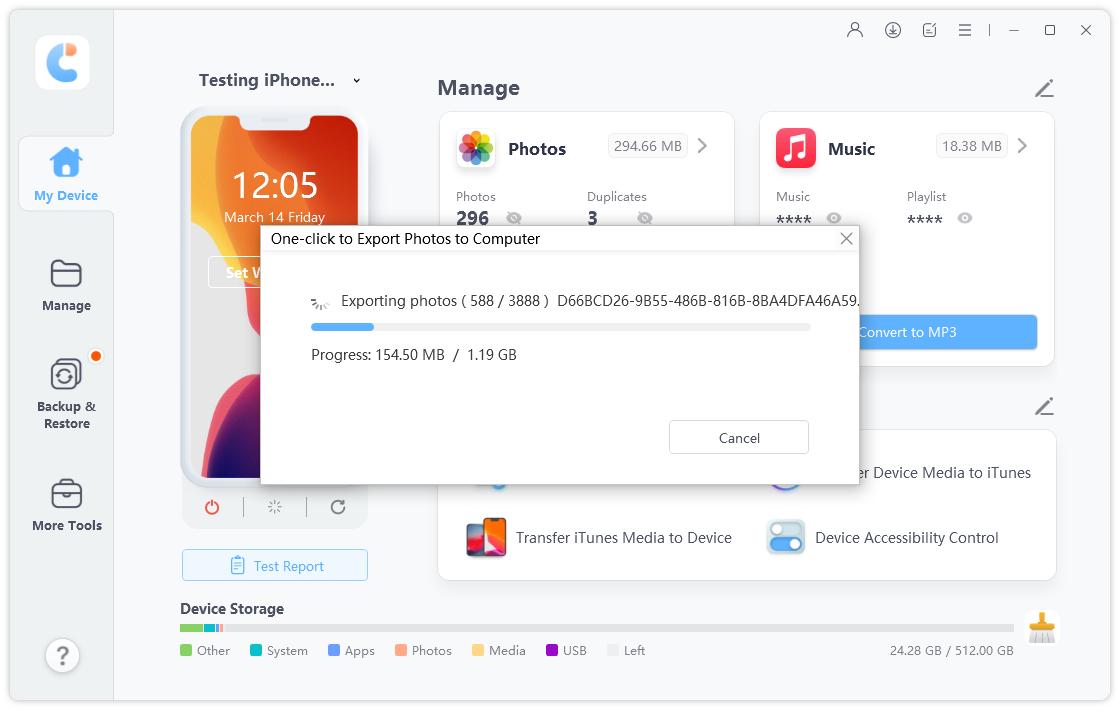 Step 4: Once the transfer has been completed, the folder in which these files are stored will popup showing the files.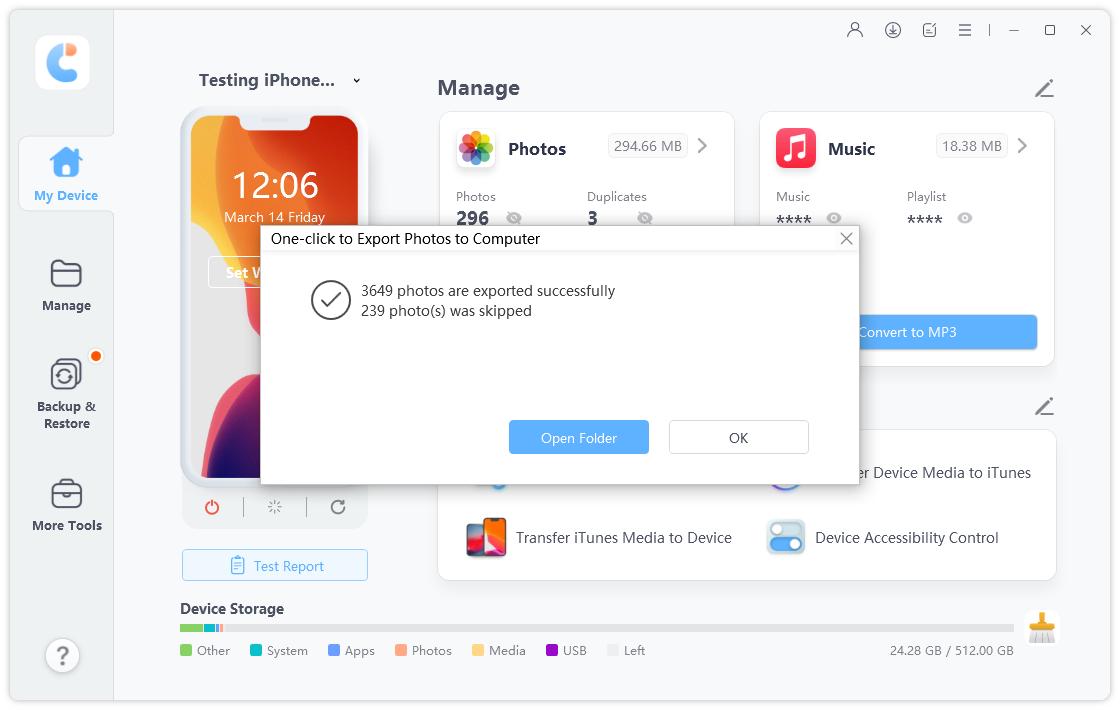 So, if you've encountered Airdrop doesn't work issue this tool will be the best alternative. You can transfer your data in a few minutes with super easy steps.
Related Read: How to Fix AirDrop Not Working on iOS 14
Conclusion
For the question "where do airdrop photos go on my mac/iPhone?" this article stands to be the perfect answer. This article provided you the details on how and where you can find your airdropped files and also how to use the iCareFone tool to transfer the files as a batch without any issues.
Although airdrop feature is efficient in transferring files or photos one after the other, iCarefone can be used as an alternative to easily complete the process when there are multiple files that need to be transferred.
FAQs about Where Do Airdrop Photos/Files Go
Q1: How do I access AirDrop photos?
On your iPhone, you can access your Airdrop photos in the "Photos" folder available on your iPhone. In Mac, you can access the Airdrop photos in the "Downloads" folder.
Q2: Do AirDrop photos disappear?
Yes Airdrop photos can disappear because of the following reasons:
Low storage
Multiple photos or videos occupying the internal storage
If changes are made to the camera of your iPhone
Q3: Can you see what has been airdropped?
No, you cannot see what has been airdropped as Airdrop does not maintain a log of all the recent transfers that were made.