Best 16 Free Sites to Receive SMS Online Without Phone Number
by Sophie Green Updated on 2019-07-25 / Update for iPhone Tips
All of us want to keep our personal information safe and secure. Our phone numbers and e-mail addresses are two personal data that most sites ask for. Signing up with e-mail addresses or phone numbers are common for social media, applications and online sites. Providing your e-mail address can sometimes be tedious because you get emails frequently. Some of us may not be comfortable to provide the e-mail address in public too. Also, e-mail address verification is time-consuming in many occasions. That is why phone numbers are asked for quick mobile verifications. The website or the application verifies your phone number in seconds by sending a code generated via SMS. There is a more secure option to do this. You can verify your phone with SMS receive free directly on your computer. Thus you need not use your real phone number; rather some online sites give free SMS online.
Part 1: Free Sites to Receive SMS Online Without Phone Number(16 Sites)
Here is a list of top 16 online sites that lets you receive SMS online for free.
1. Receive-SMS-Online.info
Receive-SMS-online.info allows you to receive free SMS online using the Dynamic Sender ID feature. This is based on real SIM which displays the exact information as received by the modem through Dynamic Sender ID. The numbers provided by this site can be used for phone verification purposes on Google, FaceBook, PayPal, eBay and so on. Phone numbers are replaced regularly to avoid one number having too many records.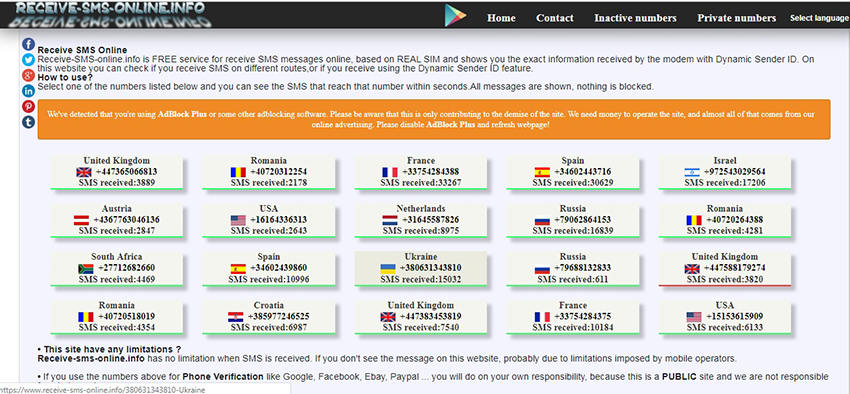 2. SMS Receive Free
This site gives virtual numbers for free to users all over the world for mobile verification purposes. SMS Receive Free discards all messages after a week and these virtual phone numbers are renewed every month. Also, the phone numbers are disposable to maintain easy access.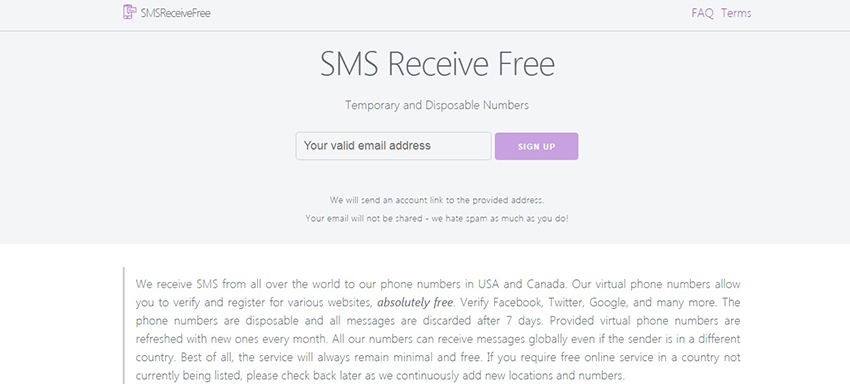 3. Receive SMSS Online
Receive-smss.com lets you receive SMS online for free. Additionally, you can also receive voicemails online. There is no registration of your real phone number required. You can quickly choose from the numbers given on the site to receive SMS from all renowned online platforms.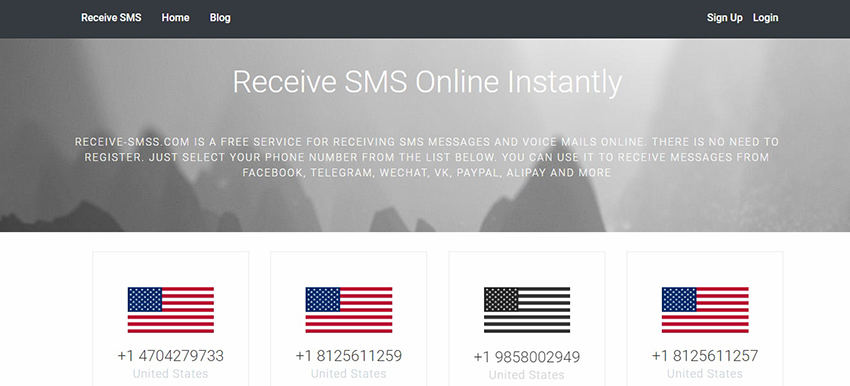 4. Receive SMS Online for FREE
Receive-sms-Online.com allows you to send messages from the numbers provided on the website. These messages get displayed on the web. This website is useful when you are disconnected from your phone and want to receive messages from the web. In case, you want to receive texts without disclosing your real phone number this site is useful.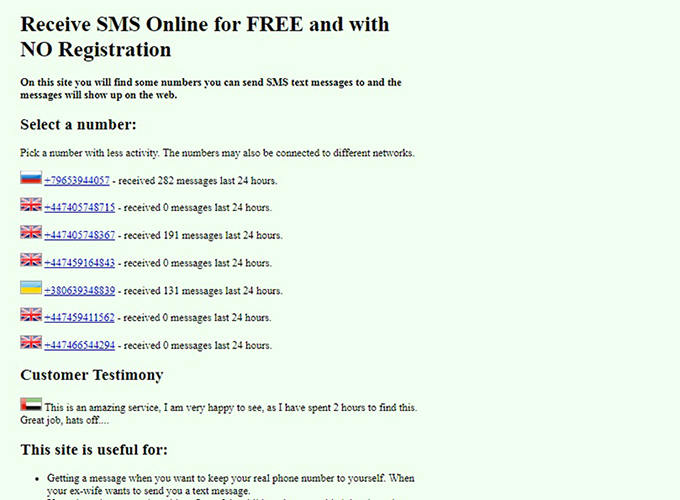 5. Free Phone Num
FreePhoneNum.com gives you temporary numbers to provide privacy to the real phone numbers. These disposable numbers can be used to receive SMS online to verify or sign up for any services online. These numbers are updated every week to give great services to customers. Using this service is a smart way to access people without revealing your original number.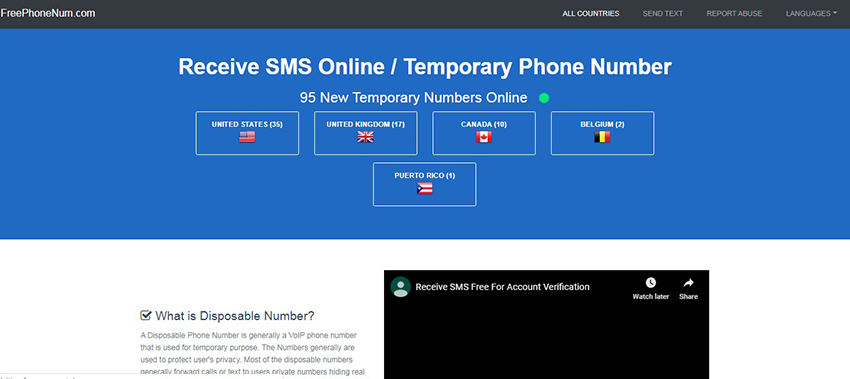 6. Receive-Txt.com
Receive-txt.com is a very quick way to use disposable numbers. You can select a country, choose a temporary number and use it for different purposes. The site updates to phone numbers automatically according to the number of people who are using. There is no need to wait for receiving messages or operating the site for free SMS online.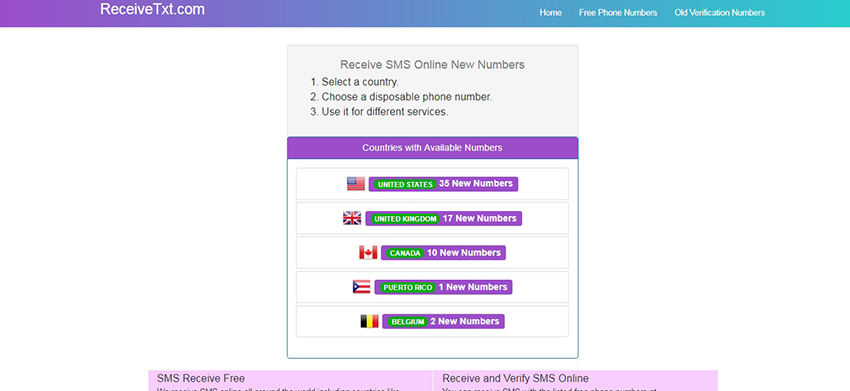 7. Receive SMS
Receive SMS lets you use free phone numbers to receive SMS online anonymously. You can use any number of temporary numbers and receive any number of SMSs. You can use these free numbers to verify your online accounts or websites without actually giving your real phone number.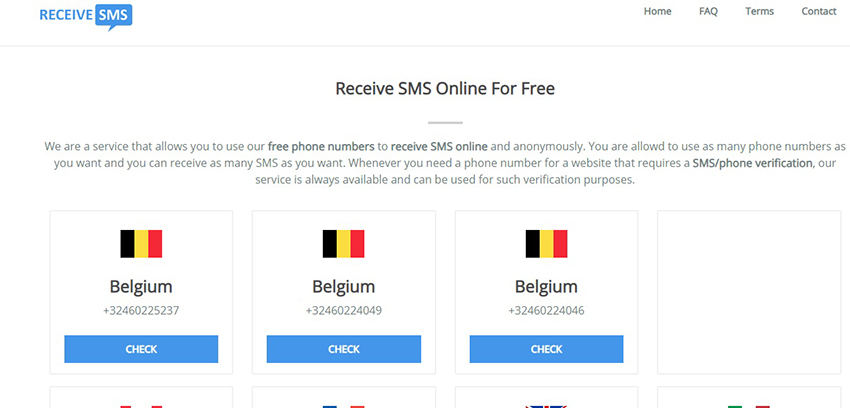 8. Free Online Phone
Free-online-Phone.org is a free phone number provider of free SMS online. This site has a access to over 228 countries for giving continuous services. The numbers can be selected from the site to receive free SMS online. The identity and the real number of the user stay private.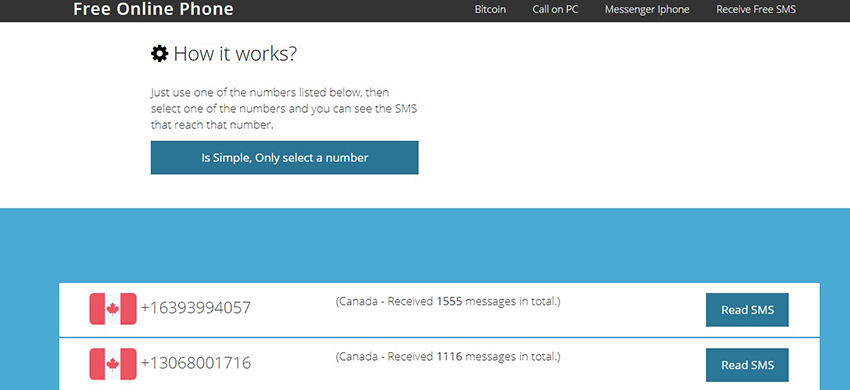 9. Miracle Tele
Miracle Tele is registered in the Czech Republic to offer free SMS services online through disposable numbers. They let you use internet services in just one SIM card. These services are bureaucracy free with many other added benefits.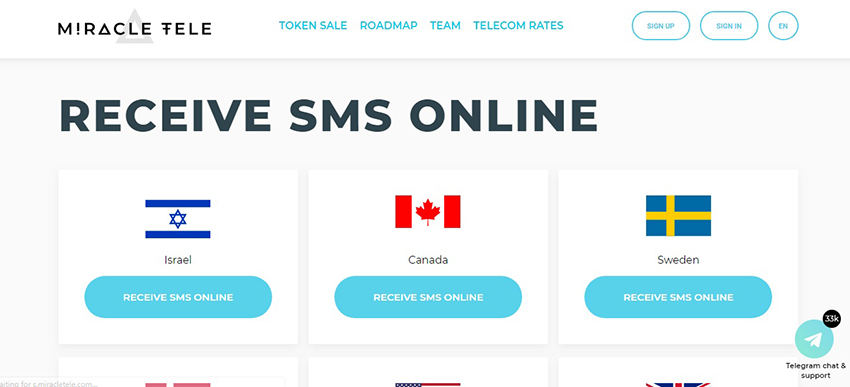 10. Receive-SMS
This site helps you to protect the privacy of your real phone number yet receive SMS online. You can register on websites or applications with temporary numbers given by Receive SMS. Your SMS gets received by the site that you can access for free. They regularly update with new numbers and you can be notified by them whenever there is a change.
11. SMS-Online.co
SMS-Online.co is a website which allows you to get free SMS online without registering your real phone number. You can select the numbers from the site and receive SMS quickly from all websites like FaceBook, PayPal, WeChat and so on.
12. Receive-a-SMS online
Receive-a-SMS online allows you easily get phone numbers for SMS verifications on various applications and sites. This comes in 2 quick steps, where you need to send SMS to the numbers and click on the numbers to view the text. This is like having a virtual phone online.
13. Get Free SMS Number
This site promises to receive SMS verifications without the use of your real number. All SMS content will be displayed without being hidden or blocked. You can also get a private number then, you can buy a low price virtual mobile number from the site.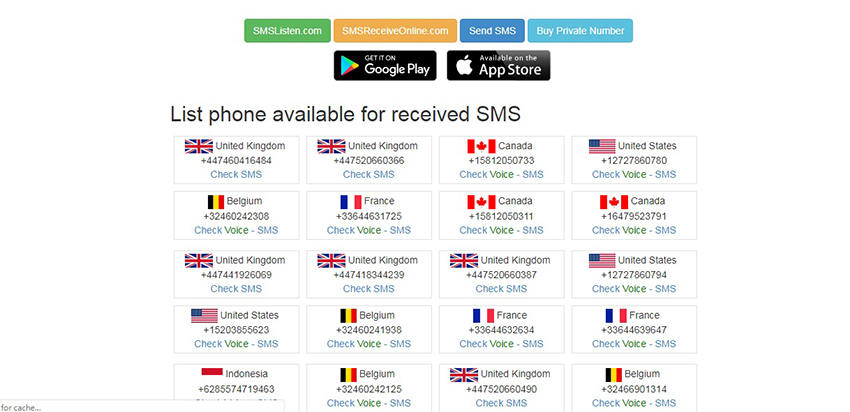 14. Phone Verification Service
Phone Verification Service is an online platform to receive free SMS online. You can easily verify all your accounts with their numbers that are updated frequently. You can also buy a private virtual number for your own use.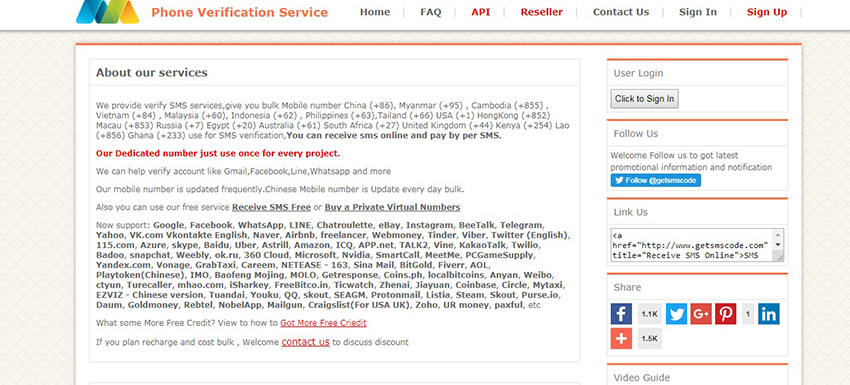 15. Receive SMS XYZ
Receive-SMS.xyz is used to receive SMS online for free. You can choose the numbers from the site for which you want to send the text. These numbers are used for all online mobile verification purposes in countries like Canada and Germany.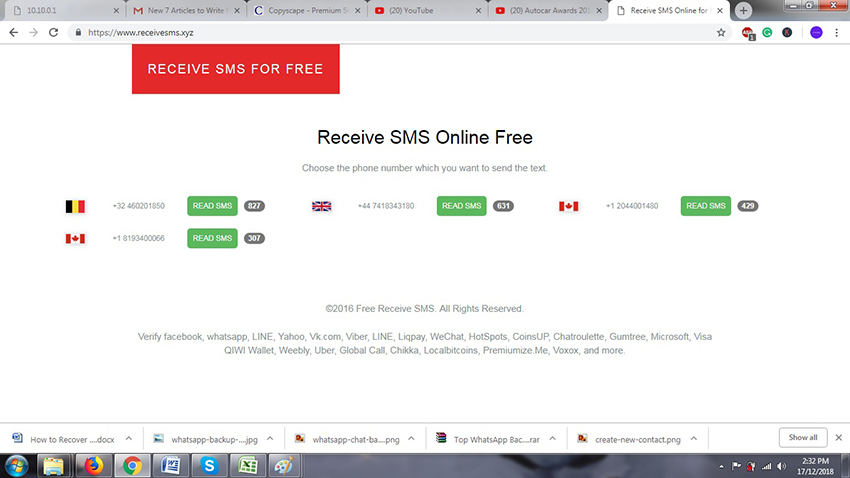 16. SMS Receive net
SMS-Receive.net has got both real and virtual numbers stored on the SIM cards. Their free service with public phone numbers is used to get SMS online. The website is user-friendly and quick in providing information about the status of the sent messages. These numbers can be used to verify various social websites and applications.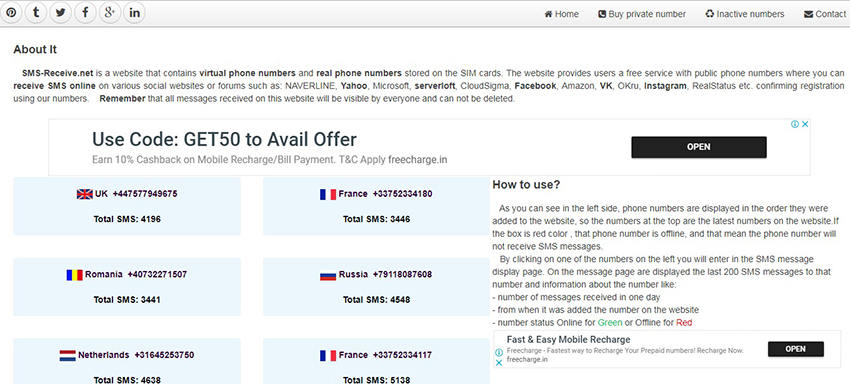 Part 2: Received Messages Disappeared, How to Find Them without Backup?
Recovering lost text messages from your iPhone could be a nightmare. You may lose your messages accidentally or sometimes due to technical issues. Tenorshare UltData - iOS can recover all your deleted messages in a few minutes with a 100 percent proven recovery rate. It is a software that can be easily installed and used. Here are the steps to recover your deleted messages.
Step 1 Install Tenorshare UltData on your computer. Connect your iPhone to your computer via USB cable.
Step 2 Now launch UltData on your computer. This software quickly detects your iOS device when it is connected. Select the feature "Recover Data from iOS Devices".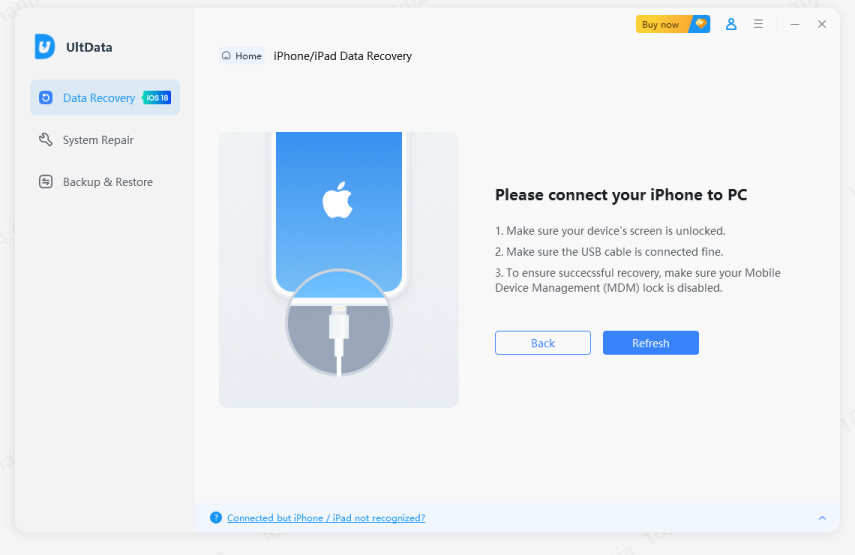 Step 3 After it is detected, choose the option "Messages & Attachments" to recover deleted messages. Then, click "Start Scan" button.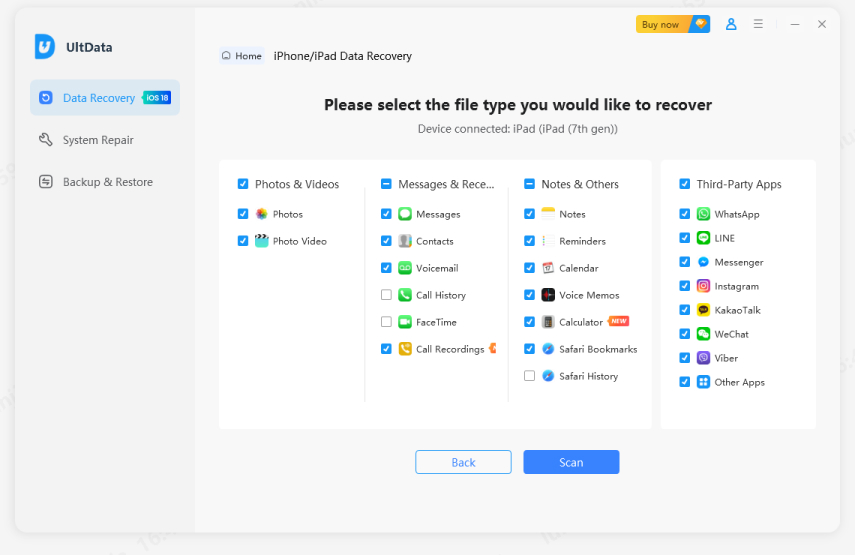 Step 4 Now click "Only Display the Deleted items" to view the deleted items alone. Then tap "Recover" to retrieve the deleted messages on your iPhone.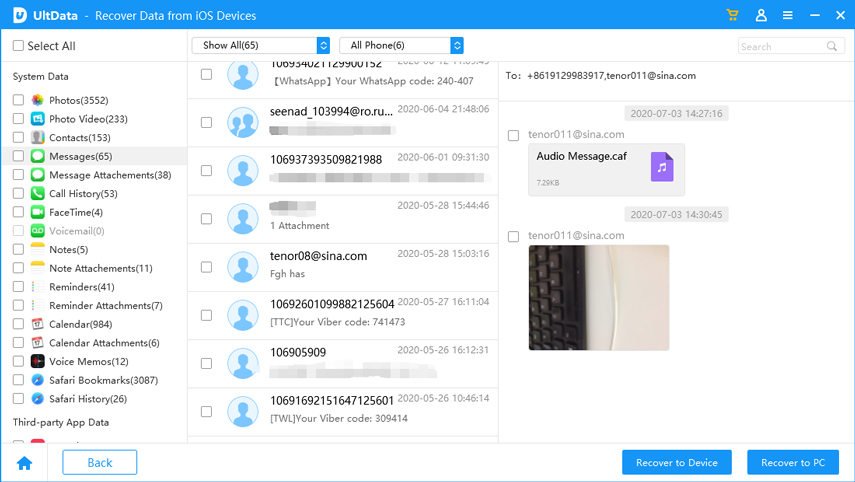 UltData allows you to recover deleted messages or any other deleted files quickly without any data loss. Highly recommended software!