Complete Fix for Messaging Shows Unread Message But There Are None
by Jenefey Aaron Updated on 2019-12-19 / Update for iPhone Tips
If you are one of those persons like myself who values their notifications and want to see them all, false message notifications are a nightmare. Imagine getting notified of messages without actually receiving any messages. It sure doesn't feel good. In this article, I will be showing you how to tackle situations where messaging shows unread message, but there are none.
Why Does Messaging Shows Unread Message But There Are None
Most of the time, a software bug is to blame.
The notifications may actually be for messages you have already seen.
Sometimes, you might think that there are no unread messages but there just might.
Part 1: The One Stop Solution to Fix iPhone/Android Shows Unread Text Messages But There Are None
The ultimate solution to fix any issues you have regarding your iPhone/Android notification sound but no message is Tenorshare ReiBoot. Reiboot is a software tool that has different versions works for iOS and android. It can be used to handle a plethora of mobile system issues all just by the click of a button.
Key Features
One-click enter and exit of fastboot mode. You don't have to use typical button combinations on your smartphone, it's fast and simple.
One-click enter and exit iPhone/Android recovery mode for free.
Helps enter and exit Android download mode in a seamless manner.
Repairs any Android and iPhone system issues in simple clicks.
How to Use ReiBoot to Fix iPhone Shows Messages But There Are None
First of all, download and install Reiboot for Android onto your computer. Launch the Reiboot program and then connect your iPhone to your computer.
On your computer, select the "Repair Operating System" option.

On the next screen, click 'Fix Now' to proceed.

Then, you will need to download an appropriate firmware package for your device.

When the download is over, you will be prompted with a 'success' message, click 'Repair Now'.

The repairing process will then commence, and in less than 10 minutes, your device will reboot as normal. That's all.
Note: If you want to know the detailed steps of using ReiBoot for Android to fix Android device showing unread SMS, you can check this guide: How to Repair Android System
Part 2: Common Solutions for Message Notification But No Message Android/iPhone
Here, we list several solutions for iPhone and Android message notification error in two parts:
Fix for iPhone Shows Unread Messages But There Are None
Here are some tips to help you resolve the 'messaging shows unread messages, but there are none' issues on the iPhone.
1. Resetting All Settings
Open your settings app and then select 'General'.
Tap 'Reset' and then select "Reset All Settings". That's it.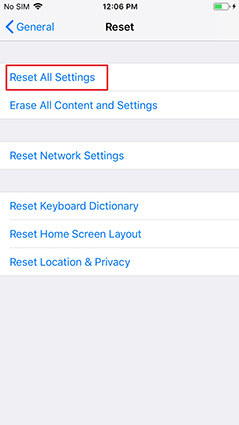 2. Force Restart Your iPhone
Depending on the iPhone you use, there are different ways to restart your phone.
For iPhone 6 and earlier, hold down the 'home' and 'power' buttons together until the Apple logo appears.
For iPhone 7, hold the 'power' and 'volume down' buttons until the Apple logo comes up.
For iPhone 8 and X, rapidly tap the 'volume up' and 'volume down' and then keep pressing the 'power' button until the Apple logo appears.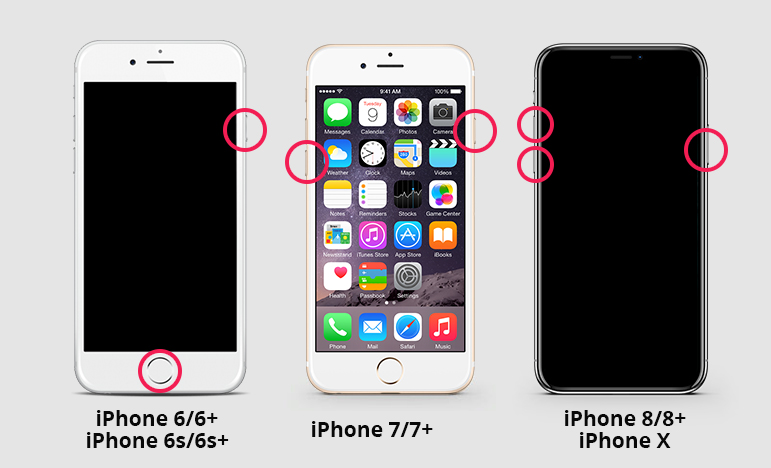 3. Force Quit the Messages App
If the Messages app has been in memory for a while, it might start to misbehave. So, clearing it from memory might be a good fix. Here's how.
To access the app switcher on models with a home button, double-click the home button. For models without a home button, swipe up from the bottom and stop halfway.
Once the app switcher comes up, scroll through the open apps, when you find the Messages app, swipe it up. That's all.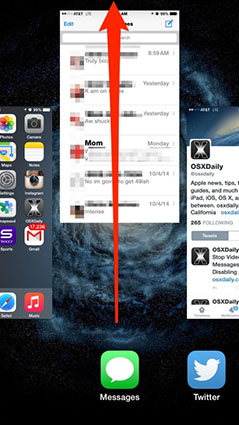 4. Delete Some Messages and Exit the App
This method is simple and straight forward.
Open the messaging app and navigate to the thread which is the source of the unread messages.
Delete some of the messages from that thread and them close the messaging app.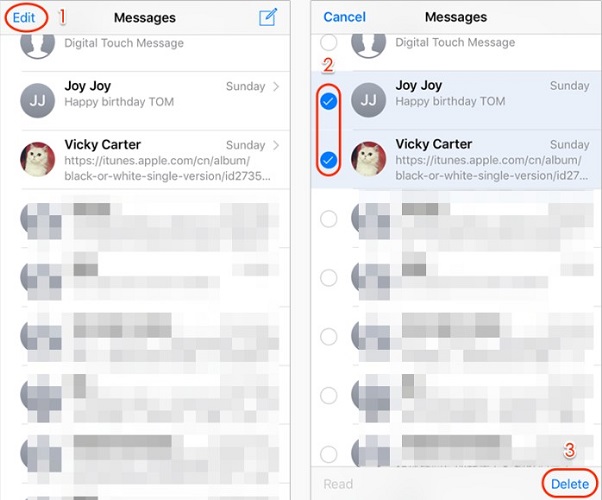 You could also delete all the messages from that particular thread. Make sure you backup your important messages before you do so.
5. Disable and Re-enable the iMessage App
If the error originates from the iMessage app, you would have to try disabling the app and turning it back on. Here's how.
Go to 'Settings' and click on 'Messages'.
Tap on the iMessage toggle to disable the app.
After a while, toggle the app back on.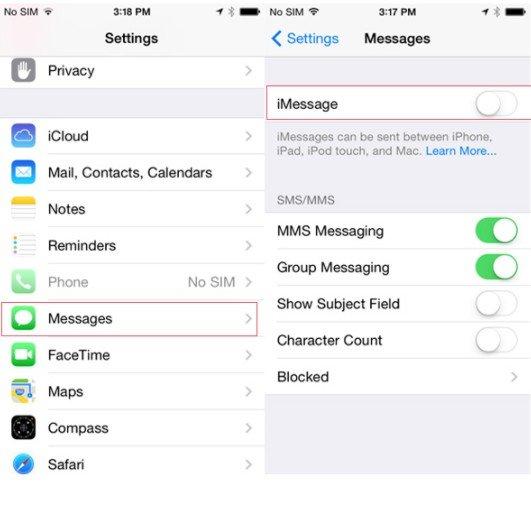 Fix for Message Notification But No Message Android
Here are some effective fixes for Android notification sound but no message issue.
1. Clear Your RAM
This is a simple and quick fix although it doesn't resolve the issue permanently. How you access and clear your phone's RAM memory will vary from phone to phone. Here are some ways through which you can free up your RAM space.
Close your recently used apps. You can do this manually by hitting the multi-tasking button and closing all the apps individually or hitting "close all apps" if your phone supports that.
Force stop apps that run in the background and don't have any immediate effect on the smooth running of your device.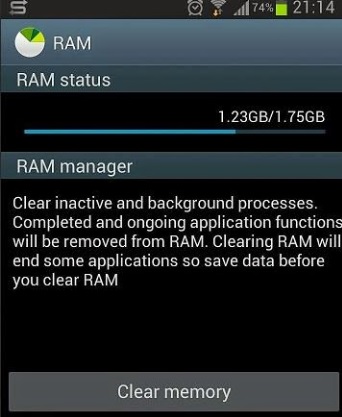 2. Clear Cache and Data File for the Messaging App
This method doesn't delete your messages, it only clears associated files that may be corrupted.
First, go to your Settings app, then click on the Application Manager.
Select "All Apps".
Search for the messaging app, click on it and then hit "Force Stop".
Then tap on 'Clear Cache'. Next click "Clear Data".
If any warning messages pop up, click "OK". That's all.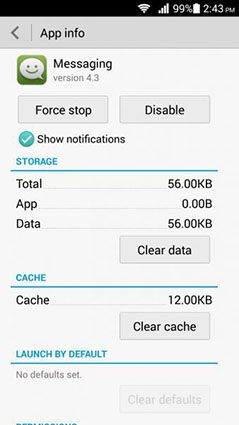 3. Modify Develop Options
This method has proven to be effective for some users. The 'Do not keep activities' option was designed to help developers test their apps. If activated when the phone is in normal use, it can lead to some system issues. Here are the steps.
Go to the 'Settings' app on your phone. Then go to 'Developer Options'.
Within Developer Options, look for the 'Do Not Keep Activities' option and uncheck the associated checkbox.
Restart your device and everything should be fine.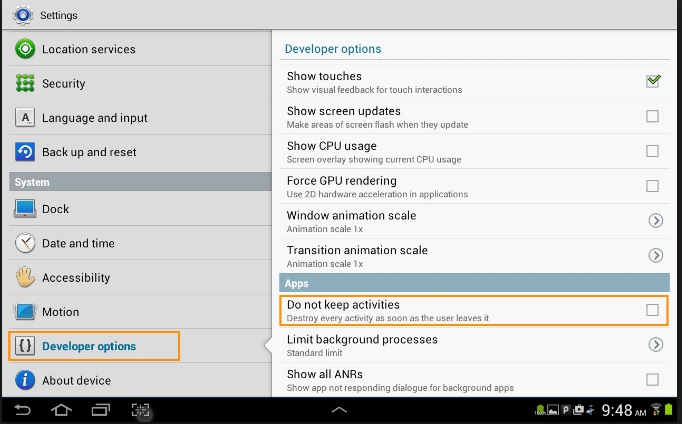 4. Clear Badge Provider Data
This method is only valid for Samsung phones. The badge provider is the application in charge of displaying message notifications. So, if you use a Samsung device, the Badge Provider might just be the cause of the 'false' notifications. Clearing its data might help. Here's how.
Go to "settings" and then 'Application Manager'.
Select 'all apps' either by swiping or from the drop-down menu.
Find the Badge Provider app, click on it and hit "Clear Data". Select OK.
Restart your device.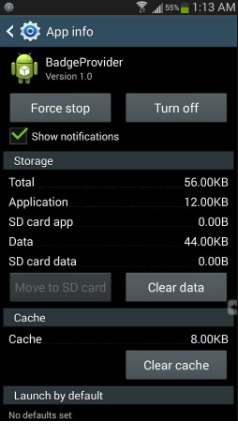 Part 3: Tips to Improve Device Performance
It's inevitable, no matter how expensive your phone is, it will eventually start to slow down. This is caused by a variety of different reasons. From having little memory space to running too many apps. Here are some tips to help you maintain your phone's peak performance.
Update your OS to the latest version. Although this sometimes comes with its own unique problems, if done right, it usually offers some improvements.
Delete apps that are rarely used. They usually take up memory space and may sometimes run in the background reducing the system resources available for your frequently used apps.
Update your apps. Newer versions are usually more stable and less resource-heavy.
Use as few widgets as possible.
Avoid live wallpapers and animations.
Conclusion
There are many ways to help you solve the message notification issues, but we can see using Tenorshare ReiBoot is the easiest method, check it and have a try now!