iPhone 11 Battery Drain on iOS 17/16? Here's The Real Fix
by Jenefey Aaron Updated on 2023-09-14 / Update for iPhone 11
iOS 17/16 is draining your iPhone battery fast , I leave my iPhone at night 1:30 AM with 92 % charge and next morning 10:00 AM i wake up and check my iphone it's battery 92 to 56 this happened with me after iOS 17/16 update
Apple products develop the most optimized devices out there. If it is optimized, it is supposed to have a longer battery stand time. Drainage of battery in a short time while using applications in iPhone, iPad for a short period is problematic.
The waste of battery is either the issue of a software update or the hardware, as users complained that iPhone 11 battery drainage increased after installing iOS update 16. There are many threads out there from iPhone 11 users for having iPhone battery life drainage in Apple devices. We got you covered with the following comprehensive steps.
Also Read: How to Fix iPhone 15 Battery Drains Fast on iOS 17/16
Part 1: How to Improve When iPhone 11 Battery Is Draining Fast
Here are some methods to help you extend iPhone 11 battery life, which also apply to iPhone 14.
Way 1. Check iPhone Battery Health
Checking iPhone battery health is the first and foremost step to choose when you have an issue regarding battery drainage.
Go to settings

Search for "Battery settings"

Go to "Battery Health" tab

The Battery health has the readings regarding Maximum and standard performance, check it thoroughly. If it is acting with abnormal scores, then your battery may need to be replaced.
Way 2. Update iOS to The Latest Version
If your iPhone does not own latest iOS, you can try this method. Each update of iOS will focus on improving performance and fixing some bugs. Sometimes help improve battery life. You can check from time to time to see if updates are available. Or, you can set update automatically. The update steps are as follows.
Go to settings
Find general tab

Check for a software update, if available update your iPhone 11 to the latest version (make sure you have enough battery while updating, plug into a charger)
Way 3. Close Some Running Apps
If not using an application for a long time, you can close it completely to save more power.
Swipe up your iPhone from the lower side and pause for a second.
You will get a couple of applications running in the system.

Swipe the Apple TV application further up so it will be forcibly exiled from the task.
Way 4. Disable Background App Refresh
Many apps in the iPhone 11/11 Pro/Max have enabled the "background app refresh" function by default, which will inevitably speed up power consumption. Actually, this function isn't doing much to improve the apps but power consumption is obvious. Therefore, it is suggested to disable this function.
Go to settings
Tap on "General settings."
Tap on "Background refresh."

Hit enable (if required, allow for the specific app)
Way 5. Turn on Auto-Brightness to Prevent iPhone Dying Fast
The brighter the screen is, the more battery consumes. Therefore, it is recommended to turn down the brightness of the screen. How to adjust your iPhone 11's screen brightness? Please read below.
Go to settings
Choose "Display and Brightness"

Enable "Auto brightness" tab
Way 6. Turn the Raise to Wake off
"The Raise to Wake" function is convenient for users to check the time and notifications without using keys, but it makes the battery consume much power because the screen will light up as long as the sensor detects that the iPhone is lifted. Here's how to turn it off.
Go to settings
Tap on "Display and Brightness"
Disable the "Raise to Wake" option
Way 7. Put your iPhone 11 in Low Power Mode
The low power mode will reduce the power comsumption of iPhone 11, thus making it possible to get through the day. When you enable this feature, the battery in the status bar appears yellow and this mode will automatically turn off after charging at least 80%.
Go to settings
Tap on "Battery" settings

Enable "Low Power Mode"
Way 8. Enable Optimized Battery Charging
"Optimized Battery Charging" feature can slow down the battery aging by changing the way iPhone charges overnight. After you enable this feature, your iPhone will charge fully only when you need to use it according to your habits. For example, if you often charge your iPhone before you go to bed at night, the iPhone will first charge the battery to 80% and the remaining 20% won't be charged until you wake up.
Go to settings
Tap on "Battery" settings
Choose "Battery Health"
Enable "Optimize Battery Charging"
Way 9. Turn Location Services Off If You Don't Need It
As we all know, whenever we download an app, we will receive a request to get your location. If you allow, then the app will always obtain your position in the background, which will speed up power consumption. For some apps that don't need to use location, it is recommended to close this authorization. It will not only protect personal privacy, but also extend battery life.
Go to settings
Tap on "Privacy"
Go to "Location Services"

Disable "Location Service," or you may choose apps to disable location manually in every app available.
Way 10. Restart iPhone 12/11 Pro (Max)
Sometimes your iPhone may be draining on battery due to unmanaged memory. Restarting your iPhone for iPhone drainage quickly issue will be the better option.
Press the "Power" button and "Volume Down" button at once.

A Slider will appear and then tap on "Restart."
Way 11. Check If It Is Caused by Apple Music Draining Battery
If you ever looked around at Apple Community, you will find a lot of iPhone users complain that Apple Music App drains battery more than 50% after iOS 17/16 update. Is there any ways to solve this. Yes, just try below methods if your problem is same.
Method one: Go to Setting > your name, find iTunes & App Store,tap on Music to turn off "Automatic Downloads".
Method two: Open Apple Music, get into Library and find Downloaded music. Cancel all those songs which are "sitting and spinning to be downloaded".
Method three: Tap Music app to open it, Select "Playlists" and swipe to left and you will find "delete" button. Tap it to delete it directly.
Method four: Delete Music app and then, reinstall it.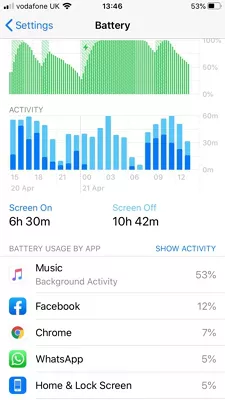 Part 2: The Best Way to Fix iPhone 12/11 Battery Draining Quickly
Tenorshare ReiBoot is the best-known tool to repair various iOS issues. It even works with an iPhone 11 battery draining too quickly problem. What this professional tool does is; it can put your device in recovery mode with one click, also can repair system problem through standard mode or deep repair mode. You can always choose the essential official guide to repair your iPhone. Here are steps to use ReiBoot to fix your iPhone 11 when it encounters an issue with battery drainage, you need to download the application from the below button.
After installation, you can now run the program. Connect your iPhone 12/11 and in the screen, click on the "Repair Operating system (fix all iOS problem)" as in the picture below. Note: It would be better to connect the original Apple provided cable while using this tool, because it needs a smooth flow of data.

Then, you will get a guide screen as below where it says a couple of notes as disclaimers. Read those properly and proceed further as you hit the "Fix Now" button.

Note: "Deep Repair" available in the lower-left corner does the aggressive scanning and repairs for you. First, try a routine scan. If it does not work for you, then there is always "Deep Repair" waiting for you.

Now, you will see the screen saying the browsing of the firmware to fix your device. Tenorshare ReiBoot will automatically set up you with the required iOS, hit "Download" to start downloading. Downloading of firmware may take a couple of times depending upon the size and your internet connection, have patience.

After all the steps above, you will enter the recovery process. Tenorshare ReiBoot will verify and analyze the firmware package and does all the required works for you. Just click "Start Repair."

Make sure you have your USB appropriately connected. Do not disconnect your device while performing all these actions.
Video Guide: How to Fix iPhone 12/11 Battery Drain Issue with ReiBoot
Part 3: Fix iPhone 12/11 Update Battery Drain If Caused by Hardware Problem
We have discussed earlier the possible causes for battery drainage in iPhone 12/11; it might cause either due to software issues or the hardware. Above mentioned solution works with software issues. To talk about the device itself, you need to change your iPhone's battery. Consider changing to original battery from nearby Apple store.
Conclusion
Drainage of battery in a short time while using applications in iPhone, iPad for a short period is problematic. The loss of battery is either the issue of a software update (iOS update) or the hardware. If it is an issue with software, you can follow the above guides to improve iPhone battery life or try to use Tenorshare ReiBoot to fix iPhone 11 battery drain issue directly, and if it is a hardware issue, consider changing your battery from a nearby Apple store.