[Fixed] iPhone 11 Stuck on Apple Logo Hard Reset Not Working
by Anna Sherry Updated on 2021-07-30 / Update for iPhone Tips
If you're also frustrated by your iPhone 11 stuck in boot loop or on a black screen with the Apple logo, you've come to the right place. There are several options available to help you get out of this mess. Today, we're going to look at every possible solution for reverting your bricked iPhone 11 to a fully functional one that allows you to carry on as usual. Let us begin.
Part 1. What Cause iPhone 11 Stuck on Apple Logo
It is not easy to determine the precise cause of a malfunction on your own. While the iPhone 11 being stuck in a boot loop or on a black screen with the Apple logo will be discussed below, several possible causes will be listed.
Your iPhone has run out of power
Hardware failure
Update failure
Jailbreak failure
Part 2. Will Hard Reset Fix iPhone 11 Stuck on Apple Logo
This issue can be resolved for some users by forcing their phones to restart. To accomplish this with your iPhone 11 still locked on the Apple logo, you'll need to execute a hard reset. This procedure is slightly different for the iPhone 11 than it is for other models, but not so much that you cannot complete it independently.
To start the hard reset procedure, follow the steps below:
Press and release the Volume Up key quickly
Press and release the Volume Down key quickly
For approximately 10 seconds, press and hold the Side button, then release if you see the Apple logo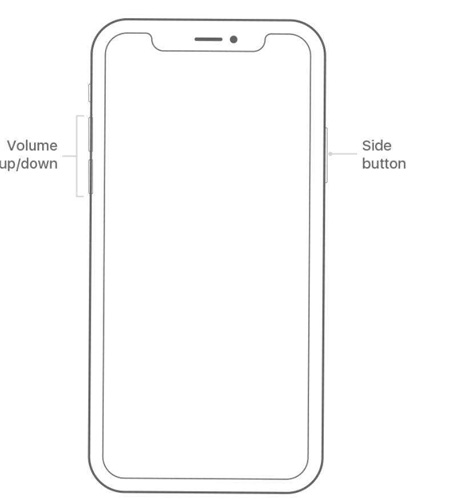 The third step is critical because if you skip it, your phone may accidentally send out a message to your SOS contacts, which you most likely do not want.
Part 3. What to Do When Your iPhone 11 Doesn't Hard Reset
If your iPhone 11 stuck on apple logo hard reset not working, the next step is to enter recovery mode on your iPhone. To quickly enter and exit recovery mode. I would highly recommend you to navigate to the Tenorshare ReiBoot iOS system recovery software to put out your iPhone 11 stuck in boot loop. To put your iPhone 11 into recovery mode, follow the given steps:
Related Video:
Tenorshare ReiBoot is available for download and installation on both Windows and Mac computers. Run and connect your device to the computer

Once ReiBoot has recognized your device, you can quickly enter Recovery Mode by clicking the 'Enter Recovery Mode' button.

For less than one minute, your device is in recovery mode. You will see an iPhone screen with a "connect to iTunes or Computer" logo.

Connect your iPhone to the computer again, click "Exit Recovery Mode" to get your iPhone out of recovery mode to return to normal soon.
Part 4. How to Unfreeze iPhone 11 with iTunes if iPhone 11 stuck in Boot Loop
If you want to unfreeze, your iPhone 11 stuck in boot loop perform a quick recovery with the help of iTunes recovery mode. It will completely wipe your iPhone's contents and settings. Additionally, once the recovery mode is complete, you can easily recover iPhone data following a restoration. The primary disadvantage is that this operation will delete all saved data or sensitive information stored on your iPhone's storage, necessitating the use of backup files.
Perform the following steps to put your iPhone 11 into iTunes recovery mode:
Connect your iPhone device to a computer via a USB cable
Force restart the iPhone while connected, but do not release the buttons, and you'll see the Apple logo.
Wait for the screen to show the recovery mode. Whenever you see the "Connect to iTunes" screen, release the side button.
Turn on your computer, launch iTunes. In iTunes, navigate to your device.

iTunes should display a message informing you that your iPhone is in Recovery Mode. You'll then be given the option of updating or restoring the software on your iPhone.
Wrap Up
It can be annoying to have a phone problem that you don't know how to fix, but you now understand precisely what to do if your iPhone 11 becomes stuck on the Apple logo or in a boot loop. All that remains is to avoid data loss. We hope you found this article useful.