How to Fix iPhone Personal Hotspot Missing from Settings
by Anna Sherry Updated on 2021-07-27 / Update for iPhone Tips
Lots of iPhone users have complained about iPhone Personal Hotspot missing after updating their device to iOS 15 Beta. As a result of this issue, you will not be able to use Personal Hotspot on the iPhone until you have fixed the issue.
In most cases, you will suddenly notice that the option has disappeared on your iPhone or iPad after the update. Regardless of the challenge, we will shed more light on how you can solve the Personal Hotspot missing on iOS 14 or 15 Beta.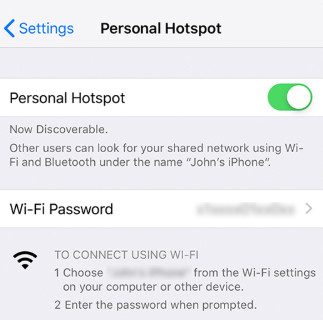 Part 1. Why Personal Hotspot Disappeared on iPhone Settings
There are tons of factors that can lead to the hotspot missing on your iPhone. The first factor is an issue with the Settings app on your device. In many cases, the settings for controlling Wi-Fi networks and cellular data may be having some problems. A simple reset of the settings may restore your device to its normal state.
If you noticed that Personal Hotspot disappeared on your iPhone or iPad, it could also be because of an incomplete or faulty upgrade of the OS of the device. Similarly, you may experience the issue after jailbreaking your device.
Irrespective of the cause, you can fix the iPhone hotspot missing on your iPhone or iPad.
Part 2. 6 Troubleshooting Tips to Fix Personal Hotspot Missing on iPhone
Are you dealing with the issue related to the iOS 14 hotspot missing on your iPad or iPhone? If yes, we have got 6 tested and trusted troubleshooting tips for you. These tips should be able to fix iPhone or iPad Personal Hotspot missing on your iOS device. So, let's check out the solutions.
1. Search the Settings to Confirm Whether iPhone Hotspot Disappears
In some situations, Personal Hotspot is not missing on your device; the option has just been moved to another place. So, you should go to the search bar in the Settings app. Afterward, check out the Personal Hotspot option to see the other place it has been moved to.
2. Force Restart Your iPhone/iPad
Sometimes, force restarting your device can resolve lots of problems. So, try to force restart your iPhone or iPad.
For iPhone 6s or earlier version/ iPad
Press and hold the "Top" (or Side) button and "Home" button at the same time for about 10 seconds. Don't release the buttons until the Apple logo appears on your screen.
For iPhone 8 or later version/iPad with No Home Button
Get started by pressing the "Volume Up" button. Release the button quickly. Also, press and release the "Volume Down" quickly. Lastly, hold the "Power" button and release it when your iPad or iPhone restarts.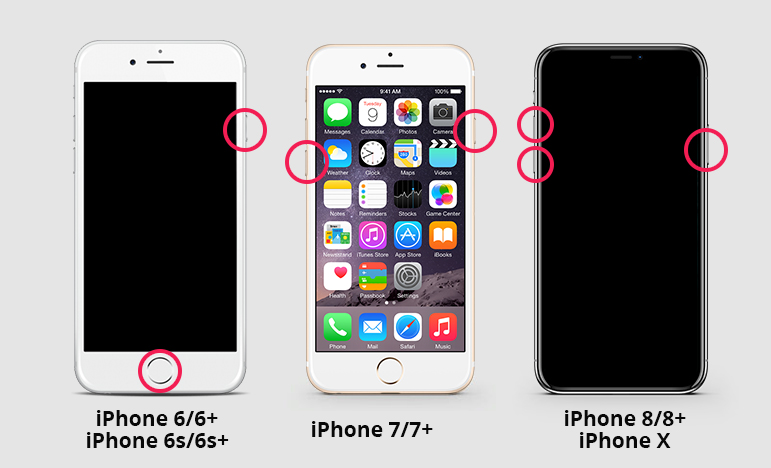 3. Turn Cellular Data On and Off to Resolve Hotspot Missing on iPhone
If the hotspot disappeared on iPhone or iPad, the cellular data settings may be responsible for it. Consider doing the following:
Go to the Settings app on your device and navigate to the "Cellular" option.
Click "Cellular Data" and then turn on the option so that it will become green.
Lastly, turn off the button and check if the iPhone hotspot is no longer missing.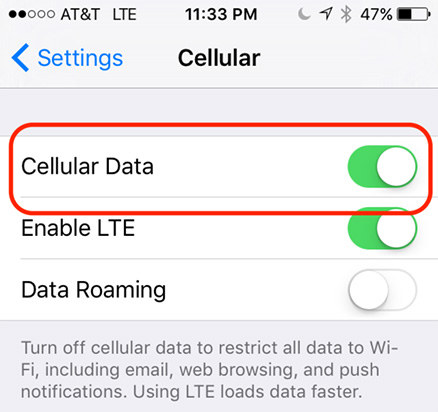 4. Check If There Is A Carrier Update
After some period, your cellphone carrier can launch an update for your iPhone or iPad to improve compatibility with the new iOS. As a consequence of this, you may notice that iPhone Personal Hotspot missing after iOS 14 or 15 updates. You need to check for any updates.
Navigate to the "Settings" app on your iPad or iPhone.
You should go to "General" and then "About".
If you have any updates from your carrier, you need to update it to fix the iOS 14 hotspot missing on your mobile device.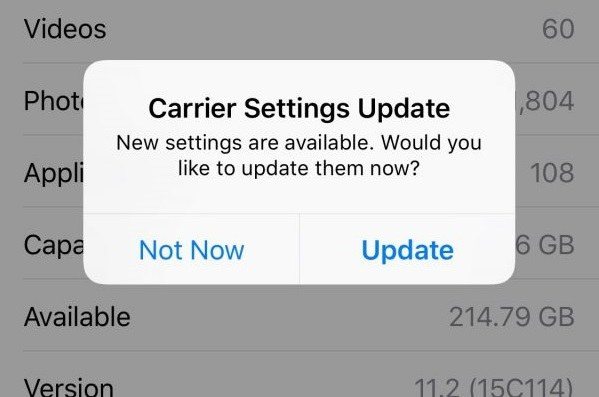 5. Fix iPhone/iPad Personal Hotspot Missing Bug with Tenorshare ReiBoot
In a few instances, the iPhone hotspot disappears because of an iOS bug. If this is the case, the aforementioned solutions may not be able to help you to fix iPhone Hotspot missing on the device. In this case, you should download and use Tenorshare ReiBoot.
Tenorshare ReiBoot is a leading iPhone recovery tool that you can use to deal with iOS bug problems. This tool can solve numerous iOS issues and is also compatible with iPhone, iPad, and iPod touch.
Download, install, and run Tenorshare ReiBoot on your computer. The next step is to use a USB cable to connect your iPhone or iPad to the computer. Once recognized, tap the "Start" option.

Next, tap "Standard Repair" to continue. Please, make sure you read the onscreen instruction before proceeding. When you are ready, hit "Standard Repair".

Afterward, hit the "Download" option to download the latest firmware product. The firmware file is about 5GB; hence, the download may not be quick.

Once the package is downloaded, hit "Start Standard Repair" to start repairing the OS. This should take some minutes.

Once completed, your iPhone or iPad will reboot automatically.
6. Contact Your Cellular Service Provider
If the problem is still unresolved, you should consider contacting your cellular service provider. Perhaps your cellular service provider doesn't provide the option or your data doesn't cover the option. By contacting the provider, you will get more details about the cause of the issue.
Part 3. Still Failed to Bring back the Missing Hotspot? Contact Your Carrier
The Hotspot, Voice Mail (Visual or Normal) all are Carrier Specific features. Contact your Carrier (Cellular Service Provider), the agency that issued the SIM / eSIM to you."

-- From Apple Community
The last resort is connecting your carrier for assistance on how to deal with iPhone 11's Personal Hotspot missing.
Conclusion
In a nutshell, if Personal Hotspot disappeared on your iPhone or iPad, you now understand the best things you can do to solve the issue. Notably, using Tenorshare ReiBoot tends to be the most reliable method for you. Nonetheless, you can try out the various available tips to fix Hotspot missing on your mobile device.