Top 5 Ways to Fix Sim Failure iPhone Issue
by Anna Sherry Updated on 2022-04-15 / Update for iPhone Tips
iPhone SIM card failure is quite an annoying issue that most users face. Without a SIM, an iPhone no longer remains a phone except you're using it just for the camera, alarm clock, etc. There isn't any specific reason for iPhone SIM card failure. Read on to know some of the possible reasons for SIM failure on iPhone.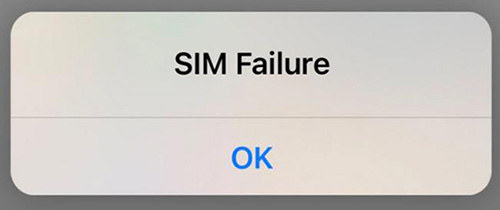 Why Does My iPhone Say SIM Failure
An iPhone SIM failure issue can be either software or hardware issue. Among several reasons, below are some of the common ones.
Sometimes, the problem is associated with the SIM tray. If the SIM tray is dusty, SIM is not placed correctly, or the SIM tray is not closed properly, your iPhone won't be able to recognize it.
It may be possible for SIM failure that the SIM you're using is damaged.
If your iPhone is experiencing some kind of isolated glitches, it can also lead to a SIM failure issue. To detect this problem try force restarting your iPhone.
The OS version you are using can have bugs that could cause SIM failure. Try updating or downgrading your iOS to check the glitches.
One of the worst causes for SIM failure can be that your iPhone has some hardware issues so it is not detecting the SIM.
Common Ways to Solve iPhone SIM Failure Issue
The iPhone SIM failure message bothers a lot of users. Here are some of the common ways suggested for you if your iPhone says no SIM Card installed, Invalid SIM, or SIM Card failure.
Follow these steps to solve the iPhone SIM failure issue.
Check your plan with your wireless service provider. Make sure that it's active.
Look for updates from your service provider if any as your outdated iPhone may not be supporting the old version. Go to the Settings > General > About. Available updates are there, if you see any, update right away.
Turn your phone off and on again.

Check the SIM tray of your iPhone. If your phone has a SIM tray of a different model, then it might not close properly. Try removing your SIM card, insert it again and check that the SIM tray is closed correctly.

Check for the iOS updates just like the carrier update. Updating to the latest version of iOS might help you in fixing the SIM failure problem.
Use a different SIM. It might be possible that the SIM you're using has some cracks or dents on it. If you don't have an extra SIM card, ask your carrier provider to issue you a new SIM card. Try that SIM to check if the issue is resolved.
Contact Apple Support If You Still Get iPhone SIM Failure Message
If the above-mentioned steps couldn't help you in solving the SIM failure issue then it's time to contact Apple Support. A representative will help you out through the process of solving the issue of SIM failure on the iPhone.
What to Do If SIM Failure on iPhone Is A System Problem
SIM card doesn't necessarily cause trouble for your iPhone. Sometimes, it is a system problem. It is the main reason behind SIM failure on the iPhone that the phone itself is problematic. What if your iPhone is not detecting the SIM and causing the problem?
Well, in that case, all you need to do is to repair your iOS system. Your iPhone might be facing a SIM failure because of jailbreak or an update to the latest iOS. The good news is that you can easily reboot or use recovery mode to fix it. However, it is worth giving attention that some iOS bugs can be very problematic that can be causing the SIM failure so you need to repair the iOS system to get rid of them.
Tenorshare ReiBoot can handle this for you. It is an efficient and widely used tool that can help you in iOS system recovery professionally. Here's a complete guide on how to fix the iOS system with ReiBoot.
Connect your iPhone to your PC. Once the device is recognized and set for use, click the 'Start' button on ReiBoot to use the iOS System Recovery tool.

Now choose the method for repairing according to your needs. After selecting one of the options, read the note below to avoid repairing process failure. When ready, click on either of them.

Now, you need to download the Firmware Package. Click 'Download' to download the latest firmware package, it will take a few minutes.

Once the firmware package is downloaded, click on Start Repairing to start system recovery. It will take a few minutes to complete. After the repair is done, your iOS device will automatically reboot.
Here's a related video tutorial for iOS system recovery using ReiBoot.
Conclusion
This guide introduced some of the common causes and solutions to fix the issue easily without spending a penny on vendors. However, the simplest way to solve this problem is to turn off and on your iPhone along with removing and reinserting the SIM again. If the issue persists, it is recommended to try Tenorshare ReiBoot. If you still have any other questions about your iPhone or your SIM card, leave a comment in the comment section below!