Storage Gone After Update to iOS 15.4? 5 Tips For You
by Anna Sherry Updated on 2022-03-31 / Update for iPhone Tips
Any idea what would cause this? Maybe the costliest update I've ever performed. Update itself was only about 6.75 GB. Update used ~9GB."
Many people have reported that their storage has gone after the update to iOS 15.4 and that they have lost a significant amount of data. Furthermore, in some devices, the loss of storage space and data is permanent, and it fluctuates every 48 hours. This problem is causing a lot of alarm among iPhone users.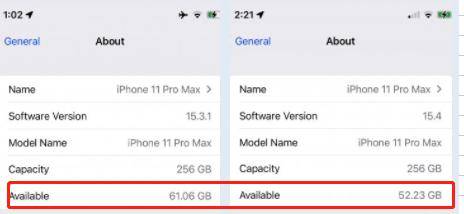 Where Is the Storage Gone after Update to iOS 15.4
With a slew of new features (including ID Mask Unlock), bug fixes, and security updates, iOS 15.4 has been hailed as a promising improvement. However, after a promising upgrade of 24 hours, iOS 15.4 appears to be far from bug-free.
Because iOS 15.4 includes some highly intriguing and substantial features that aren't found in other releases, it takes up more storage space on the system than prior upgrades. As a result, devices with free system space can easily upgrade to iOS 15.4 by combining the free storage space with the existing operating system space. However, devices with no free storage space suffer data and storage loss before being upgraded.

How Much Space Does iOS 15.4 Take up
If you update your iOS to 15.4 in your iPhone 12 Pro, it practically eats up 1.25 GB of memory space. It all depends on the model of iPhone you're working on. Because of the number of changes from the previous version, replacing an older iPhone model with an older version of iOS will result in a larger iOS download.
How to Solve iOS 15.4 Update Takes Too much Storage
These tips will be helping in a way to fix iOS 15.4 storage gone problem. So let us get started!
Tip 1. Delete Photos and Videos
Images, movies, and screenshots take up the majority of the storage space. Other apps' media material, such as WhatsApp, Snapchat, and Instagram, takes up more space in the album area. This results in the iPhone's Storage Almost Full Error.
As a result, before upgrading software, it is critical to free the storage space of media files. Follow the following steps to delete photos, videos and clear Recently Delete Album:
Open the Photo app and go to the Album.

Select the photos/videos/screenshots and click the Delete option from above.

Back to the main menu Scroll down and click Recently Deleted.
Select all of the pictures and delete all.
Tip 2. Uninstall Less Frequently Used Apps
Apps are taking up more and more space these days due to newer updates. It's not unexpected that apps take up a lot of storage space. Consequently, deleting useless apps could help free up a lot of space on the iPhone's storage.
Follow the following steps to uninstall/offload App from iPhone
To delete the app, press and hold on the App icon until they start to jiggle and tap (X)
Tab the Settings options and go to General and then iPhone Storage.

Scroll down and start Deleting/Offloading apps on iPhone
Tip 3. Clear Caches of Safari and Apps
Caches are small storage units that store frequently accessed data for speedy access. Clearing the cache of safari and other apps keeps the system clean and has clear memory, improves performance, and protects the device. Clearing the cache in Safari and the third-party app is a simple and quick way to free up system memory.
Following are the steps to clear the safari and apps cache.
Open Settings
Swipe down and tap Safari

Swipe down again and tap Clear History and Website Data, tap it once again to confirm
Tip 4. Use ReiBoot to Repair iOS 15.4 System
Tenorshare ReiBoot is a software that functions as an all-in-one iOS system recovery tool, allowing users to swiftly and simply resolve a variety of issues with outdated, failing devices.
When jailbreaking or updating to the latest iOS, these devices have problems. Some iOS problems are difficult to deal with and must be addressed, especially the problems like 'iOS 15.4 update storage gone'. The following are the steps to repair your iOS.
Download the Reiboot program for PC or Mac. Launch Reiboot on your computer and connect your iPhone to it.

Once the device has been identified, press the start button.

You have the option of performing Standard Repair or Deep Repair. Although deep repair has a high success probability, it will result in data loss. So, if Standard Repair fails, Deep Repair choices are available.

After selecting from the above options the new page will give you an option to download the firmware. If you are ready for your repair. Click download

Once it has been downloaded or imported, choose Start Standard Repair

Wait for the setup to complete.
If the process is still unclear to you then you can watch this video guide and can follow the same instructions over there as well.
Tip 5. Perform a Factory Reset on Your iPhone
Bugs in the iOS system can also be removed through the Factory Reset of the iPhone. This improves the performance of wiping sensitive data, fixing an error or fixing a locked iPhone. Following is the procedure of factory reset:
Tap on Settings and Tab General and then scroll down to Reset options.
Click on Erase all content and Settings and Enter your Password.

Finally, Tap the option Erase iPhone.
Note: This action will result in the permanent loss of all installed applications and personal information. Before factory resetting your iPhone, make a 'Back up' of it.
Conclusion
The iOS 15.4 storage issue has been reported since its launch on March 14th, and it could be a software bug or simply a glitch. Anyways, there are several solutions to the problem at hand, including changing your space, cleaning the cache, and doing a factory reset. The pro tip in this article is to repair your firmware with Tenorshare ReiBoot software. An easy-to-use and convenient tool for resolving your issues.