How to Buy More Storage on iPhone
According to history, it's obvious that Android phones copied iPhone. Before the iPhone launch, Google had more Blackberry-ish design planned for Android. Then Android goes through some years of redesign period before being reborn as the one that we know today.
But it's also no secret that iPhone might have stolen one or two things from Android to improve its own overall experience. And the result is the eery similarity between the two. You can deny and argue all you want, but we can safely say that all the smartphones today are all in essence iPhone-ish in the look and feel.
Of course, there are differences between the two. One of the most obvious is the absence of external storage slot on iPhones. This limitation is not without reasons, and Apple provides users the way to buy more storage on iPhone.
Why Doesn't iPhone Have External Storage?
Nobody except the people at Apple knows exactly why iPhone doesn't come with expandable external storage. There are theories floating around the internet, but we'll never know for sure. Here are some of the ideas:
Keeping the Ecosystem Tightly Controlled
Everybody knows that Apple has an obsession to control everything to make sure that they deliver the best of quality for users. Letting anyone prying open the case and slide third-party memory card is the antithesis of that principle.
Keeping the Precious Space for More Precious Things
To improve iPhone, Apple has gone as far as eliminating the headphone jack just to add more space for more electronics. So it's illogical that Apple will ever add external memory slots.
Keeping the iPhone As Fast As Possible
Apple can keep the standard of memory chip it uses in iPhone in check, but Apple can't filter external memory. Most of cheap removable memory card that most people use are slow, and Apple doesn't want that.
Keeping the iPhone from Crashing
Statistics says that up to 30% of reported causes of devices failures caused by external memory card. That might be one of the reasons why Android phones with external memory card slot crashes more than those without.
Keeping the Access to the iPhone only to iPhone
Adding a memory card slot also means opening out phone data access to the third-party. Security is already difficult enough to protect without the external memory slot, and Apple who really holds users' privacy high doesn't have any plan to make it worse.
How to Buy More Storage on iPhone
But Apple doesn't leave the users with no options. Their solution for the fixed storage is the expandable cloud storage called iCloud. Every user will get free 5GB iCloud storage that can be used to store photos, videos, files, and more.
But 5GB might not be enough for most people, so there's the option to buy more storage. You can choose from a total of 50GB, 200GB, or 2TB. You can even share the 200GB and 2TB plans with your family.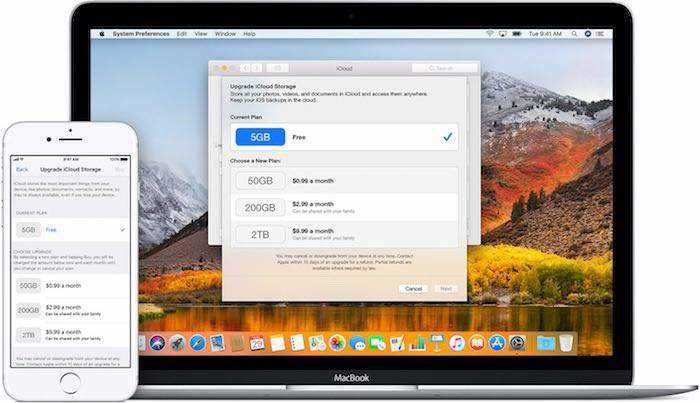 If you are on an iPhone, here's how you upgrade your storage:
1. Go to Settings > [your name] > iCloud > Manage Storage or iCloud Storage. If you're using iOS 10.2 or earlier, go to Settings > iCloud > Storage.
2. Tap Buy More Storage or Change Storage Plan.
3. Choose a plan.
4. Tap Buy and follow the onscreen instructions.
There are also plenty of other cloud storage providers that you can use to expand your iPhone storage with various plan and price. One thing to remember though, you need an active internet connection to access this storage space.
Clean Your iPhone to Reclaim More Storage
On the other side of the coin, you can also add more space to your iPhone by cleaning the existing storage from unnecessary things that clog the space. One tool that can help you to do that is the free iCareFone Cleaner.
This free clean master for iOS is able to thoroughly clean any unwanted files, greatly accelerate your iOS running speed and protect your privacy security in every single way so that bring you a safer, faster and better iPhone experience.
The app is also able to protect your data privacy, enhance info security, compress images, boost speed, expand storage, erase clean your sensitive data, and many more.