Siri Sight Augmented Reality Mode in iOS 12: How it Will Change Siri
by Jenefey Aaron Updated on 2022-12-07 / Update for iOS 12
Augmented Reality (AR) was first integrated into the iOS firmware with iOS 11 and with the iOS 12 launch just around the corner, we are all alert to the new possibilities AR might incorporate into the iOS system. Expected to be announced at the next Worldwide Developers Conference in San Jose California, iOS 12 is already abuzz with the possibilities.
So much so, that graphic designers are already creating their own factual concepts of how iOS 12 and augmented reality will work together to make your iOS experience all the more impressive. One of those concepts has been dubbed the iOS 12 Siri sight mode and details how iOS 12 will make the Apple assistant more helpful.
What is the iOS 12 Siri Sight Mode?
The iOS 12 Siri Sight mode is a component of an iOS 12 augmented reality factual concept design by Michael Calcada, a design student at New York University, Sheridan College in Toronto, Canada. In the concept video he creates, Calcada detailed his vision of the new iOS 12 AR concepts including new improvements to notifications and the camera app. But it was his conceptualization of Siri Sight augmented reality mode that has captured everyone's attention.
In his concept Siri really grows into its role as a virtual assistant, using augmented reality to overlay useful information including the location of restaurants, stores, landmarks, transit stops and landmarks wherever you may be. Even more helpful, Siri will use this augmented reality mode to relay other timely information including which roads are closed and therefore should be avoided. Calcada's Siri sight imagination is one of the most imaginative ideas of how iOS 12 can change Apple's Assistant.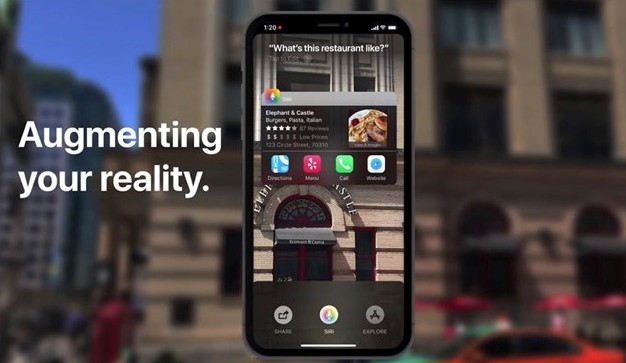 Some of the other features included in his concept include grouped notifications, a notification icon on the status bar, FaceTime Group chats, a new system-side dark mode and improved volume controls. So while, his concept does include his idea of what iOS will bring, it is his proposal of what Siri will bring that has everyone paying attention.
What Others Think of this Concept?
Of all iOS 12 graphic representations Calcada's concept is by far the most interesting mostly because of the new improvements it suggests to Siri. For most in the iOS community, a Siri upgrade is long overdue as its rivals like Amazon's Alexa and Google Assistant have undergone constant improvements to be arguably better in some ways than Siri.
More than that, the iOS community has long hoped that Siri would be more helpful. If Apple's proposed iOS 12 will even in the least incorporate Calcada's idea, many iOS device users will enjoy the new Siri. More than that, Siri will finally be helpful in ways that can improve our lives.
As for whether Siri can use augmented reality to make our life easier, it remains to be seen. Many in iOS related forums think this concept will eventually become a reality but maybe not with iOS 12. They argue that an iPhone with a triple lens camera is required to enable the expanded zoom and 3D sensing that augmented reality will need. Are we likely to see a Siri as Calcada envisions it? Probably not with iOS 12, yet many observers do believe that the future he envisions in his concept is not that far from becoming reality. Maybe when iOS 13 comes along, we'll get a glimpse of what Siri could become.
In the meantime though, let's keep an open mind even as Apple unveils iOS 12. Apple has been known to surprise us from time to time and they may yet have surprises we couldn't have imagined.
Summary
Michael Calcada's iOS 12 siri sight mode concept is interesting but it will likely not be what Apple unveils at WWDC 2018. But the conference is sure to introduce numerous new features that will further improve your iOS experience. In the meantime, have a look at one of the best iOS data management programs in the form of Tenorshare iCareFone, a program you can use to create backups of your data and even fix iOS related issues.