New iPhone SE 2020 vs iPhone 6S: Is iPhone SE Worth Buying in 2023?
by Anna Sherry Updated on 2023-01-04 / Update for iPhone Tips
I have used the iPhone 6S for a few years. It was my first smartphone, and since then, I never thought of leaving iOS. For me, it is still the best iPhone ever. But I have checked out the new iPhone SE online. I am currently using an iPhone 8. I am thinking about getting the new Se model. But is iPhone SE still good in 2022?"
Is the iPhone SE worth buying in 2020?
This is one of the biggest questions of 2020. Apple released the iPhone SE 2020; it looks like the older iPhone 6S, but according to its specification its packs a few upgrades. But is it worthwhile? We won't know the answer for sure unless we discuss the details of the new iPhone. Let's read the article and find out.
Part 1: 5 Key Differences Between 2020 iPhone SE VS iPhone 6S
Is the iPhone SE worth buying in 2020? It is a controversial question, but before we get into it, you need to learn more about the device itself and the key difference between the new iPhone SE 2020 and the iPhone 6S.
The iPhone SE 2 2020 specification is completely different from the older iPhone 6S. It may look like an older generation iPhone, but looks can be deceiving. Several significant updates made the iPhone SE 2020 a next-generation iPhone model.
1.The Latest Bionic Processor
The first thing we are going to discuss is the processer. The iPhone 6S came with Apple's A9 chip, which was pretty fast for its time. But it was quite a few years back. Since then, Apple has gone a few miles, and now we have the iPhone Se 2020 with the latest A13 Bionic chip. This one packs more power, much faster capable of running the latest apps and games without any issues.
2.Powerful Camera
The iPhone 6s came with a 12MP, f/2.2 aperture camera. 4K recording in 30 fps. And a 5MP, f/2.2 front camera.
The iPhone SE 2020 may not have upgraded like the iPhone 11, but there are a few advancements. It has a 12MP, f/1.8 aperture, OIS, Portrait Lightning, Stereo Recording 4K recording in 60 fps, and a 7MP, f/2.2 HD front camera.
3.Water-Resistant
The new iPhone SE is water-resistant, unlike the older models.
4.Wireless Charging
The charging is different too. The iPhone 6S came with 11 hours of video playback, which was quite good in its time. 10W wired charging and a 5W power adapter.
Apple changed a few things with the iPhone SE 2020, especially the 7.5 W Qi wireless charging. Video playback is 13 hours and fast wired charging.
5.Premium Display
Finally, the display. Both iPhone Se and the iPhone 6S are equipped with a 4.7 inch LCD. But the display on the iPhone SE 2020 is a new generation display with a higher brightness level of 625 nits.
The screen resolution is 1334*750, like the older model with a similar 326 PPI. But iPhone SE 2020 still has better contrast, color accuracy, and better viewing angles. So, the screen size may not be big, but this is an upgrade.
So, if you are asking, is iPhone SE good in 2020? Well, after our iPhone SE 2020 review, it is good for 2020, especially with its new upgrades.
Part 2: Upgrade or Not? Or Still, Wait for iPhone 12?
Should I buy an iPhone SE in 2020? Well, the answer depends on the user. Apple released the iPhone SE 2020 with a cheap price tag.
The problem is some of the users are seeing this as the latest model in the iPhone line up. That is completely wrong. This is something different. We have 2 suggestions; you should check them out before making a decision.
Tip 1: If You Have Extra Cash to Spend, It's a Good Choice
If you have extra cash to spend, then get the iPhone SE 2020. The iPhone SE price 2020 is only $399. It is one of the cheapest iPhone models, and it is also a new generation iPhone with advanced features.
Tip 2: If You're a Big Fan of iPhone 6S, Just Skip
Although, some of the users may think that getting this iPhone SE is a good idea; some of the users are asking, is iPhone SE still good in 2020?
There is no straight answer to it. If you are a big fan of the old iPhone 6S then, you may not like these new advancements. It is also true that if you are using the iPhone 11, then getting the iPhone SE will be a significant downgrade.
Extra Bonus: How to Transfer WhatsApp from iPhone 6S to iPhone SE 2020
So, if you have bought the new iPhone SE 2020, then you must be thinking about transferring WhatsApp data from your old iPhone 6S to the new SE. Well, it is a simple task, but it can be executed in multiple ways. You can use professional software to transfer WhatsApp data from your old iPhone to the new one or restore the new iPhone SE from an iCloud or iTunes backup file.
1. One-Click to Transfer WhatsApp from iPhone 6S to iPhone SE 2020
You can use a professional program called Tenorshare iCareFone Transfer to transfer WhatsApp data from your old iPhone to the new one with just a single click.
Tenorshare iCareFone Transfer is an exceptional program with several worthwhile functions, including backup and restoration. But here you have to use the 'WhatsApp Transfer' feature of the program to transfer the files.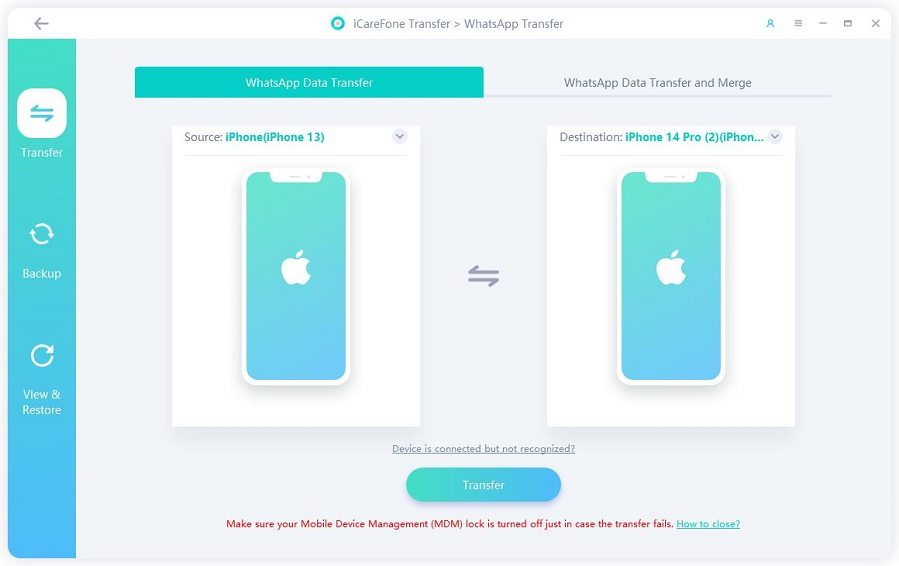 2. Sync old iPhone to New iPhone SE 2020 Using Quick Start
You can easily sync your old and new iPhone SE using QuickStart. Quick Start is a built-in program that comes with iOS. You have to make sure it is available on both of the devices, and you will be able to sync them quite easily.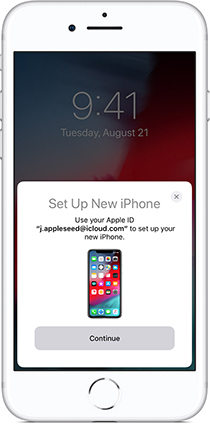 Cons
This function may lag on the older iPhone.
The function needs to be present on both of the devices.
3. Restore Old iPhone to iPhone SE 2020 from iCloud/iTunes Backup
Restoring the iCloud or iTunes backup is the official way of transferring old files to a new iPhone.
All you have to do is to create a backup of your old iPhone's data. The backup files will be stored on your computer if you have used the iTunes app or in the cloud storage if you have used the iCloud app.
After getting the iPhone SE 2020, you can connect the device to your computer and use the iTunes app to restore the said backup file. If you have used iCloud, then you have to use Apple ID to confirm your access, and then you will be able to restore the backup file.
Cons
Using iTunes or even iCloud is not convenient; the data transfer is very slow.
There is a chance of data corruption. With iCloud, you have to purchase cloud storage to store the backup of an entire iPhone.
Selective backup or restore is not available.
Wrap Up
Should I upgrade to the iPhone 6s from an iPhone SE? We have established one thing for sure, the new iPhone SE 2020 may look similar to the previous generation of iPhone, but it is far from it. It is surely a huge upgrade from iPhone 6S. If you want to transfer data especially WhatsApp from old iPhone 6s to new iPhone, iCareFone-WhatsApp Transfer Tool is a good choice.