How to Send Large Files on WhatsApp (for Android Phone, iPhone and More)
It becomes a headache when it comes to sending a video file that you recorded with your Android phone via WhatsApp. You should know that WhatsApp has a file size limit of 16MB for videos, music and images as well. Even so, there's still a solution for this. This guide will tell you exactly how to send large video files on WhatsApp (iPhone and Android), which also works for sending audio files and images.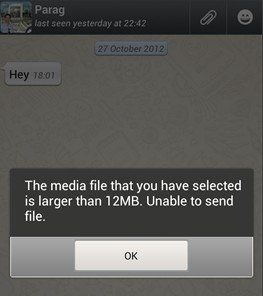 How to Send Files (video or audio) More than 16MB through WhatsApp?
When record videos or audios, we don't care much about the size, as external storage space is not a big concern for most smart phones. And recording an HD video on Android or iPhone using the highest available settings would mean that even a 30 second video will be easily around 15 to 20 MB in size.
Note
: WhatsApp crashes and all chats are missing? Go and get
WhatsApp Recovery
to bring back lost WhatsApp messages (photos, videos) quickly.
To transfer or share these files you can upload your files to any cloud service you prefer to and copy the download link. One well-know cloud service is Dropbox which can be downloaded to Android, iPhone, iPad, BlackBerry, PC and more. You can use the free cloud services and its apps to share and manage your files.
If you haven't install Dropbox, download Dropbox for your Android/iPhone with the link below or from Google Play/App Store.

Download Dropbox for iPhone
Download Dropbox for Android Phone

From your smartphone, tap the drop-down arrow on the Dropbox app, and then select Share. A list will appear with Copy link at the very top and a list of other mobile apps you can use to share the link with. Dropbox for iOS and Blackberry should also work in a similar fashion.

Open your WhatsApp on your smartphone, find the people you want to share the large file with from your contacts. Set up a conversation and paste the link you just get from Dropbox.
When the link is opened, the person you shared it with will be able to download the file to their own computer or mobile phone.
Besides sharing large video, audio files on WhatsApp, you can also broadcast a WhatsApp message to other contacts, backup your WhatsApp chat history, etc.
Best WhatsApp Recovery Software on Android without Root
Recover deleted WhatsApp Messages on Samsung, Huawei, Xiaomi, OPPO without root;
Recover photos, contacts, messages, videos and everything you lost;
Preview individual file before data recovery;
Support with most Android phones and tablets;