How to Add New Contacts in WhatsApp Web [Tested]
by Anna Sherry Updated on 2022-07-18 / Update for WhatsApp Tips
That said, most people have been having issues regarding how they can add contact WhatsApp web. Is there a way around this difficulty? Please, go through the rest of the post to find out.
Part 1: Differences between WhatsApp and WhatsApp Web
WhatsApp is an instant messaging app that allows users to communicate with other WhatsApp users in their contact list. Through the platform, users can send chats and share content with people in their contact list or with members of any group they belong to.
WhatsApp Web is the web version of WhatsApp that can enable you to communicate with other WhatsApp users through your PC. In other words, this lets users send and receive WhatsApp messages on their computers.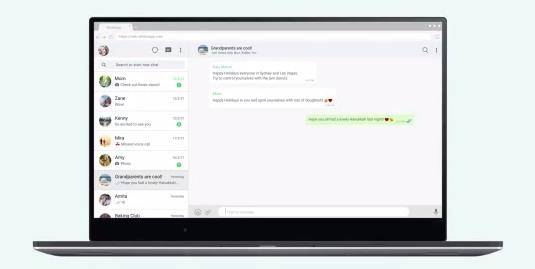 Everything about the web version of the app has been good, with the exception of how to add new contact on WhatsApp web. Perhaps, differentiating between WhatsApp and WhatsApp Web would help us to better understand how they work.
WhatsApp Web can be accessed via a PC, while WhatsApp can be accessed via your mobile devices.
Adding contacts on WhatsApp is straightforward. So long as the user is part of your contact list, you can easily add them. WhatsApp web add contact is almost unachievable.
The layout for both versions is different.
Not until recently, viewing status on WhatsApp Web was bedeviled by some strict restrictions. The use of status on WhatsApp is more fun and without any issues.
WhatsApp Web is preferable if you do not want to be switching between your phone and laptop.
Part 2: Can I Add a Contact on WhatsApp Web?
Most people have not been able to hide their frustrations after searching for the above online on countless occasions. Somehow, there is no official way of adding contact on WhatsApp Web as of the time of this writing.
Therefore, if you have been snooping around your PC with the hope that you would soon discover the functionality that will enable you to add contact on WhatsApp web, then I beg you to please give up already.
For now, the only means to add contacts on WhatsApp Web is through third-party apps. Yes, you heard me right! It is only a matter of which third-party app to use.
Part 3: How to Add New Contacts in WhatsApp Web?
Let's see two tools that can enable you to add contact on your WhatsApp Web, as well as steps that show how to add new contact in WhatsApp web.
INTOUCHAPP
Steps on how to use InTouchApp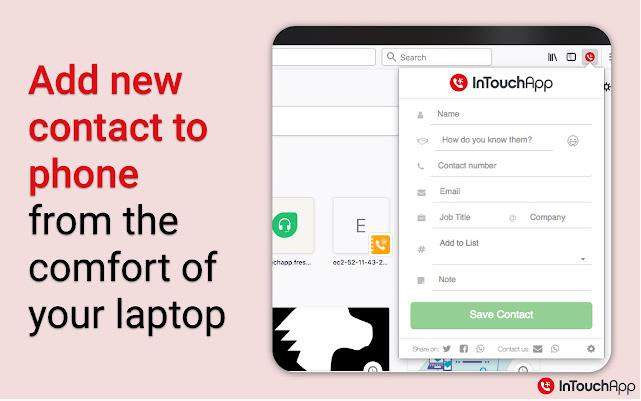 Go to Play Store and download InTouchApp.
Install the app when you are through with the download and create an account on the platform.
When you are done, click on your profile pic and click Settings.
Look for Accounts and click Select account to synch under it. Your Google mail ID should be set to sync. That will enable any contact you add on WhatsApp Web to be updated on your phone.
Install WhatsApp Lead Manager extension on your Google Chrome. When you're done, the new icon will be visible in your status bar.
To save a new contact, click on the extension you just installed. Log into it for the first time. Open WhatsApp Web and you will see Save Contact on it.
Part 4: How to Add New Contacts in WhatsApp on Phone
Follow the steps below to add new contacts in WhatsApp on Phone:
Click on New Chat.
Click Options.
Click Add New Contact.

Input the contact's phone number and name.

Click Save
Contact should automatically appear on WhatsApp. Otherwise, click on New Chat, choose Options, and click on Reload Contacts.
Bonus: How to Export WhatsApp Backup to Computer
Tenorshare iCareFone Transfer is a fantastic tool that lets you backup all your WhatsApp information in just several clicks. Highlighted below are the features of Tenorshare iCareFone Transfer.
Simply transfer WhatsApp and WhatsApp Business from iOS to Android and vice versa.
A single click for backing up or restoring WhatsApp/WhatsApp Business, as well as other social media applications for iOS and Android.
Easily export WhatsApp backup to HTML.
Download the WhatsApp backup and restore it to your device
How WhatsApp Chats Can Be Exported
Download and open Tenorshare iCareFone Transfer on your computer, and click on "Backup" The backup files will be available. Then connect your device to the computer and click on "Back Up Now".

Now the program is backing up your WhatsApp data.

When the backup process is completed. Click on "View Backup" to continue.

Then you can see all your backup data. Select the data and choose "Export to computer".

Now your WhatsApp backup has been successfully exported to computer.
The Bottom Line
There is no direct way to add contacts on WhatsApp Web. It can only be done through other third-party apps. Thankfully, some of the apps have been described in this post.
Don't forget to try Tenorshare iCareFone Transfer if you need to transfer/backup/restore WhatsApp data.