Telegram vs WhatsApp: How Should I Choose?
by Anna Sherry Updated on 2022-06-30 / Update for WhatsApp Tips
Whatsapp is one of the most popular instant social messaging applications. It was recently bought by Facebook.
Telegram, too, is an instant messaging app built to be used on a mobile phone, as well as accessed through a browser. In today's world, a comparison of Telegram and Whatsapp is unavoidable. Keep on reading to learn more detailed information about them.
1. Is Telegram Safer Than WhatsApp? (Most Asked Question)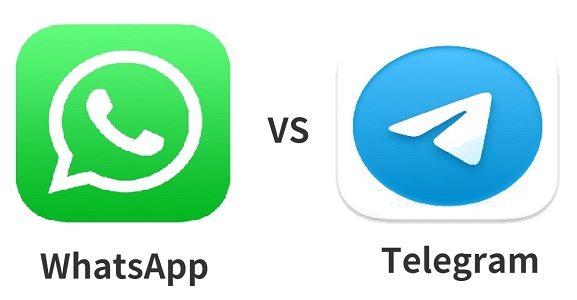 The manner in which Telegram is gaining popularity puts forward the question of whether or not Telegram is safer than whatsapp? The answer isn't quite as simple.
Just because telegram is gaining more popularity, doesn't mean it is any more secure or trustworthy than WhatsApp.
Recent privacy changes in whatsapp privacy, mainly owing to the change in its ownership to Facebook, have created a misconception among the users of the application.
In order to fully understand the privacy policy of both WhatsSpp and Telegram, we need a deeper look into their data collection procedures and encryption.
Telegram has End-to-end encryption. What this entails is that the chat between two people remains private and no third party can access that data. The fact remains that this policy does not apply to all messages.
In Telegram, not all users can send a direct message to other users.

In WhatsApp, recent changes have been made due to which messages can be set to be seen only once. They disappear after 24 hours. While in Telegram, Photos disappear as soon as they are viewed by the recipient.

Whatsapp is safer for you if you tend to chat in groups a lot because its privacy policy for groups is the same as that for a personal chat.
With Whatsapp, one of the main causes for concern when it got connected to Facebook, was the misconception that the user data would be directly shared with Facebook. On the other hand, Telegram doesn't collect that much personal information from its users.
2. Telegram vs WhatsApp: Which One has More Features?
If we look at the differences between WhatsApp and Telegram, it becomes apparent that both have their own strengths and weaknesses.
Firstly, when it comes to the privacy policy of WhatsApp, it offers end-to-end encryption of messages, videos and calls to its users, while Telegram only provides End-to-end encryption to private or secret chats.

Whatsapp is linked with Facebook now, whereas,Telegram is linked with Telegram messenger and browser. It means we can also access other websites while using the app.
In whatsapp, we can make audio calls but Telegram lacks this feature.
Whatsapp allows you to send a message to any user but in Telegram, users can only send a message request, which other users can accept or ignore.

You don't need a sim card to log in to Telegram but WhatsApp requires a sim card for the activation of an account you need a sim card.

Telegram also allows usage in more languages than WhatsApp. When it comes to popularity, Telegram seems to be gaining more ground as compared to Whatsapp.
3. Which is More Popular? Telegram or WhatsApp?
If we look at the facts and figures of these instant messaging apps, while comparing WhatsApp and Telegram, we can reach a more realistic and conclusive result.
WhatsApp is the most popular application with nearly two billion users. Telegram, with almost 400 million users, seems to be lagging behind. Though, both of them are popular among their target users.
4. So, Should I Choose Telegram or WhatsApp?
Both Telegram and WhatsApp are easily accessible and handled. Both have their own strong suits.
In some ways, Telegram is considered more reliable, and in other ways, WhatsApp is preferred for its diverse features. A user can like or dislike either of them based on personal preference, otherwise, both are convenient and the privacy of users is secured to some extent. Their features vary but not too much.
All in all, both of these applications are good and possess all the features that an instant messaging application needs to have.
Bonus: One-Click to Backup WhatsApp to Computer
Looking for a better way to back up WhatsApp other than Google Drive? Try Tenorshare iCareFone Transfer.
iCareFone Transfer can help you back up all your important WhatsApp data to your computer. If you're an iOS user, than congratulations, this feature is free for iOS users. Moreover, as its name shows, it's a perfect tool to migrate your WhatsApp data between Android and iPhone.
See how it works:
Download and install Tenorshare iCareFone Transfer on your computer. Then open it and connect your device to the computer. Choose "WhatsApp" icon.

Select "Backup" from the left menu and click on the "Back Up Now" button.

Now the program is backing up your WhatsApp data.

Within several minutes, the backup will be completed.

You can then view your backed-up WhatsApp data whenever you want. Or you can also restore the backup to Android/iOS device.