Top 8 Differences Between WhatsApp and WhatsApp Business
by Anna Sherry Updated on 2022-12-02 / Update for WhatsApp Tips
Should I create my own WhatsApp Business account? With WhatsApp business releases, a lot of users consider to have a try on this app. The differences between whatsapp and whatsapp business are numerous. The key differences between them will be explained in the sections below: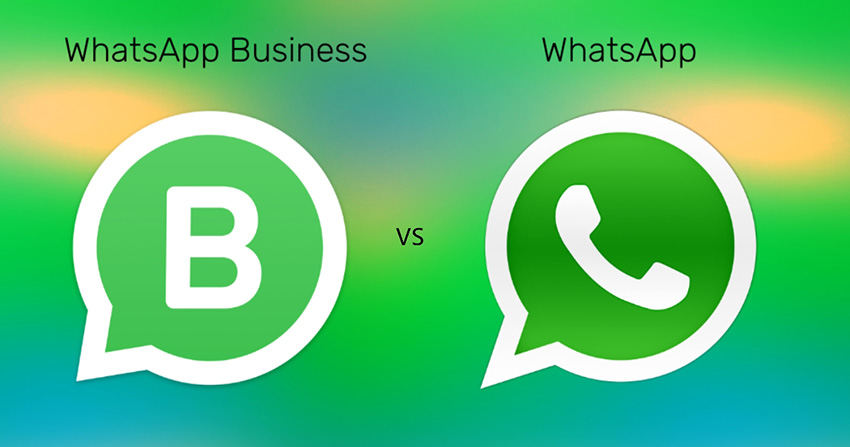 Part 1: WhatsApp Business Vs WhatsApp: 8 Key Differences
WhatsApp Business is growing at a faster pace. At this moment, it has the highest distribution of all business messaging apps worldwide. It's worthy to note that several businesses around the country are finding that the Whatsapp business platform useful for their customer support service. They are finding Whatsapp Business as an acceptable substitute for a website or app.
When compared with the WhatsApp, some differences are identified, which include:
1. Different App iCon:
This is one of the major differences between business WhatsApp and WhatsApp. While the Business app has a B character as an icon, the WhatsApp has the phone symbol inside the WhatsApp icon.
2. Business Profile Information:
Another major difference between them is that WhatsApp Business requires you to create a Business Profile. Some information required from you includes Business Description, Website, Address among others.
3. Away and Hello Message:
When sending a message on WhatsApp Business, you will be notified with an away message or Hello message if the account owner is not available.
4. Contact Labels:
You can create a proper business profile by adding contact details such as multiple websites , phone numbers and email addresses.
5. Messaging Statistics Report:
With WhatsApp Business, you can gain insight into the rate at which you receive messages.
6. Search Filter:
WhatsApp Business has a search filter that permits you to query the app for some details about a specific business. Whereas, WhatsApp only permits you to search the app for previous chart history.
7. Initiate Conversation with Short Link:
There is an opportunity to initiate a conversation with a shortened URL link for Business WhatsApp. However, normal WhatsApp doesn't allow such a feature.
8. Different Applicable Targets:
WhatsApp Business apparently is targeted for those who run their small business. This app does have a great benefit for them.
Part 2: Can I Use WhatsApp and WhatsApp Business on the Same Device?
Yea , you can use WhatsApp and WhatsApp Business on the Same Device. However, you will need to use different numbers for both apps. Since there are some forms of differences between WhatsApp and WhatsApp business, you can't have any issue using both apps on your device.
Part 3: Can I Convert/Change My WhatsApp to Business Account?
Yes, you can convert your WhatsApp to a business account. All you need to do is to follow the steps below, before you do that, please have a backup of your WhatsApp Messenger. Note: It might take you one minute to read.
Step 1 : Now Install WhatsApp Business from the Google Play Store. And just open it once so that it can create its folder directory. Then close the app.

Step 2 : Go to your phone's internal storage and open 'WhatsApp>Databases'. Here copy all the chat backup files and paste them to 'WhatsApp Business>Databases' folder.

Step 3 : Now open WhatsApp Business app and tap 'Agree and Continue'.
Step 4 : Enter your existing mobile number and tap 'NEXT'.
Step 5 : The app will ask for several permissions like contacts. Grant all permissions and follow the on-screen instructions to verify your mobile number.
Step 6 : Now after verification, the app will look for chat history backups.
Step 7 : As we have migrated the chat history backup files to the WhatsApp Business folder then it will ask you to restore the chat history.
Step 8: Here tap 'Restore' and wait for few seconds. Your entire chat history will be migrated and restored to WhatsApp Business app. Now you can normally use the app.
Can't Miss Tip: How to Transfer Whatsapp Business between Andriod and iPhone
iCareFone Transfer is a wonderful tool to help you transfer Whatsapp Business between Andriod and iPhone. It works perfectly with your Android and iPhone devices. It ensures you enjoy great experience of one-click to transfer WhatsApp Business between different devices. So you needn't worry about the limitations of devices. It's easy-to-use and hassle free. Why not try it now?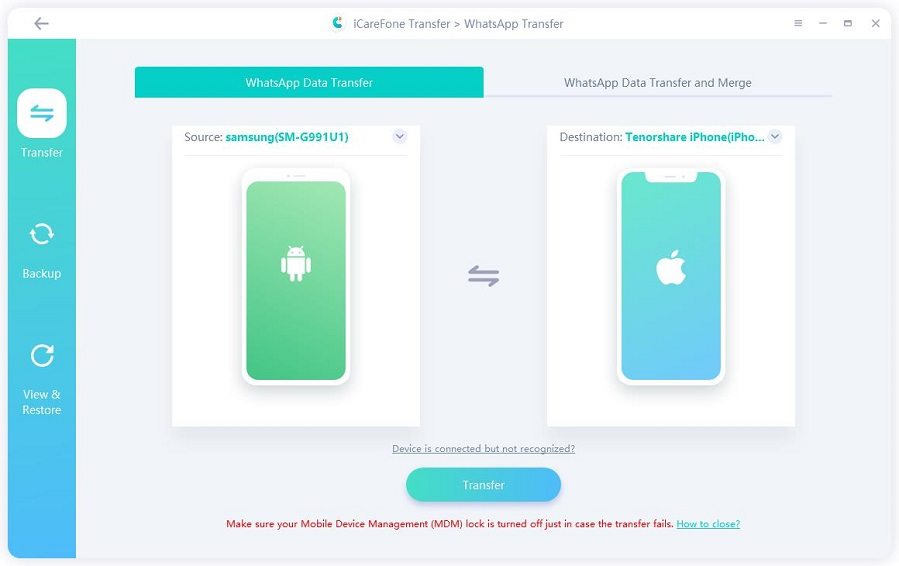 An End
WhatsApp platforms are always experiencing changes everytime. If you're a business owner, you should use WhatsApp business. That helps you serve your clients upto their satisfactions. Perhaps you need to migrate from your Android device to iPhone, using iCareFone Transfer is highly recommend. The app has several features that can make the migration much easier for you.