Every time after Apple Company released latest version of iPhone, a lot of Android users will then consider getting a new mobile phone. But there could also be some problem for them, such as, important files in their Android phone and they don't even know how to get them in to the new iPhone. In this article, we will discuss a commonly used app - WhatsApp, and give you three methods to transfer WhatsApp messages from Android to iPhone 7 free.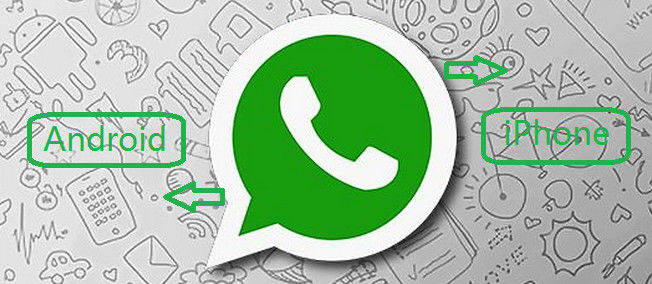 Method 1: Using History Backup to Move WhatsApp Conversations from Android to iPhone 7
If you are familiar with WhatsApp, you must have noticed its backup function. But for some users they might not knowing how to use this function. Let's have a look at how to use.
1. Open WhatsApp;
2. Menu >> Settings >> Chats >> Chat Backup, then click Backup button;



3. Uninstall WhatsApp in your Android phone, and open it on your iPhone 7, sign in with your original WhatsApp account;
4. You will see a pop-up that notice you to restore the backup files which is stored at Cloud.
And you can get all the things back to your new iPhone 7, start enjoy your WhatsApp.
Method 2: Migrating WhatsApp Chat History from Android to iOS via Email
This method can be also easy to do like what we see at the method 1. Just follow the steps below.
1. Open WhatsApp;
2. Settings >> Chats Settings >> Chat History >> Email chat;



3. Choose the target WhatsApp chat history files on your Android phone, you can select to Email without or with media;
4. When it comes to the sending page, send the chat history to the account you have logged in on your iPhone, iPad or iPod touch.
Note: Although you have sent it to your iPhone and can take a view on it, but you are not able to open it on WhatsApp.
Method 3: Shifting WhatsApp Messages from Android to iPhone 7/7 Plus through Third Party App
If you are an Apple fan or Android fan, then you must know an app named Move to iOS, which is developed by Apple Company. You can install it to your Android phone through Google Play.

It is easy to use, and if you don't know how to use after reading the guide of this app, you can then get its detail usage by our article on how to transfer data from Android to new iPhone.
For WhatsApp messages you can take the advantage of these three methods, if you want to transfer more thing, Tenorshare iCareFone may give you a hand. You can use it to better manage your iPhone 7/7 Plus/SE/6s/6/5s/5, as well as iPad and iPod. No matter you want to transfer photos, music and video or repair the system of your iOS device, it will surely help you out of trouble.
Related Articles
comments powered by