WhatsApp is one of must-have messaging app to chat with friends and share funny videos/photos. In latest update WhatsApp Messenger allow us to record new video or import videos from Photos app (Gallery in some Android devices). It even provides some editing choices before sending videos in WhatsApp. Here we share some tips for cropping or trimming your videos before sending out.
How to Trim Videos for WhatsApp on iPhone, iPad
In iPhone and iPad, you can use the Photos as the built-in WhatsApp video trimmer, which means you can cut/remove unwanted contents, or even you just want to extract a segment from an existing video and save as new clips.
Here are the steps to trim a video clip with iPhone and iPad Photos app.
1. Launch the Photos app, and tap the video you'd like to edit.
2. Tap the edit menu on the bottom of the screen.

3. Tap and hold on the left or right side of the timeline to engage the trimming tool.
4. Tap and hold an anchor to expand the timeline for more precise editing.
5. Tap Done on the bottom right of the screen. We can save the trimmed segment as a new clip or to replace the original clip.
How to Crop/Cut Videos in WhatsApp on Android Phones
In Android phones and tablets, you can crop and trim a video directly within WhatsApp before sending. Here are the steps.
Open WhatsApp chat with any contact, and tap the attachment icon. Select "Gallery" and choose the video file that you want to cut or crop. You can also record a new video.
Once you select the video you will be provided with an WhatsApp video editor. Now you can drag the left and right sliders to trim the clip.

After selecting the clip you want to trim, you can tap "Send". The video will be cropped automatically before sending.
These are the handy ways to crop/trim/cut videos in WhatsApp on iOS and Android devices. What if you accidently lost valuable WhatsApp videos or you have trimmed the videos incorrectly? All you need is WhatsApp data recovery software. With WhatsApp Recovery, you can get back lost or deleted WhatsApp chats including messages, videos, and photos easily from iOS and Android phones.
Free Download
For Win 10/8.1/8/7/XP
Secure Download
Free Download
For macOS 10.13 and below
Secure Download
For iPhone and iPad users, WhatsApp Recovery offers three recovery modes and moreover, it can repair iOS stuck and errors related with iOS update or jailbreak.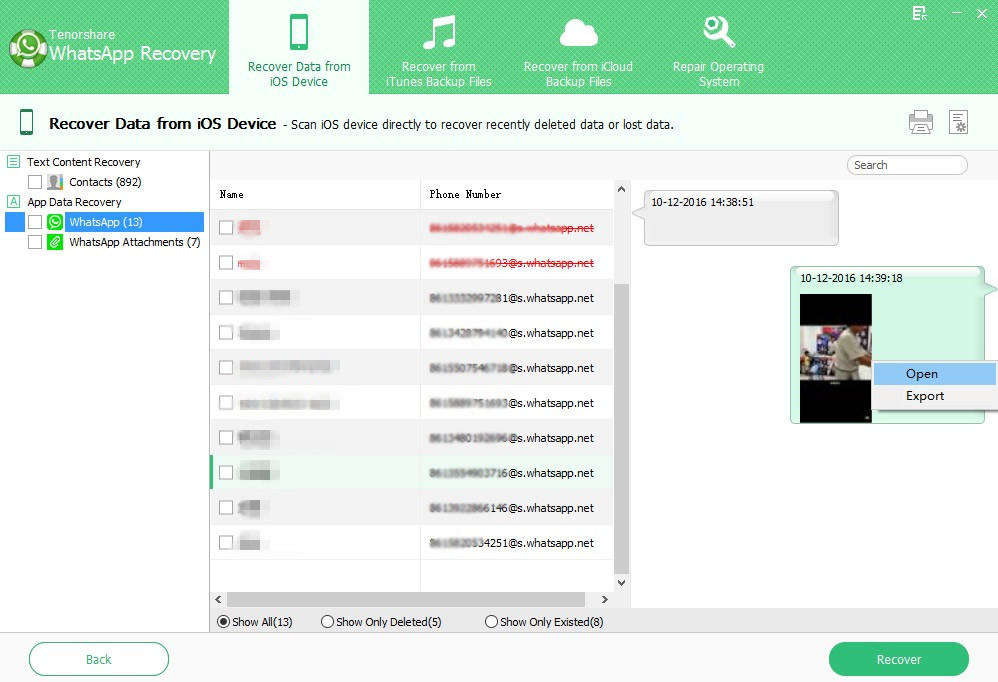 Free Download
For Win 10/8.1/8/7/XP
Secure Download
Free Download
For macOS 10.13 and below
Secure Download
Related Articles
comments powered by