[2023] Quick Answer to the Meaning of Your Security Code is Changed in WhatsApp
by Anna Sherry Updated on 2022-12-16 / Update for WhatsApp Tips
Your security code is changed in WhatsApp meaning is one of the most searched items online today. You will find the answer in this blog.
Part 1: Learn What is WhatsApp Security Code
WhatsApp employs security codes between users to help ensure that chats, calls, and every other activity done on the platform are duly encrypted from one end to another.
This security code is usually displayed as a 60-digit number or QR code on the contact info's screen.
No two security codes are the same because their uniqueness is what helps the platform verify if chats sent between two users are actually secured and encrypted.
Part 2: When Will You Receive the Security Codes Change Notification
Occasionally, the security code used between two users (that is between you and someone else) may change. A couple of reasons can be responsible for you to get your security code is changed in WhatsApp notification.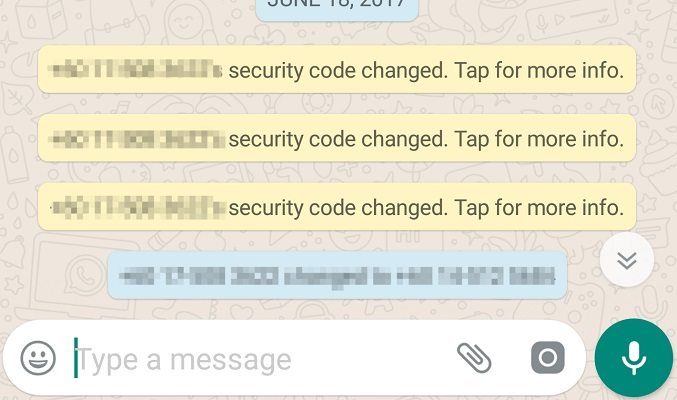 Some of those reasons could include the re-installation of WhatsApp by you or any of your contacts.
It could also be because they changed their phone or removed or added a paired device. The good part is that even when this code changes, it's possible to verify the authenticity of the new code.
Actually, it is up to you to decide if you want to be alerted by the WhatsApp security code change notification or not. You can set your WhatsApp to send you notifications anytime there is a change in your security code with respect to one of your contacts.
Part 3: So, What Does Mean When "Your Security Code is Changed in WhatsApp"
It is pointless having sleepless nights when your security code with someone changed in WhatsApp. You don't want to break your head over that.
When you see that message, it implies that a user on your WhatsApp contact list or you have re-installed the application.
This message is also evident that that user or you have changed their mobile number.
Finally, you can get this message when the user or you remove or adds to the number of paired devices.
There is no need to fret about WhatsApp security for obvious reasons.
Part 4: How to Enable and Disable WhatsApp Security Code
Enabling and disabling WhatsApp security code notification is as straightforward as you can guess. There is nothing special about the process because the steps are easy.
Outlined below are the steps to follow to enable WhatsApp your security code changed notifications;
Enable/disable security code notification for Android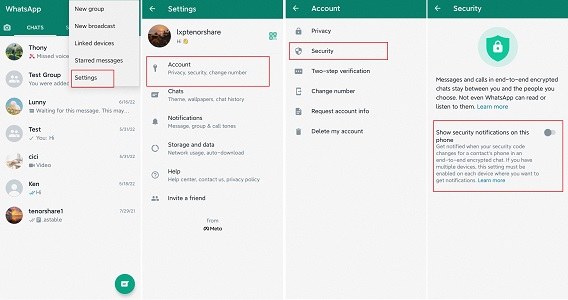 Open WhatsApp
Click More Options
Select Settings
Click on Account
Click on Security
Enable Show security notification on this phone
Enable/disable security code notification for iPhone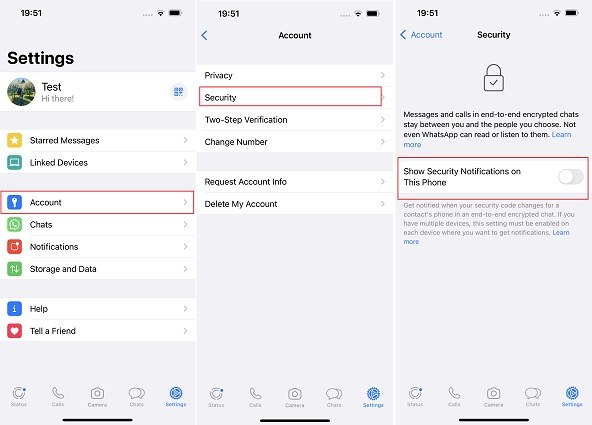 Open WhatsApp
Click Settings
Click Account
Click Security
Enable Show Security Notification on This Phone.
Enable/disable security code notification for desktop and web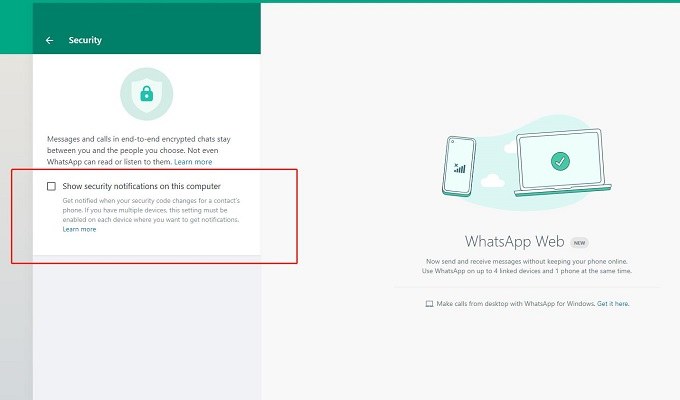 Open WhatsApp desktop or WhatsApp web
Go to Menu
Click Settings
Click Security
Enable Show security notifications on this computer.
Bonus: How to Move Android WhatsApp Chats to iPhone
Although there is a myriad of ways through which one can transfer WhatsApp chats between Android and iPhone devices, most of those methods are stressful and time-consuming.
That said, Tenorshare iCareFone Transfer does provide users with an alternative, seamless way to have their WhatsApp chats transferred between Android and iPhone devices. Let's acquaint ourselves with some of the Tenorshare iCareFone Transfer features;
Supports the transfer of WhatsApp messages, videos, photos, etc. between iPad/iPhone and Android.
Restore WhatsApp backup to Android and iOS devices.
Back up everything about WhatsApp from Android, iPad, iPhone to your Mac/PC.
Transfer chats from WhatsApp to WhatsApp Business and vice versa.
Compatible with the most recent iPadOS 15 / iOS 15, iPhone 13, as well as Android 12.
Steps on how to make use of Tenorshare iCareFone Transfer:
Download the iCareFone Transfer and have it installed on your PC or Mac. Have the two devices (Android and iPhone) connected to your PC or Mac. Hit the Transfer button to commence the transfer process.

Back up your WhatsApp data by following the on-screen instructions.

Then the system will get your WhatsApp data automatically.

Verify your WhatsApp account here.

Then select which data you need to transfer and click on "Continue".

Congratulations! Now your WhatsApp data has been transferred to your iPhone successfully.
iCareFone Transfer Video Guide:
Conclusion
We've been able to cover two things in this post – the possible reasons for WhatsApp security code changed without changing phone and how to transfer WhatsApp files between devices.
Attempting to transfer your WhatsApp from your Android device to your new iPhone the regular way can be a bit tedious. Tenorshare iCareFone Transfer allows you to transfer WhatsApp messages, media files, etc. with a single click.