What Does WhatsApp End-to-End Encryption Mean and What Does It Affect
by Anna Sherry Updated on 2022-05-30 / Update for WhatsApp Tips
WhatsApp is the most widely used instant messaging program with over two billion active users. SMS messages were replaced by WhatsApp messages a long time ago. Every day, millions of people share text, audio, photos, and media files via WhatsApp.
WhatsApp end-to-end encryption has been applied by WhatsApp official since 2016.
Part 1: What is WhatsApp End-to-End Encryption
So, What is end-to-end encryption in WhatsApp?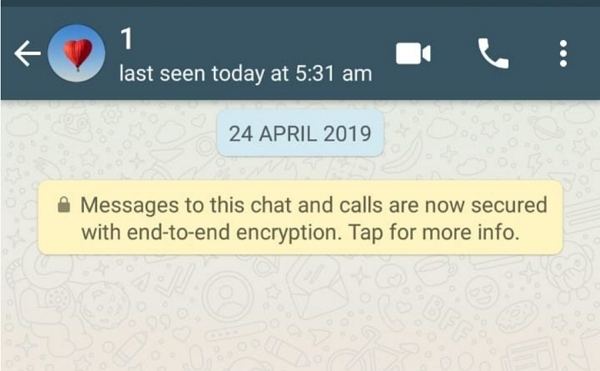 WhatsApp End-to-End Encryption is a system created to solve users' privacy and security concerns. The End-to-End Encryption feature aims to prevent potential third parties in the middle, such as internet providers and network administrators, from accessing the encryption keys needed to decrypt the conversation.
End-to-End-Encryption is a security protocol also known as E2EE or E2E. This protocol used by Whatsapp ensures that your messages are encrypted and transmitted to the other party. The message is decrypted when it reaches the other party. That is, the messages you send are encrypted according to the recipient, and this encryption key is decrypted only on the devices of the sender and the recipient.
WhatsApp end to end encryption meaning is feeling safe; in this way, what you share on WhatsApp will not be tracked not only by WhatsApp or third party applications but also by telecom companies, hackers, and official authorities that monitor to collect intelligence.
So is this feature only for messages? is WhatsApp video call end to end encrypted? Yes, encryption also covers all media sharing, such as videos, pictures, and audio messages.
While there are concerns for the privacy and security of personal data on every platform, including social media, the expectation of privacy for a completely personal and two-person communication such as WhatsApp is quite justified.
Part 2: How Does End-To-End Encryption Work
WhatsApp encrypts all the data shared during the messaging phase using an algorithm using the end-to-end encryption security protocol.
The encoded data is then secured with an encryption key that unlocks the data and restores it to its original state.
Thanks to the end-to-end encryption feature, the data is encrypted on the sending device and returns to its original form on the receiving device via an encryption key. The process runs in the background.
In this way, only the people included in the message can see what you write on WhatsApp. Even WhatsApp doesn't have the keys to unlock the instant messaging passcode. This is because the end-to-end encryption feature sees everyone, including the company providing the service, as a third party.
Part 3: How to Check If WhatsApp is Encrypted
The assurance offered by encryption sounds good. So how can, we be sure? Is WhatsApp end to end encrypted really work?
There is a checking method to make sure your Whatsapp messages are encrypted. It is possible to verify security by scanning the QR code between the two devices from WhatsApp chats' contact/group information.
Touch the name of the person or group you are sending a message to and click "verify security code" in the menu that appears.

You will see a QR code and 60-digit encryption on the screen.

You can ensure that the encryption is working by comparing this code or number with the code on the phone of the person you are sending the message.
Note: If you cannot scan the QR code, for example, if your device's camera is faulty, you can compare the 60 digits below the code. To use this feature, you must have installed the latest version of WhatsApp from the App Store for iOS and Google Play Store for Android.
It's not a function that we usually have to check. Still, it's nice to be presented as a validation method, nonetheless. In short, signal end to end encryption works perfectly.
Bonus Tip: Free iOS WhatsApp Backup Tool on PC
If you're looking for a computer WhatsApp backup tool, then Tenorshare iCareFone Transfer is a great choice for you. iCareFone Transfer can back up your WhatsApp data(chats, images, files, videos, etc.) on computer with one click. It's free for iOS users to back up their WhatsApp chats.
Tenorshare iCareFone Transfer is not only for backing up WhatsApp but also for transferring your WhatsApp chats between iOS and Android.
Download and install iCareFone Transfer on your computer. Then launch the program and connect your device to the computer. Choose WhatsApp from its main interface and then choose "Backup" from the left toolbar. Click on "Back Up Now" to continue.

Then wait for the backup process to complete. Please do not disconnect your device during backing up.

Now your WhatsApp data has been backed up successfully. You can choose to view the data and export/restore the data at any time you want.
Here's a video guide for you:
Conclusion
WhatsApp end-to-end encryption is a feature that reinforces WhatsApp's reliable leadership among instant messaging programs, ensuring communication security, protecting personal data, and enabling users to share data with confidence. The transfer of our data is in safe hands, but let's not forget the need for backup as well as security.