Get to Know What is WhatsApp Web and How to Use WhatsApp Web
by Anna Sherry Updated on 2022-04-29 / Update for WhatsApp Tips
Many people do not know what is WhatsApp web and how to use WhatsApp on computer. WhatsApp web is a web version of the WhatsApp mobile app, which brings a lot of convenience for WhatsApp users.
Continue reading below to learn how to use WhatsApp web.
Part 1: Let's Figure out What is WhatsApp Web
For having an idea about what is WhatsApp web, you should know that WhatsApp web is a web version of WhatsApp that is supported by PCs and computers. You have the option of chatting with people via WhatsApp on your laptop rather than by phone.
The main difference between WhatsApp and WhatsApp web is only the form of platform on which the apps are designed.
WhatsApp Web: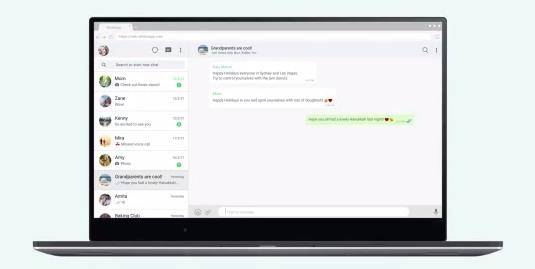 WhatsApp web is a web-based version of WhatsApp that is specifically made for Mac, computers, tablets and PCs. (You can also access WhatsApp Web by your phone's browser.)
It is not capable of working independently as it is a standalone app. for WhatsApp web to work, you should be logged into a WhatsApp account on the phone.
It is also different from the desktop app as it does not need to be installed on the computer.
WhatsApp: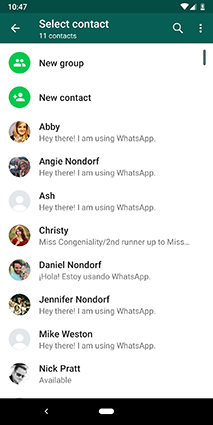 WhatsApp mobile is the basic and independent version of WhatsApp so far. It is an independent application that does not require a computer connection for working.
It is an app designed for mobiles.
Part 2: How to Use WhatsApp Web on PC
How to use Whatsapp in pc or how to open WhatsApp web is a concern of many computer users. For knowing how to use WhatsApp on laptop without phone, read the following details.
There are two ways you can use the WhatsApp web on your PC.
1. Use WhatsApp Web through a Browser
Start your computer and go to web.whatsapp.com.
Open WhatsApp on your phone and click on the three-dot button and select WhatsApp web.

You will now have the option of scanning the QR code that you can see on the computer screen.

Focus the phone's camera on the computer's screen and scan the code.
This will launch WhatsApp in the browser.
WhatsApp will remain active till it is logged out from the phone or the computer.
You can log out from the devices by going to the web menu and choosing log out from the devices.
From the PC, you can log out by clicking the three-dot button present on the top of the screen and choosing log out.
2. Download WhatsApp Web APP
If you are confused about how to use WhatsApp on laptop or how to open WhatsApp in laptop without web, you should know the process of downloading and installing the WhatsApp desktop app. Following are the steps for downloading WhatsApp web app.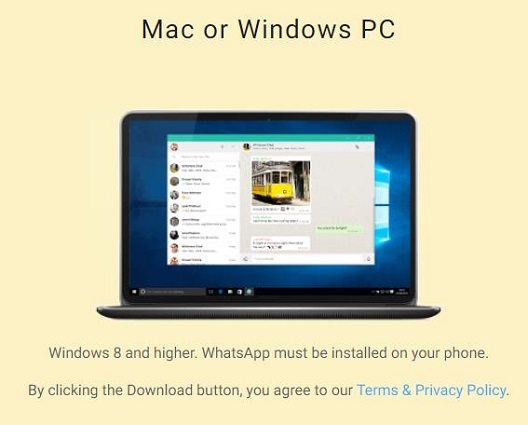 Note: You can install WhatsApp on your computer only if it is Mac OSX 10.9 or newer or Windows 8 or newer.
Download the WhatsApp desktop app file from whatapp.com/download.
Then search for this file in the download folder and download it.
Start the application. You will remain logged into this app only until you choose to log out.
Part 3: How to Use WhatsApp Web on Phone
To answer the question that how to use WhatsApp web on phone, one must know the steps of using it on a phone. (You need to prepare 2 iPhones.)
Firstly, open a browser on your phone and go to web.whatsapp.com.
Then open WhatsApp on your other phone and scan the QR code.
Then follow the on-screen instructions to finish the login process.
FAQs about WhatsApp Web
1. What are the basic advantages of the WhatsApp Web?
The basic advantages of using the WhatsApp web include:
You can increase your typing speed by using your keyboard while typing messages.
You can see things more clearly on a relatively bigger screen.
You can easily switch between chats and messages with different people.
You can chat while browsing something.
You can copy/paste files, texts and images with more ease on the WhatsApp web.
2. How to get an idea if someone is using my WhatsApp account on WhatsApp Web?
In this case, you will get a notification on the mobile. If you want to see your connections, you can go to WhatsApp on the phone.
Click on the three-dot button and choose WhatsApp web.
You will have a list of all the connections. You can also log out from an active connection by selecting log out from all devices.
How long does WhatsApp Web stay connected?
Inactivity of thirty minutes automatically logs you out of WhatsApp web. While signing in there is a box under the QR code that reads, keep me signed in. This will allow the connection as long as WhatsApp is active on the phone.
Bonus Tip: How to Back Up WhatsApp to PC for Free
For the protection of your WhatsApp data try Tenorshare iCareFone Transfer to back up WhatsApp to PC for free. It has the option of backing up, restoring and viewing the WhatsApp backup data whenever it is needed.
iCareFone Transfer can also be used for transferring WhatsApp between android and iPhone. It is a highly recommended and professional tool for transferring, backing up and restoring the WhatsApp data.
For backing up the WhatsApp data to the computer, follow the steps below:
After downloading and installing iCareFone Transfer, launch it. Select the WhatsApp icon from the interface.

Connect your mobile with the computer and choose the backup option from the left menu. Select backup now for proceeding further.

Your phone must remain connected to the computer during this process.

After the backup is complete, you can view the data by selecting view backup. After completion of this process, you can remove your device. (Note: You can restore, view or export the backup data on iCareFone Transfer now. )
Conclusion
How to use WhatsApp web is a common question of many users. You can have the advantage of using WhatsApp on your PC by using the WhatsApp web. And there are detailed information about WhatsApp web in this blog.
By the way, if you want to back up your WhatsApp data in an easier way, try Tenorshare iCareFone Transfer.