Quickly Fix My GB WhatsApp Not Receiving/Sending Messages
by Anna Sherry Updated on 2023-01-04 / Update for WhatsApp Tips
Have you had any cause to search online for why my GB WhatsApp is not sending messages? If your GBWhatsApp is failing to send or receive messages, then that could be an indication that something is wrong somewhere.
Therefore, is there any way you can fix such problems? Sure. That is what this post is all about. Highlighted below are several ways to fix GB WhatsApp not receiving messages.
Fix 1: Restart GBWhatsApp and Check Internet Connection
Should you notice your GBWhatsApp not receiving messages, then there are many solutions you can try. And naturally, you want to begin with the most basic solutions like just restarting your GBWhatsApp and confirming if it is actually connected to the internet.
While this fix may sound too easy, it might actually work for you. So, simply exiting GBWhatsApp, restarting it, and reconnecting to the internet is a solution worth trying.
Fix 2: Clear GBWhatsApp Cache
GBWhatsApp cache data can result in GB WhatsApp not sending messages. This is usually a memory problem that can affect any app. When the cache data for an app gets to a certain level, it becomes impossible for that app to store anything in memory.
Therefore, if you have joined the league of those asking - why my GB WhatsApp is not sending messages, try clearing the cache to fix the problem. Here are steps to clear GBWhatsApp cache: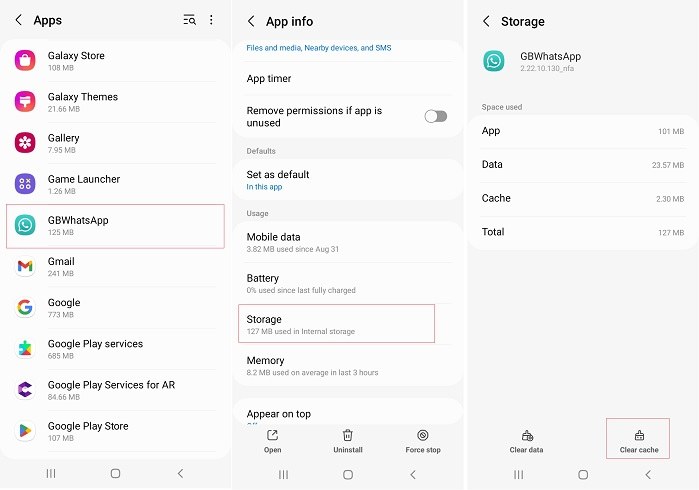 Open Settings on your device. Tap on Apps.
Look for GBWhatsApp.
Click on Storage.
Click Clear Cache.
The problem should go away for a while if the cache is the problem.
Fix 3: Turn Off "Show Blue Ticks after reply" Settings
There are other amazing factors that can make you complain about my GBWhatsApp is not receiving messages/not sending messages. Something as small as indicating a blue tick when a reply is sent can be responsible for this.
If that's the case, all you need to do is to have it disabled. Here is how that can be achieved:
Open GBWhatsApp. Click the 3 dots to your top right and choose GBSettings.
Then click on 'Privay And Security'.
Turn off 'Show Blue Ticks after replay'.
Fix 4: Untick all the Hide Options in Privacy
This is also another way of resolving why is my GB WhatsApp not sending messages. If you uncheck all the hide options within Privacy, the problem might just go away for good. So, to do that, follow the steps below: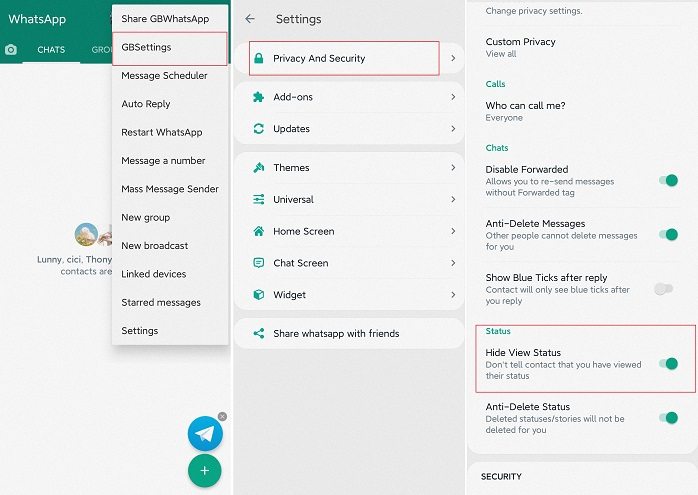 Open GBWhatsApp.
Click the 3 dots to your top right. Click on GBSettings > Privacy And Security.
Look for all the hide options under Privacy and have them unchecked.
Fix 5: Update or Reinstall GBWhatsApp
Another common factor that can be responsible for GB WhatsApp not sending/receiving messages is an outdated GBWhatsApp. An out of date GBWhatsApp is bound to malfunction.
Anytime you discover that your GBWhatsApp is unable to send or receive messages, check if the app is due for updating, and do the needful as soon as possible.
You can also have the issue fixed by uninstalling and reinstalling GBWhatsApp. Do that and you may be able to send and receive messages again. As for updating your GBWhatsApp, here are the steps to follow.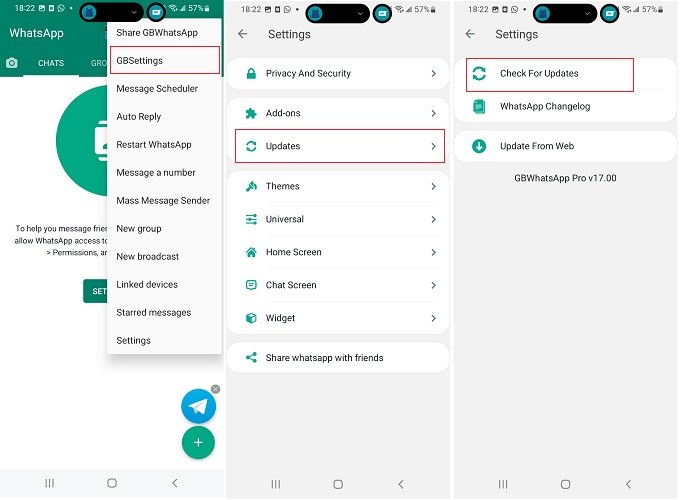 Open GBWhatsApp.
Click the GBSettings.
Click on Updates.
Tap on Check for Updates.
A notification will be displayed to indicate whether you already have the latest GBWhatsApp or you need to download the update. If you have the latest version, you will see something that looks like the image below.
Alternatively, you can download the newest version from a trusted site.
Updating your GBWhatsApp through the method described above is not 100% reliable. Sometimes after checking for updates, you may get a notification that you are running the latest version whereas it is outdated.
That is why it is often recommended that you get the latest version and download it instead of updating it through GBWhatsApp. This method is better because it assures you of the most recent version. Therefore, if you choose to download and install a new copy, follow these steps:
First, back up GBWhatsApp data.
Uninstall GBWhatsApp.
Then download and install the latest GBWhatsApp from the web.
Open GBWhatsApp and hopefully it should work well.
Related read How to do GBWhatsApp backup with Google Drive.
Bonus 1: Latest GBWhatsApp APK Download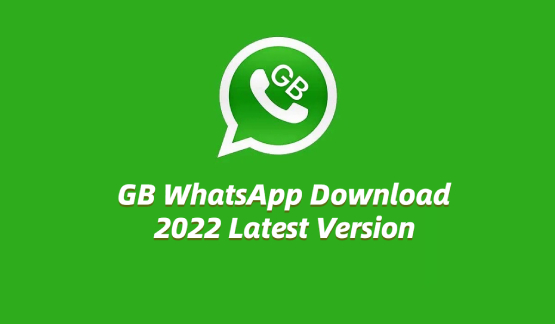 As you may already know, GBWhatsApp is a modded version of the original WhatsApp. As such, you cannot find it on the official Google PlayStore. You can only download it from other sites. But, no need to worry about where to get the app because it is available on the GBWhatsApp download page. You can download the most recent APK here.
GBWhatsApp APK
GBWhatsApp Information
App Name: GBWhatsApp APK
Android Version: 4.3 and later
Version: Latest version
Total downloads: Over 6,000,000
App size: 44.3 MB
Root Required: Not Root Required
Related read 2023 Latest GBWhatsApp Business Download.
Bonus 2: How to Transfer GBWhatsApp to Normal WhatsApp
Have you tried using the normal method to transfer data from GBWhatsApp to normal WhatsApp without any positive results? There is no need to stress yourself when you have a third-party app that can do the job better.
Tenorshare iCareFone Transfer helps you to do all the heavy lifting when it comes to data transfer between GBWhatsApp and WhatsApp. (Plus: It's a perfect tool for WhatsApp/GBWhatsApp/WhatsApp Business transfer, backup and restore.)
How to Transfer GBWhatsApp to Normal WhatsApp:
As usual, you need to download and install Tenorshare iCareFone Transfer on your laptop. Choose GBWhatsApp when you see the main screen. Connect iPhone and Android devices to the system.

Follow the instructions to backup GBWhatsApp. Click on Continue after you finish.

Wait as Tenorshare iCareFone Transfer gets data from source device. And don't disconnect the device in the process.

Upon successfully verifying your account, choose the GBWhatsApp data type you wish to transfer.

Data transfer to target phone is ongoing by Tenorshare iCareFone Transfer. Wait a moment.

Now you just transferred your data from GBWhatsApp to the normal WhatsApp.
Final Words
This article has pointed out some of the problems responsible for my GB WhatsApp is not sending messages. Use the methods suggested fixing the issue. And if you ever wish to transfer data from GBWhatsApp to your normal WhatsApp, do it the easy way with Tenorshare iCareFone Transfer.