GB WhatsApp APK Download for Android [2023 Anti-Ban]
by Jenefey Aaron Updated on 2023-07-28 / Update for WhatsApp Tips
If you're unsatisfied with the original feature-set offered by the official WhatsApp app, you may have read about some WhatsApp Mods like GB WhatsApp, FM WhatsApp or YoWhatsApp while searching online for alternatives to WhatsApp. Among these WhatsApp alternatives, GB WhatsApp is the most popular one offering incredible features. If you don't know what it is and how it works, you may be confused about it.
In this article, we deal with your confusion and talk about everything you need to know about GB WhatsApp download. Before diving into how you can perform a GB WhatsApp APK download, we also tell you what, exactly, it is and what features it offers.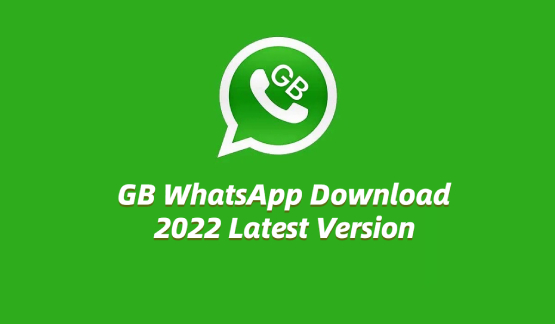 Part 1: What Is GBWhatsApp?
If you've never used GB WhatsApp before, this section will tell you what is GB WhatsApp in the first place.
Well, GB WhatsApp is a modified version of the original WhatsApp app that comes with many additional features. These features include customizable themes, the ability to send more than allowed photos at once, view deleted status updates, retain deleted messages, and much more. GB WhatsApp isn't certified by Google, hence it's not available in the Google Play Store. However, it's still possible for you to download GB WhatsApp and enjoy the fantastic features provided by the GB WhatsApp latest version, as long as you find the right place to download GB WhatsApp APK on your Android.
Now that we're done with the introduction, let's talk about where to get the latest available GBWhatsaApp and how to download GB WhatsApp.
Part 2: Available GB WhatsApp APK Download
1. GBWhatsApp APK Download (Anti-Ban) Latest Version
The first method to download GB WhatsApp latest version is to use the official site and download the APK from there. This is the easiest method to perform a GB WhatsApp download as it's coming directly from the official creator of the app.
Features of GBWhatsApp APK Download (Anti-Ban) Latest Version
Here are the top GB WhatsApp features you can find in the latest GB Whatsapp update.
Anti-ban, meaning you won't get banned by WhatsApp for using this app.
Ability to read messages deleted by the sender.
Use multiple accounts with this app.
Hide your online status.
See other people's status updates even when they've deleted them.
Freeze your last seen.
Do simple customization with emojis and stickers.
Apply various new and customized themes and customizations to your app.
Download GBWhatsApp APK Download (Anti-Ban) Latest Version

To download this version of GB WhatsApp, simply click here to get its official website and then click on the download button. Once downloaded, the GBWhatsApp APK file can be found in your Android's File Manager.
2. GB WhatsApp Download APK by AlexMods
Another way to perform a GB WhatsApp download is through AlexMods. AlexMods is a third-party developer that modifies the GB WhatsApp app and introduces his own customizations into the app. AlexMods is a reliable source you can do a GB WhatsApp APK download from.
Features of AlexMods GB WhatsApp APK
AlexMods's GB WhatsApp has the same feature set as the previous version, only with slight customizations in the app interface here and there. Here's a breakdown of the top features.
Anti-ban, allowing you to use the normal version of Whatsapp and it at the same time on the same device
You can run dual/multiple WhatsApp accounts within a single device.
Get free themes customized by some users of this app
Hide your online status.
Hide seen message, delivered message staus
Backup and restore feature
Multiple gif providers
Long video status
Add stickers from Google Play
Download GBWhatsApp APK Latest Version by AlexMods
To download this version of GB WhatsApp, click here, then select the button with the text "Download GBWhatsApp APK v14.00 (AlexMods)".

3. GB WhatsApp Download APK by HeyMods
Besides the above two channels, GB WhatsApp Download APK offered by HeyMods is also trustworthy. Just like AlexMods, HeyMods is an independent developer that creates his own version of the GB WhatsApp APK.
Features of HeyMods GB WhatsApp APK
The features of HeyMods's GB WhatsApp resemble the previous two versions. Besides a few UI changes here and there, there is a slight difference in the feature set.
Here are the top features listed down.
Supports animated stickers
Customized themes and colors
Hide View Status
DND (Do not disturb) and Dark mode
Auto reply
Show Blue Tick after Reply
Download story
Send large files and long videos up to 80MB
And much, much more.
HeyMods GB WhatsApp Download
To download this version of GB WhatsApp, click here , then select the button with the text "Download GBWhatsApp APK".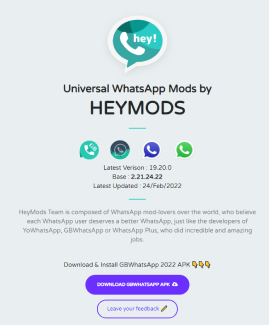 Part 3: How to Download and Install GB WhatsApp APK on Android
Now that you're aware of how to download GB WhatsApp, it's time to tell you how to install the downloaded APK on your Android phone(i.e. Samsung).
You see, installing the APK is even simpler than downloading GB WhatsApp APK itself. Here's a step-by-step guide on how to install the APK after you've performed the GB WhatsApp download.
Open the Settings app on your phone.
Go to Apps and tap the three-dot menu. Select "Special access".
Scroll down to find and tap "Install unknown apps".

Toggle on the source where you downloaded the GBWhatsApp APK latest version.

Open your file manager, navigate to the downloaded APK, and tap it to open the APK file.
Tap "Install" and wait for the installation to complete.
Video Guide: How to Download GB WhatsApp & Backup to Google Drive 2023
Bonus Tip: How to Transfer WhatsApp from Android to iPhone
If you have recently upgraded from an Android device to an iPhone, and wondering how you can move your WhatsApp chats over to the new phone — we've got you covered!
With Tenorshare iCareFone Transfer, you can easily transfer WhatsApp messages from Android to iPhone in minutes. iCareFone Transfer promises a 99% transfer success rate and 100% privacy of your personal data in comparison to other tools.
Here's how to transfer WhatsApp data from Android to iPhone with iCareFone Transfer.
Download and install iCareFone Transfer by clicking the download button below.

Connect both the devices, i.e., your old Android smartphone and your new iPhone to the computer. You will see an interface that showcases both of your devices on the screen.

Click the big "Transfer" button at the bottom, and click "Continue" when the next warning message appears.

Now you need to back up the WhatsApp data on your Android device. Open the WhatsApp application on your old Android device, go to Settings > Chats > Chat Backup — and create a new backup from there. If done, click on "Continue".

The system will start getting WhatsApp data from your Android device. Please be patient while it happens.

The system may ask you to confirm your account information. If that's the case, provide the necessary information to begin the process.

When the authentication is done, the tool will automatically generate data that can be restored for your iPhone.

Before restoring data, make sure you've logged in WhatsApp on your iPhone, otherwise, the data will not be visible. If confirmed, hit "Logged in", then the program will start restoring the data to your iPhone.

After a while, you should see your WhatsApp data has been transferred over to the new device successfully.
Conclusion
There you go — this is everything you need to know about GB WhatsApp, its features, versions, and ways to download. Remember, if you ever need to transfer WhatsApp data from an Android to iPhone, you can rely on Tenorshare iCareFone Transfer for the job.