"Uh, my honeymoon pictures have used up all the memory in my iPhone 5S. I need to save these pictures to my laptop to free up more storage in my iPhone. However, I have no idea on how to do that without using iTunes. Somebody help?"
If you are having so much fun taking pictures of anything you feel like recording with your iPhone 7 Plus, you are probably not when the device suggests you this: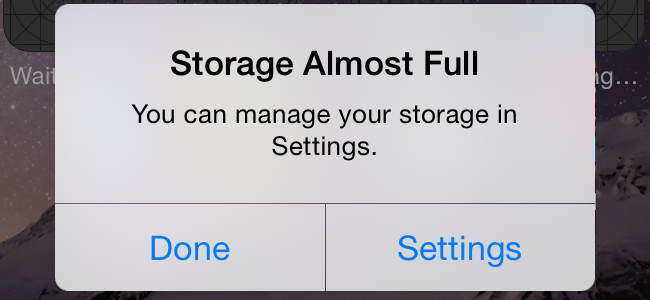 Annoying, isn't it? But unless you actually delete a few hundred of your pics that have been stuffed in your 32GB iPhone, this storage notification will pop up once in a while driving you crazy. Normally, people transfer pictures to computers or hard drives before removing them from iPhone to free up storage space. And if you also have such needs to bulk remove photos from iphone to save storage, then you can't miss this iPhone to laptop photo transfer instruction article that enables you to freely move photos from iPhone 7/7 Plus/6s/6s Plus/6/5s/5 to Windows 10/8/7 laptops in bulks without iTunes.
Why is iTunes Photo Transfer not Preferably Suggested?
"Apple needs to make the transfer of photos easier and match the setup on the phone. You can organize photos on the phone in albums, but they don't download as albums. Useless."
"Once you have a few thousand photos, Apples products don't allow easy management."
If you go to Apple online communities, such negative comments upon iTunes are commonly seen. The unfriendliness of iTunes is agreed upon almost by all Apple fans, especially regarding photo sync and complicatedness in operation. Basically, iTunes is hardly a satisfactory pic transfer tool from iOS devices to laptops when one has a large amount of photos to transfer. If you have to move pictures in batches or photo albums and at the same time you need to select specific images before transferring them, iTunes is the last tool you want to try. Since many users have the need of bulk and selective transfer of photos, we would rather try the following methods instead of iTunes.
How to Transfer Photos from iPhone to Laptop without iTunes?
1. Bulk and Selectively Transfer and Manage Photos with Tenorshare iCareFone on Win/Mac
Free Download
For Win 10/8.1/8/7/XP
Secure Download
Free Download
For macOS 10.13 and below
Secure Download
Tenorshare iCareFone is a powerful software featuring easily managing and transferring photos, videos and other files in bulk. All your requirements for photo transfer, including high speed, selective or bulk remove, no compression, easy organization in albums, and broad compatability with Windows 10/8.1/8/7 and Mac OS versions, can be simply realized in a few clicks.
Step 1: Install Tenorshare iCareFone in your laptop, launch it, and connect your iPhone to it. Tenorshare iCareFone will automatically detect your iOS devices.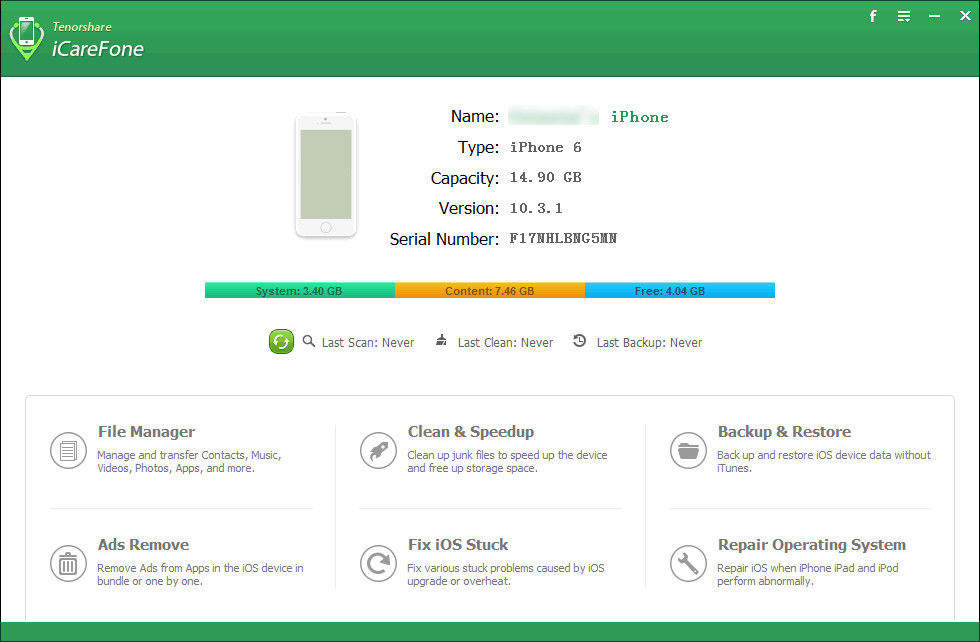 Step 2: Click "File Manager" and then "Photos" on the interface.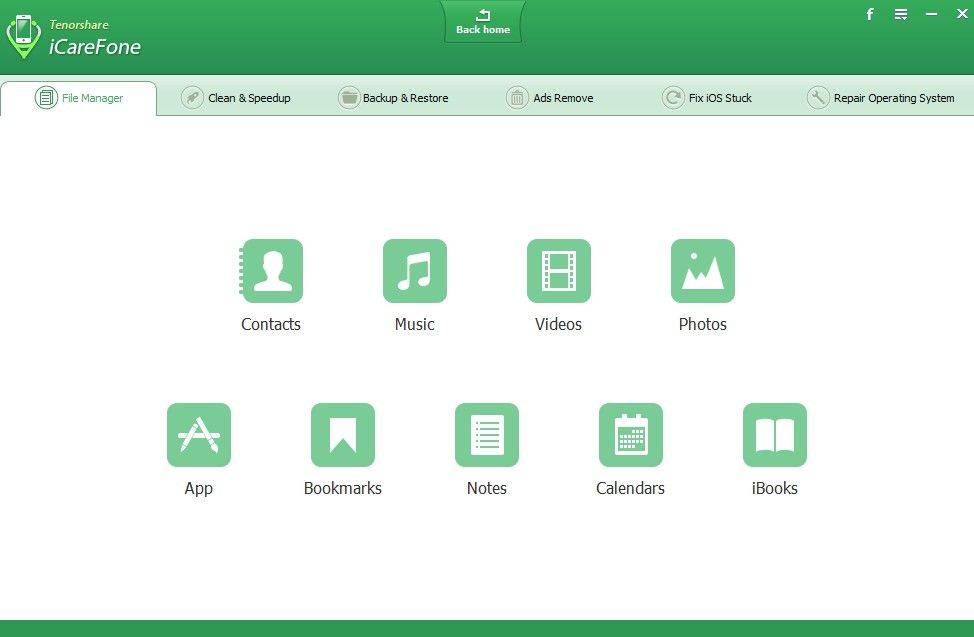 Step 3: You will see all the photos in your iPhone have been displayed in albums. Click to check each album to select photos to migrate to your laptop. Then click "Export" on the top column to start the photo migration.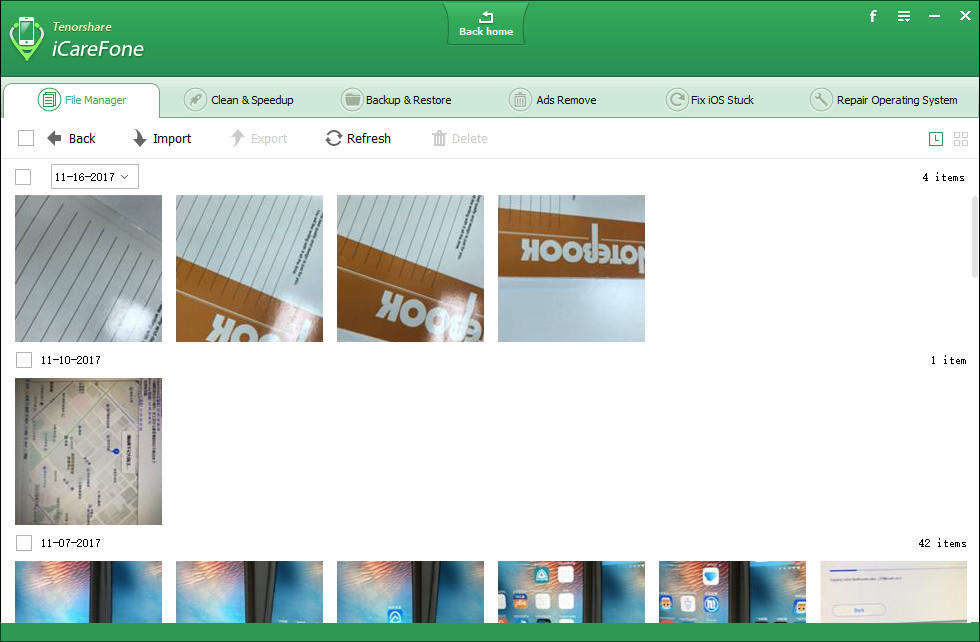 2. Import Pictures with Windows Files Explorer on Windows Laptop
If you are using ThinkPad, HP, ASUS, Dell, Acer, Toshiba or other Window laptops, and you have no idea how to copy pictures from iPhone to laptop without iTunes, this method is exclusively offered for you.
Step 1: Connect your iPhone to the laptop, and wait your mobile device to be detected by your laptop.
Step 2: Choose My Computer to find that your iPhone has been listed as a portable device.
Step 3: Right click your iPhone icon, and then choose "Import pictures and videos". Select photos you want in your laptop, and start transfer.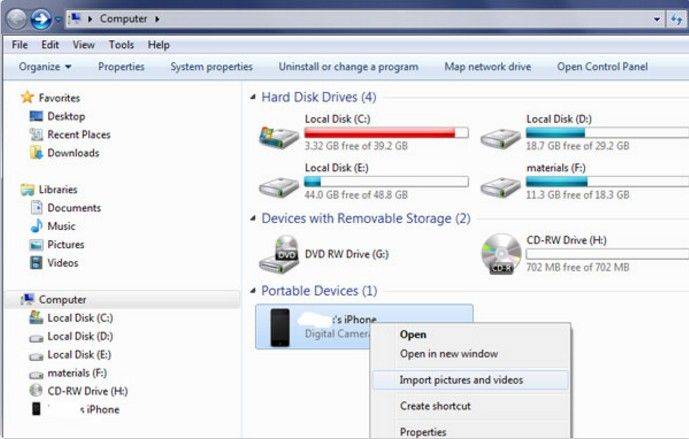 3. Share iPhone Photos from iPhone to MacBook via AirDrop Wirelessly
Apple's AirDrop enables you to share any contents, including photos, videos, files, and documents to a nearby MacBook Air/Pro, New MacBook or iOS devices. Just make sure your iPhone and computer are connected via Bluetooth and the AirDrop function is enabled. AirDrop will do the rest for you.
Step 1: Choose photos you want to share to Mac. Tap on the Share Icon on the tool column on the bottom left.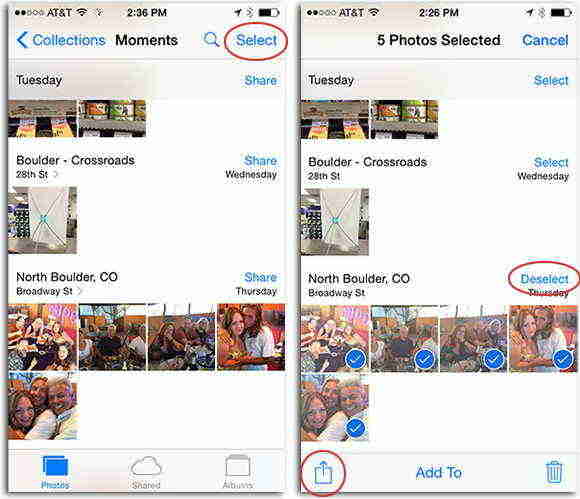 Step 2: If the Mac Book you want your photos to be migrated to has the AirDrop on, you will find it displayed on your iPhone. Tap on it and choose "Accept" to finish the transfer.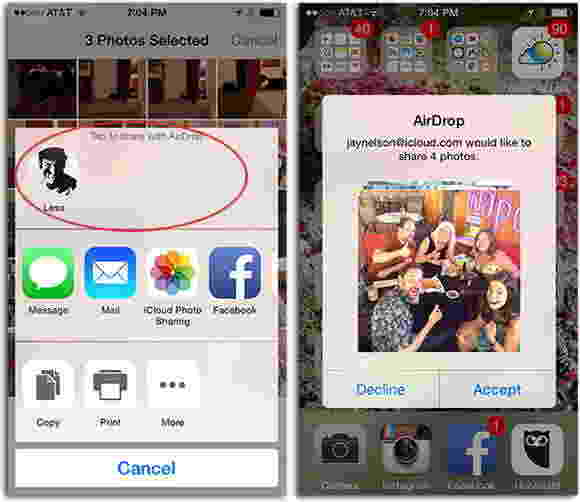 4. Import Pictures from iPhone to MacBook with Photos App with USB Connection
Unlike AirDrop method, this one enables iPhone to Mac photo transfer with USB connection. But it's equally easy and fast.
Step 1: Link your iPhone to Mac with a cable. Wait for the computer to detect your device and the Photos program to be launched on your Mac.
Step 2: Click Import on the top right of your Mac to find all photos in your iPhone have been displayed on the screen. Then click to select photos you want to transfer to your Mac.
Step 3: After selection, click Import Selected on the top right of your Mac. You will be notified to decide whether to keep original photos or delete them all in your iPhone before photo import.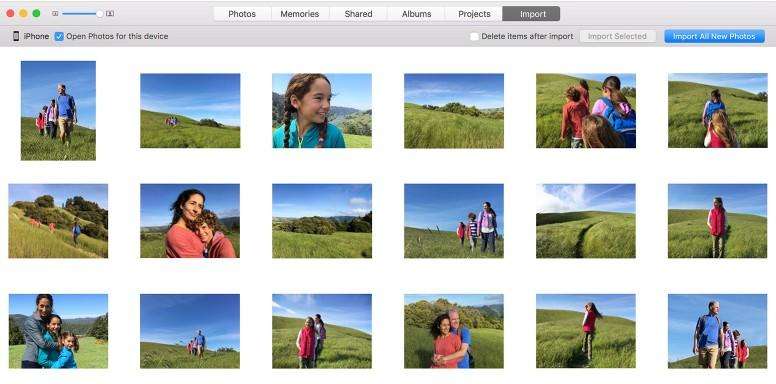 Summary
To transfer photos from iPhone to PC/Mac laptop is never a hard task to accomplish so long as you have mastered any of the handy methods above. You will always find suitable tools that help you copy photos from iPhone to laptop quickly and easily despite your operating system versions. And if you don't want to bother to choose, just download Tenorshare iCareFone, for it transfer photos freely in both operating systems. If you have other photo transfer problems, like transferring photos in the opposite direction, below is a list of must-reads for you.
Free Download
For Win 10/8.1/8/7/XP
Secure Download
Free Download
For macOS 10.13 and below
Secure Download
Related Articles
comments powered by