How to Fix iCloud Contacts not Syncing to Mac (sierra/high sierra/mojave included)
by Anna Sherry Updated on 2022-11-28 / Update for Mac OS
Being an iOS user, all of you should know about the repetitive iCloud administration and matching up issues. Now and then mistakes happen even while getting to contacts from another gadget soon after the framework redesign. In this way, if your iPhone contacts neglected to adjust to iCloud, we have the arrangements directly here for you. Be that as it may, before that, you should comprehend for what reason are my iCloud contacts not matching up?
Way 1: Best Alternative to Solve iCloud Contacts not Syncing to Mac
Most users are used to backing up their iPhone, iPad or iPod with iCloud from time to time to avoid data losing or when contacts not syncing from iCloud to Mac. However, some users encountered lots of backup errors while other also became frustrated when iCloud contacts not syncing updates to Mac. You have chances to free back up and restore all data through Tenorshare iCareFone, a super user-friendly tool focused on solving data transfer between iOS devices and computers.
Step 1Make sure you download Tenorshare iCareFone and launch it successfully, then connect it to computer with original branded lightening-USB cable. After the device is connected without any question, please choose "Backup & Restore".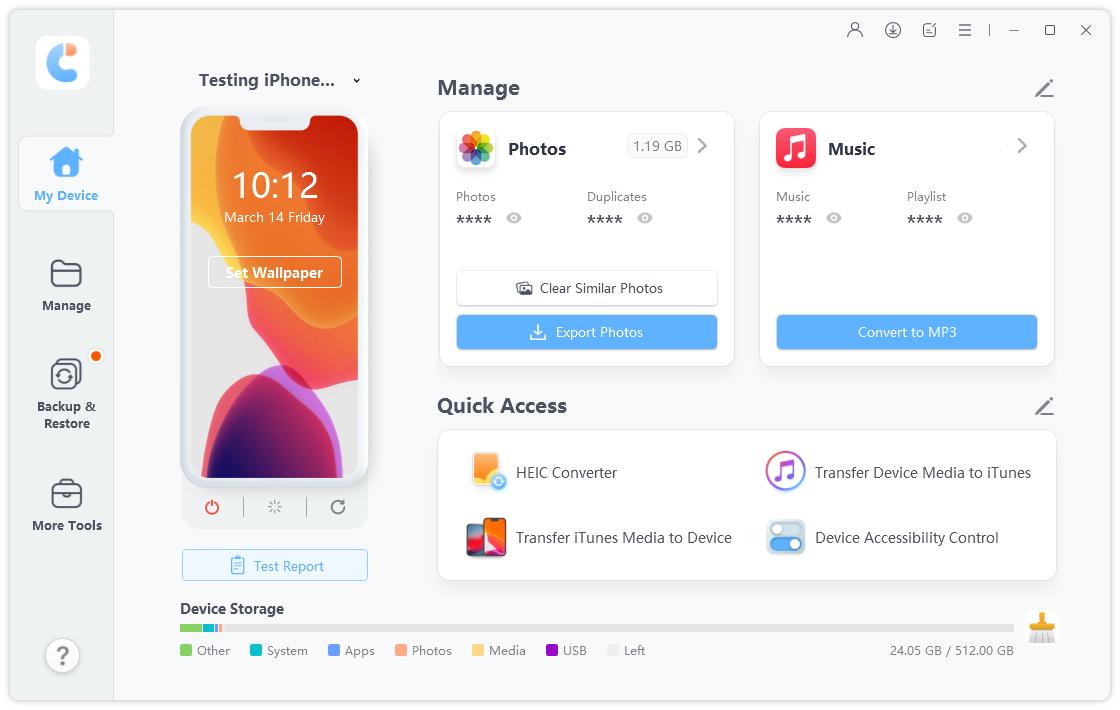 Step 2 Now you can view various data have been listed, just choose contacts or other data you want to backu up, then select backup save path.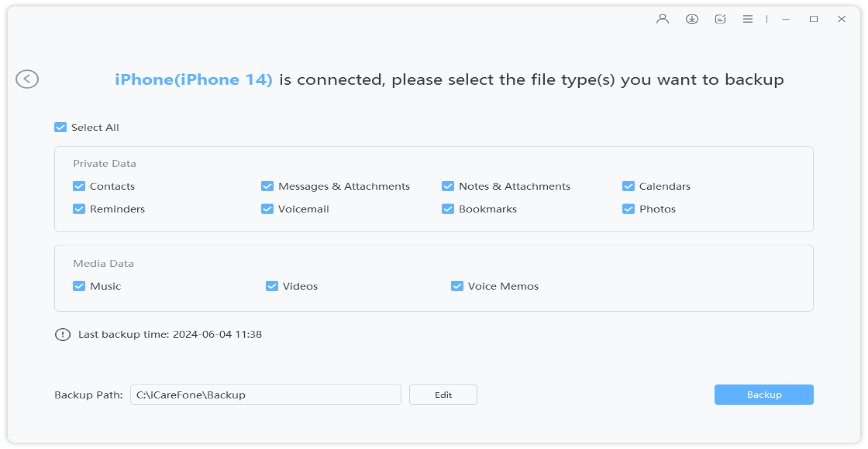 Step 3 After a while, the backup process will be finished. And go back to where data has been backed up.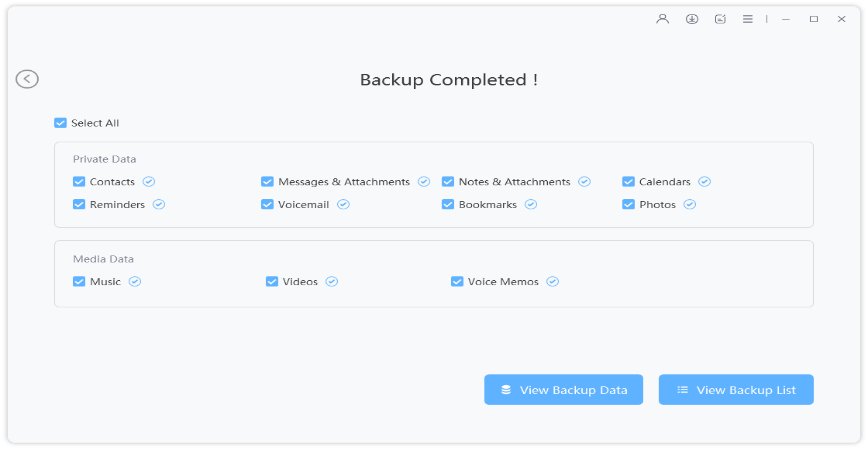 Way 2: Disable and Enable iCloud on Mac/iOS Devices to Fix iCloud Contacts not Syncing to Mac
iCloud is a sophisticated Apple-based cloud storage service that allows you to store and sync all types of personal information, including images, documents, music, contacts, mail and calendars across multiple Apple gadgets. If iCloud contacts smart groups not syncing to Mac, you can easily use the created iCloud backup to recover data on your iPod Touch, iPad or iPhone whenever disaster strikes. This comprehensive guide is going to educate you on how you can quickly, yet easily enable and disable iCloud on Mac, iOS, and Windows.
Step1: Tap Apple icon on your home screen, then "System Preferences, Click iCloud.
Step 2: You will see contacts in the right pane window has been ticked, just disable contacts and then unselect contacts.
Step 3: Restart your Mac and go to iCloud, select contacts again.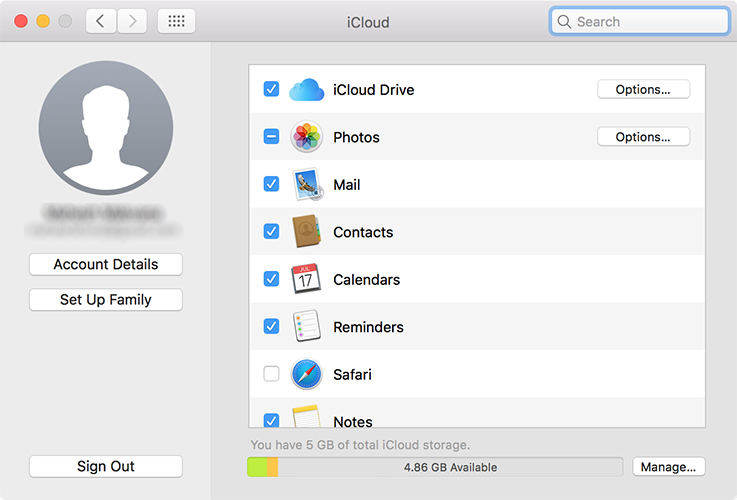 Way 3: Sign out of iCloud and Log in to Settle iCloud Contacts not Syncing to Mac
If you frequently experience synchronize issues with your iOS device(s), iCloud not syncing contacts to Mac and you know your system is steady, at that point you should give logging a shot of your iCloud account on your iOS gadget or Mac, at that point log back in.
Step 1: Go to Apple menu > System Preferences > iCloud > Sign out.
Step 2: Then a pop-up prompts you to have a copy of iCloud data. Remember that if you don't want to make a copy, the iCloud data will be erased from this Mac.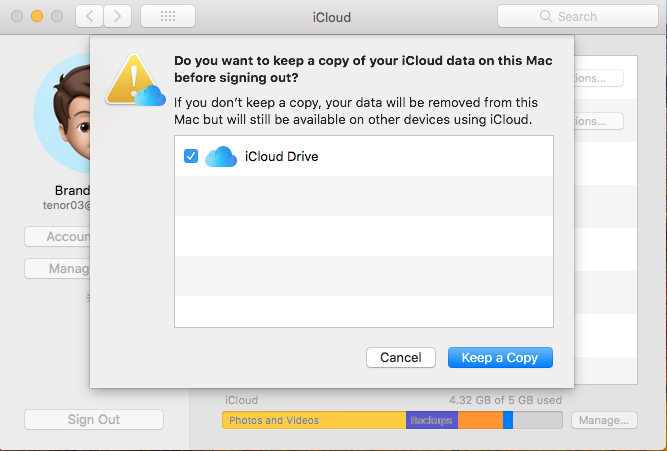 Way 4: Restore Contacts from iCloud.com to Fix iCloud Contacts not Syncing to Mac
You can restore your contacts, schedules and updates, or Safari bookmarks and perusing list from a prior form that was naturally documented, if iCloud not syncing to Mac contacts. When you restore an earlier version, your current version is first archived in iCloud so you can change your mind and go back to it.
Step 1: Go to iCloud.com and log in with your Apple ID.
Step 2: Click user name and iCloud settings.
Step 3: In the left bottom of iCloud, click "Restotre Contacts".
Way 5: Rename AddressBook to Get Over iCloud Contacts not Syncing to Mac
You can alter a contact whenever you want. You can set up your email accounts to share contacts with the Contacts app. If you have a contacts account, like a business or school directory, you can set that up too. Here's how:
Step 1: Tap Go on the top of Apple menu bar, then "Go to Folder".
Step 2: Type ~/Library/Application Support/
Step 3: Rename the AddressBook folder to differentiate the AddressBook before. This re-sync your iCloud contacts to mac.
Step 4: Then open contacts and you will see new iCoud data on your mac.
Extra Tip: How to Manage Contacts (Messages/Apps/Photos included) on Mac?
If you want to freely manage any data on your iPhone between your iPhone and computer, Tenorshare iCareFone can be your good helper. Tenorshare iCareFone is a PC-based tool to tweak your iOS devices to its top performance. This tool is further divided into 6 small tools specializing in fixing certain issues. Import, export, add and even delete files are so easy to be accessed. Let's take a further look at how to do that:
Step 1 After you have downloaded iCareFone, there are 4 options showing on the top menu bar. Just choose "Manage".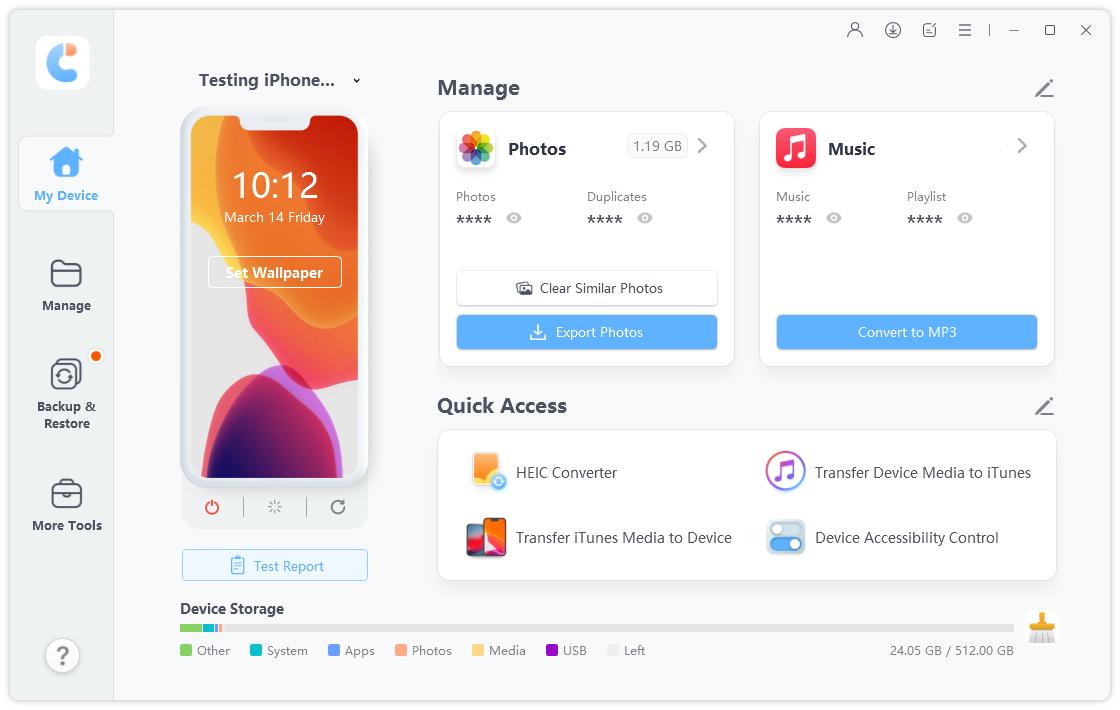 Step 2 Then you can choose from the left pane, which includes contacts, messages, apps, photos and etc.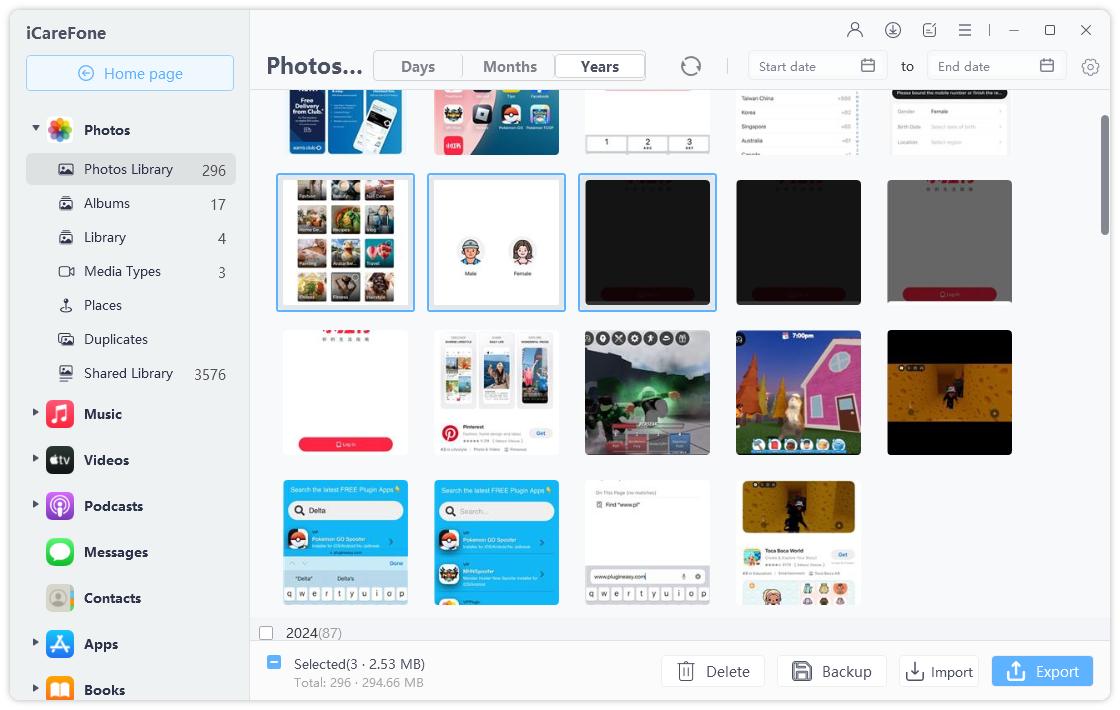 Step 3 Now you are entitled to manage your data between iOS device and computers.
If you want to import files to iOS device:
Choose "Import" and preview what kind of file you want. Note: If you want to directly delete photos from PC/Mac, please download iCareFone App.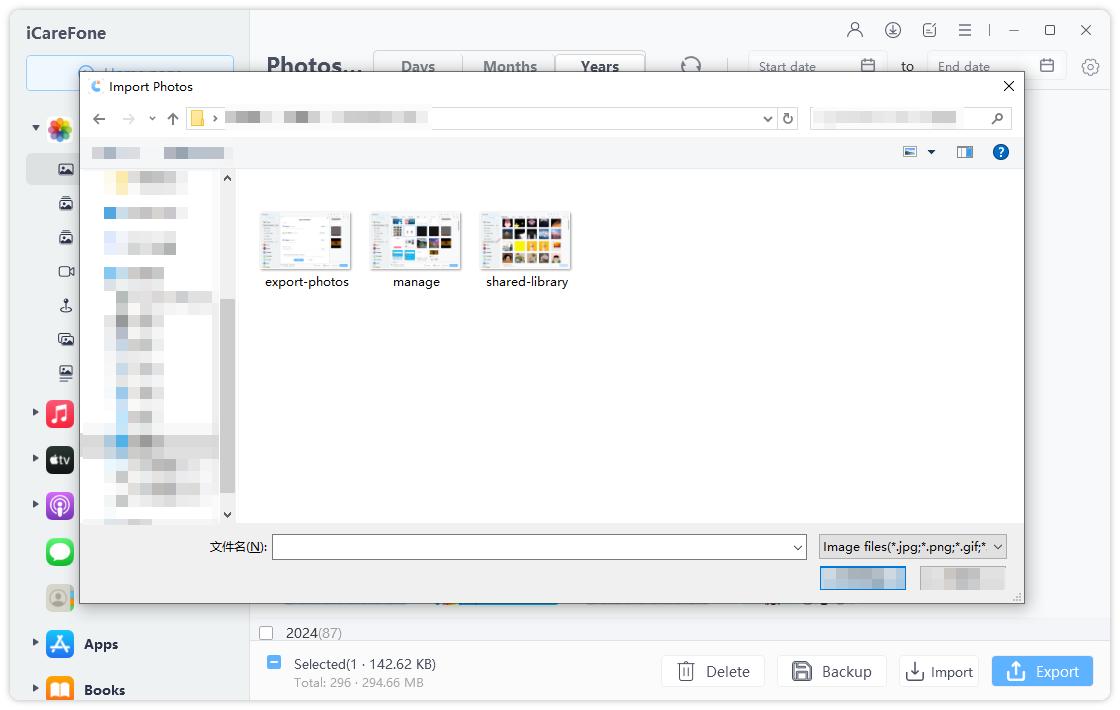 If you want to export files from iOS device:
Tap the "Export" button and select any location you expect to save. Another thing, export setting for HEIC/Live photos and HEVC videos is also supported.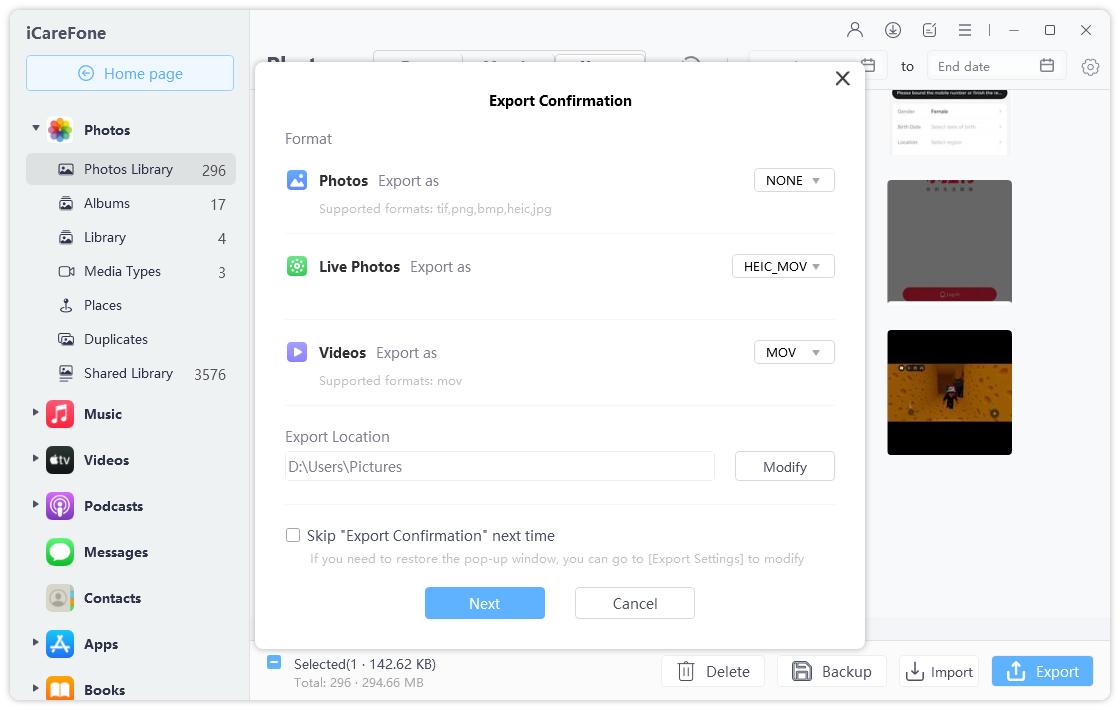 If you want to add files to iOS device:
New added contacts, books and bookmarks can be synced to iOS device after you have added them through iCareFone.
If you want to delete files on iOS device:
Files and apps can be both quickly erased within seconds, which enables you to free up space on iOS device.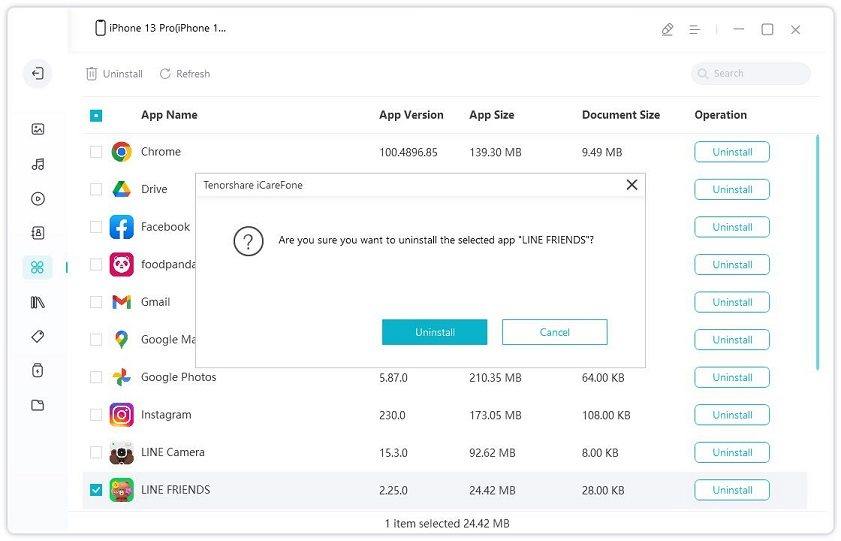 Conclusion
So, at last, we can say that now you have all the Ways to fix iCloud issues of contact not syncing to Mac and in the subsequent part, we assist users with matching up contacts from iPhone to Mac without iCloud when the iCloud contacts not syncing to Mac. If all the Ways fail to work, you can always depend on Tenorshare iCareFone. This will definitely solve your issue. In the end, we would like you to offer your valuable feedback on this article. You can do this by commenting below. You can also write to us any other solution that you are aware of.