Want to Get More Pokémon Go Rare Candy? Click Here!
by Anna Sherry Updated on 2020-08-31 / Update for iPhone Tips
Attackers who complete multiple raids and win every battle are seen to carry Candy in their item bag. In Pokémon Go, Candy is possibly the rarest resource. The rare Candy has immense benefits giving you combat strength and impressive overall stats to find along in the battle. Read along with the article for complete details on rare Candy and ways to get it in your item bag.
Part 1. What Is Pokémon Go Candy & What Can It Do?
Candy is the Pokémon Go resource that can be consumed to power up Pokémon. You can find Pokémon Candy from hatched eggs. The Candy is undoubtedly essential in Pokémon Go to evolve the character and boost its strength to level up. A Candy is not worth an upgrade; you will require a certain number of these Candy to level up.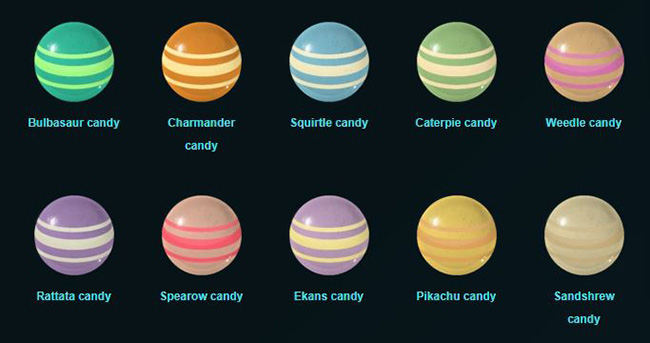 The Pokémon Candy requirement varies from one's needs. If you are looking to upgrade Pidgey to Pidgeot, you will require 12 of those Candy. Also, to evolve to Raichu, you will require the 50's of the Pikachu Candy. Similarly, to grow higher, you will need Pokémon Go rare Candy. You can use the rare Candy to power up any Pokémon. The drop-rate of Pokémon using rare Candy is unknown to date. It was first introduced in the 1st generation and has evolved recently. In the recent 5th, 6th and 7th generations, rare Candy is used to cure wounded Pokémon.
In a nutshell, get more Candy in Pokémon Go so you can evolve and power up faster.
Part 2. Pokémon Go How to Get Candy?
The simplest way to get Pokémon Candy is by catching every possible Pokémon you see in the wild. You can start with few Candy but require lots of them afterward to level up. Now, the question arises, how do you get Candy in Pokémon Go?
Catch the Pokémon
Catching Pokémon in the wild gives you three Candy. After you power up the Pokémon to the second and third generation, you could get 5 to 10 candies, respectively.
Use Berries in The Battle
Using berries in the battle will double the Candy if you succeed to catch the Pokémon.
Walk with Pokémon buddy
Walking around in the wild with Pokémon gives you Candy depending upon the distance you cover.
Part 3. What Is The Fastest Way to Get Candy in Pokémon?
Actually, the faking location is not as simple you would think. To change the site, a tool has to bypass security measures. By faking GPS, you can go anywhere so that you can catch more Pokémon and Candy. Ultimately, Tenorshare iAnyGo allows you to fake a location to single, two-point, and multiple custom locations. The tool works well without having to jailbreak an iPhone, follow the detailed steps to mark and simulate the site in iAnyGo.
Launch the program, switch to the second mode "Multi - Spot Movement"; click on "Enter" to begin.

Similarly, connect your device to the computer, and make sure iAnyGo recognizes it. Also, tap on "Trust this computer" on your iPhone.

Now, select one of the locations on the map; the point you choose will be the destination. The initial position will be set at where you currently reside. You can either select the location at the map or type it in the search bar with Address/GPS coordinates.

After all set, you are now ready to make a move. Click on the "Start to move" button at the bottom of the destination box.
Conclusion
The rare Candy is extremely valuable in Pokémon Go. One of the many strategies, rare Candy is the only way to get Candy in Pokémon. You can make use of Candy to power up and battle. You can get these in various ways, which we have mentioned in the above section. In the light, you would want to play Pokémon Go and catch Candy remotely; you can do so using a location spoof application called Tenorshare iAnyGo. The tool is available to navigate through one and multiple marks easily on iOS devices.
Freely Change GPS Location without Jailbreak!
Plan a route by selecting two or multiple spots on the map
Easy to simulate GPS movement based on customized route