Solve Life360 Wrong Location? Let's Do It
by Jenefey Aaron Updated on 2021-04-19 / Update for iPhone Tips
Life360 is a tracking device that people uses to keep a tab on their families and loved ones. With this platform, families and friends can monitor the location of one another to ensure safety. However, things can go sour when the application tracker begins to show the wrong location. So, what happens with life360 wrong location? In this blog, we will highlight why life360 showing wrong location and how to fix it when it happens.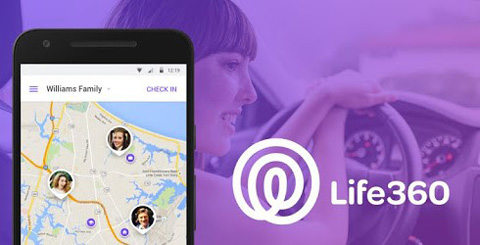 Part 1: 5 Methods to Fix Life360 Showing Wrong Location
If you ever wonder how to fix life 360 wrong location mode message, use any of the options listed below:
Method 1. Log Into Life360 On A Device At A Time
The first thing to do when life360 showing wrong location is to check if the app is not logged in on multiple devices. Many connection and location problems on life360 are caused by having the app logged in on several devices.
Each profile on the app is expected to be logged in on one device to give accurate results. However, when the app is logged in on several devices, tracking an individual's location becomes a problem because it keeps bringing different locations at intervals. To ensure that you don't go through this stress, do not log in to the app on more than one device.
Method 2: Check The Internet Settings
Another reason why life 360 showing wrong location is due to bad internet settings. When you notice life360 giving wrong location, check the internet settings.
Turn on WIFI, and turn off power saving mode

For Android users, go to the status bar on your device and turn off the power-saving mode. Note that these settings are quite different depending on the type of android device you are using. For iOS users, go to Settings on your phone, click on battery and turn off low power mode. When the low power mode is activated, it automatically stops some applications from working to save battery.

Do Not Use Hotspot or VPN

Do not use Hotspot or VPN on your device to get accurate results on the life360 app. Hotspot is not based on a fixed physical location, and VPN has a way of hiding the location. So, you won't get the correct location if you are using any of these facilities.
Method 3: Ensure The Location Settings
Location services on the device have a major role to play when life360 is showing the wrong location. You must ensure that the location settings are enabled, and allow the background app to refresh automatically.
For Android users, simply swipe down your status bar to turn on the location. And you can set app run in background easily but in a different way according to your device brands.
For iOS users, to turn on Background App Refresh, go to Settings > General > Background App Refresh. To turn on Location Services, go to Settings > Privacy > Location Services to open this function. And tap on Life360 shown below, set Allow Location Access to Always and turn on Precise Location.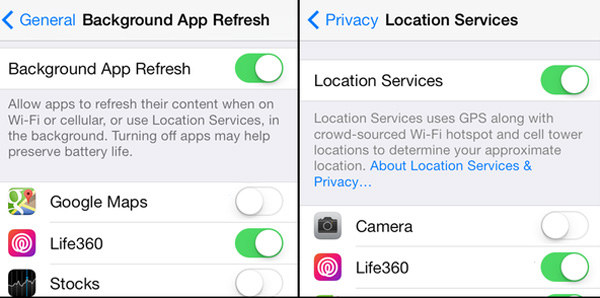 Method 4: Restart Life360 App
When life360 keeps giving wrong location, one of the best solutions is to restart the Life360 app. To restart the app, there are three options to do, they include:
Update the app to the newest version

All you need to do is go to the Play Store or App settings to see if there is an option for Life360 update.

Reinstall the app

Sometimes you need to delete the application on your device and reinstall it. Log into your account again to check if it fixes Life360 wrong location.

Restart your phone

There is also a possibility that it is your device's problems that cause Life360 wrong location, so just turn off your phone and restart it for check.
Method 5: Contact Life360 Support
If you have tried all the aforementioned means, but you still cannot understand why life360 showing wrong location, the best thing to do is contact life360 support. Go to life360 support website and find its contact information.
Part 2: How Do I Spoof My Location On Life360 iPhone
Sometimes, you can purposely spoof your location on life360 for privacy reasons. Can you fake your location on iPhone? Of course, try to use Tenorshare iAnyGo. This tool allows you to mock the location of all apps based on GPS on your iPhone.
Follow these simple steps to do that:
Download and launch the Tenorshare iAnyGo on your PC. Connect your iPhone to the PC. The program will detect your iOS device and connect with it automatically.

Click on Change Location. And in the next interface enter and choose the address you want. Click on 'Start to Modify'.

If this is done correctly at once, you can see that your location on Life360 has been successfully changed.
Summary
When error life360 wrong location becomes the order of the day, you don't need to panic anymore. Simply apply any of the aforementioned options to locate your loved ones when you can't track them anymore. Meanwhile, if you want to change your location on the life360 app for privacy or other reasons, use Tenorshare iAnyGo, it is the best.
Freely Change GPS Location without Jailbreak!
Plan a route by selecting two or multiple spots on the map
Easy to simulate GPS movement based on customized route
GPS joystick to take better control
Import GPX file to start a designed route
Change up to 15 iOS devices' location on 1 PC/Mac