[Latest Update] Fake GPS 360 In-depth Review
by Jenefey Aaron Updated on 2022-12-16 / Update for change location
The Fake GPS 360 is great to use for people who wish to spoof their location from the comfort of their homes. Use this tool to elegantly spoof GPS location and not get caught in the action! Let's dive right in. 

Part 1: What Is Fake GPS 360 
The Fake GPS 360 is an app that lets you fake your GPS location with utmost ease. It is really helpful for security and safety purposes, or to prank your friends that you're flying to Moscow on an urgent basis. You could also use this tool with location-based games to level up higher and ace them.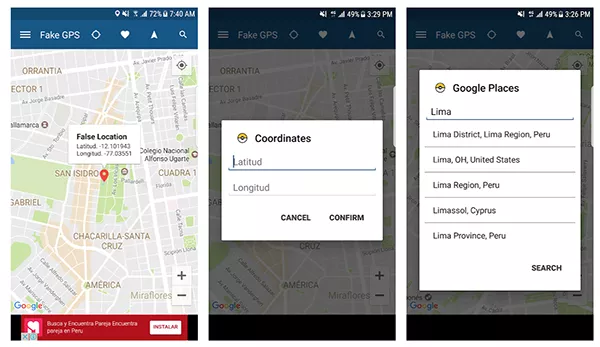 Pros: There are many pros of using Fake GPS 360 for faking or spoofing your GPS location. This is why so many people worldwide love this tool. Let us have a look at the benefits of using Fake GPS360.
Easily change location overall apps.
Let's you change location without using data or navigation.
Easy to use.
Save places visited.
Cons: There are always two sides to every coin. Let us take you through the cons of using Fake GPS 360 so that you can avoid unfortunate surprises later. 
Doesn't work with a few apps.
The app crashes frequently.
The joystick doesn't work at times.
Part 2: Where to Download Fake GPS 360 
There are multiple ways to download Fake GPS 360 on your PC or mobile. The safest is to go to the play store and search for "Fake GPS360" and download the app from there. Other than that, you can also go with third-party apps for this purpose. This is a little riskier method. For Mac, you can choose to go to third party websites, but for windows and android, we recommend the play store. 
Part 3: How to Use Fake GPS 360 
To use Fake GPS 360, download the app on your device. Next, follow these steps to before use it on Android:
Go to the setting menu of your phone.
Go to software information.
Tap on the build number quickly seven times.
You'll get a notification that the developer mode has been turned on.
Go back to settings>developer options.

Turn it on.

Launch the Fake GPS 360 and follow the instruction in the app.
However, there is no Fake GPS 360 for iOS users. So if you want to change your location on iOS devices, check the next part.
Part 4: Fake GPS 360 iOS FREE Alternative: iAnyGo
It is always great to have alternatives -not everything can be pitch-perfect, right? Well, Tenorshare iAnyGo is an excellent alternative to Fake GPS 360 ios because it beats most of its cons and helps you fake your location gracefully without risks. Let us have a look at how you can use it to spoof location. 
Download and launch the app on your pc. Switch to the single spot movement mode on the main interface and choose enter. 

Connect your iDevices using a USB.

Add the destination coordinates or address in the search box and click Start to Modify.

That's it! Your location will be gradually changed as if you're actually travelling. You can also make it happen instantly. No apps will detect your fake location.
Part 5: More Questions About Fake GPS 360 
Having learnt almost everything about Fake Gps 360, you might still have a few questions about the tool to make your decision smartly while choosing the best GPS spoofer. Let us have a look:
1. How can I use a fake GPS without mock location
The best way to eradicate the risk of using an obvious mock location is to go with an app that won't be detected by apps. You could go for Tenorshare iAnyGo in this case.
2. Does Fake GPS work with Life360
Yes, it works. If you want to fake gps for Life 360, click the link to learn the tutorial about spoofing Life360.
3. Which fake GPS is the best
Beating out the cons posed by most GPS fakers, Tenorshare iAnyGo is, without doubt, the best GPS spoofer. Trusted by thousands across the globe, the app is safe to use and doesn't put your security at risk. It respects your privacy and doesn't save the information itself.
Conclusion
Fake GPS 360 is an insightful and helpful tool you can use to fake your location online. It does have some cons, which are replaced by Tenorshare iAnyGo: an excellent alternative to the fake GPS life360 tool.